Announcing our latest product update.
Quick Response (QR) codes are popping up everywhere these days, from the labels of consumer product goods to out-of-home (OOH) billboard placements, and even in TV commercials. With QR code detection built into every smartphone's native camera app, it's easier and faster than ever before for consumers to scan a code and be immediately immersed in a digital experience on a website, or in an app.  
Thanks to a new product update, Kochava customers can now download QR codes for their SmartLinksTM without ever leaving the platform. Simply select the desired SmartLink and export the auto-generated QR code as a high-resolution SVG or JPG file.✝

Apply the QR code to the advertising medium of your choosing and measure every scan as a click with full attribution support to down-funnel conversions. 
When combined with SmartLinksTM technology, QR codes can send users to dynamic content based on their device, location, and a host of other attributes. Clients using Kochava SmartLinks as Universal Links and App Links can also leverage this new QR code functionality. Connect users directly to your website, into your app, or to the correct app store for download. Personalize the user experience with deep linking and deferred deep linking support.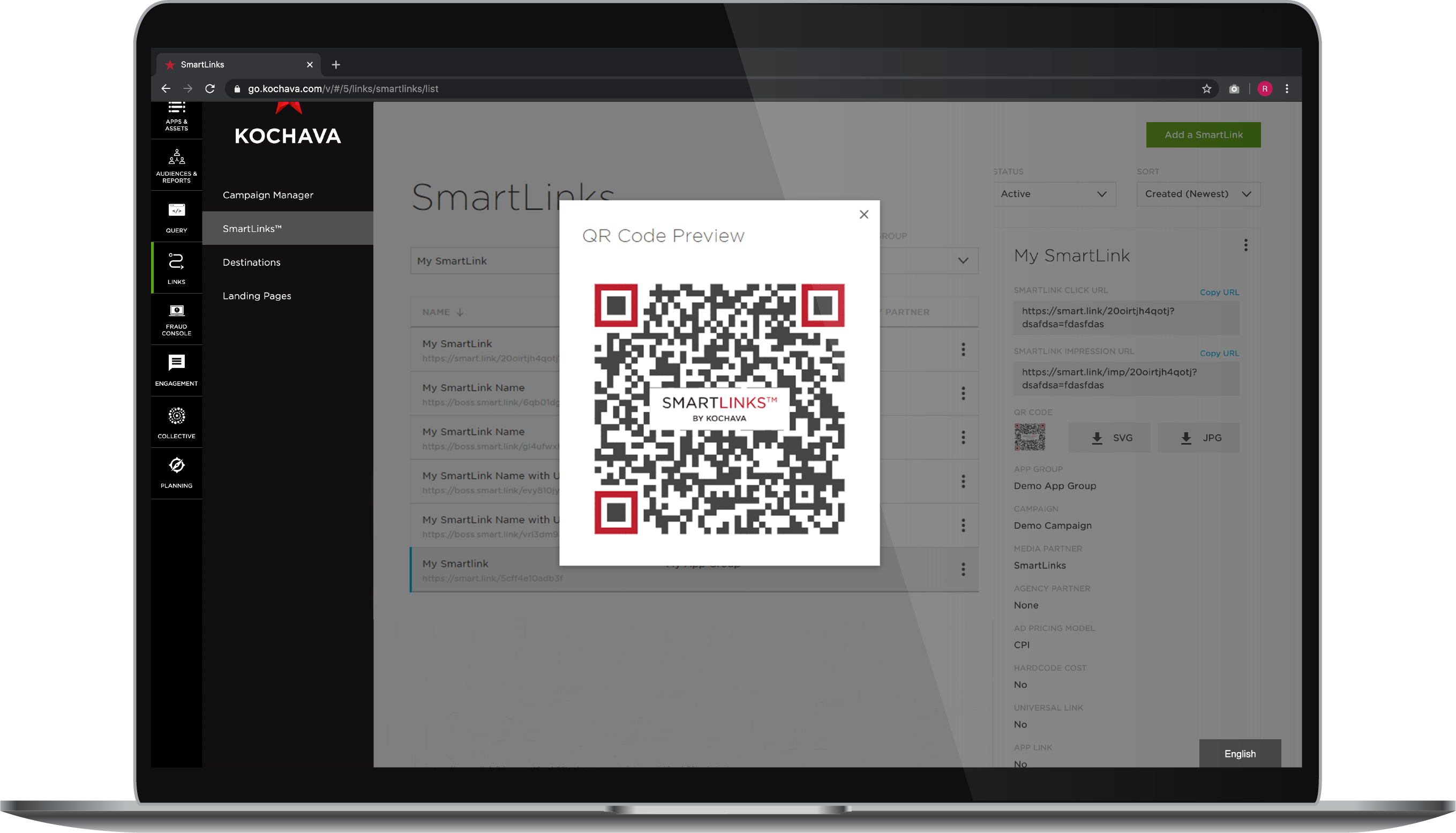 Advertising on TV? See how SmartLinks for TV can provide measurable, direct response to boost your return on investment (ROI). 
Already a Kochava customer? Contact your Client Success Manager or email support@kochava.com for a demo of these new capabilities. 
Visit SmartLinks support documentation here. 
Interested in Kochava solutions for your marketing needs? Contact us today. 
✝QR codes are only auto-generated for SmartLinks not assigned to a media partner. For SmartLinks assigned to a media partner, the appended custom and dynamic query string parameters negate the use of static QR codes.