Metrics to measure for helpful insights
Fintech app downloads increased by 15% in 2020. How did your app do? If it didn't perform as you had hoped, consider looking into your fintech app's key performance indicators (KPIs) and find ways to alter those metrics to improve user retention and lifetime value (LTV).
With so many subverticals within the fintech space, it's important to determine your app-specific business goal(s) and measure KPIs that reflect those objectives. From there, it will be easier to hone in on effective solutions to improve those particular KPIs.
For most fintech apps, though, metrics such as monthly active users (MAU), retention rate, churn rate, and customer satisfaction all provide valuable insights into your app's performance.
1. MAU
The MAU metric shows you how many unique users engage with your app monthly. As opposed to daily active users (DAU), this is an insightful metric for fintech apps specifically because users typically engage with fintech apps, like mobile banking and money transfer, at a monthly rate instead of on a daily basis.
Keep in mind that while MAU (and DAU) have been used to measure user engagement, these KPIs alone don't show an accurate assessment of growth. Pairing these metrics with other KPIs, such as LTV, retention rates, and/or conversion rates, will provide a more precise view of your app growth.
Boost MAU with Audience Activation & Targeting
What better way to improve your MAU than acquiring more of the same type of users? By looking at your current monthly active userbase, you can determine what kind of users interact with your app most consistently. Of those users, you can segment them for lookalike modeling to find new users who have high potential to utilize your app.
Consider utilizing a data marketplace to gather privacy-first, quality data for audience targeting and enrichment. Explore different audiences within multiple verticals, countries, and partners. After exploring audiences, you can activate pre-built audience segments, upload your own audiences, or build custom audiences for lookalike targeting.
Gathering metrics of your monthly active users shows a well-rounded picture of how you are doing at getting people to use your app. If this number is not where you want it to be, consider finding new audiences to target your marketing efforts toward.
2. Retention Rate and Churn
Retention rate is helpful when determining user satisfaction. High retention is a good indication that your users are happy with the app and will continue to use it. On the flip side, churn is the rate at which a user stops using an app, service, or product. While these two metrics measure different things, they still tell the same story of how engaged users are with the product.
Increase Retention and Decrease Churn with User Engagement Tools
When it comes to finance, knowing the status of payments, transfers or investments is essential. Fintech apps streamline this process by offering a variety of notifications so that their users always know when, where, what, and how their money is being used. Aside from this, notifications get users back into the app which increases retention rates.
If you are looking for ways to engage your users, consider push, email or in-app notifications.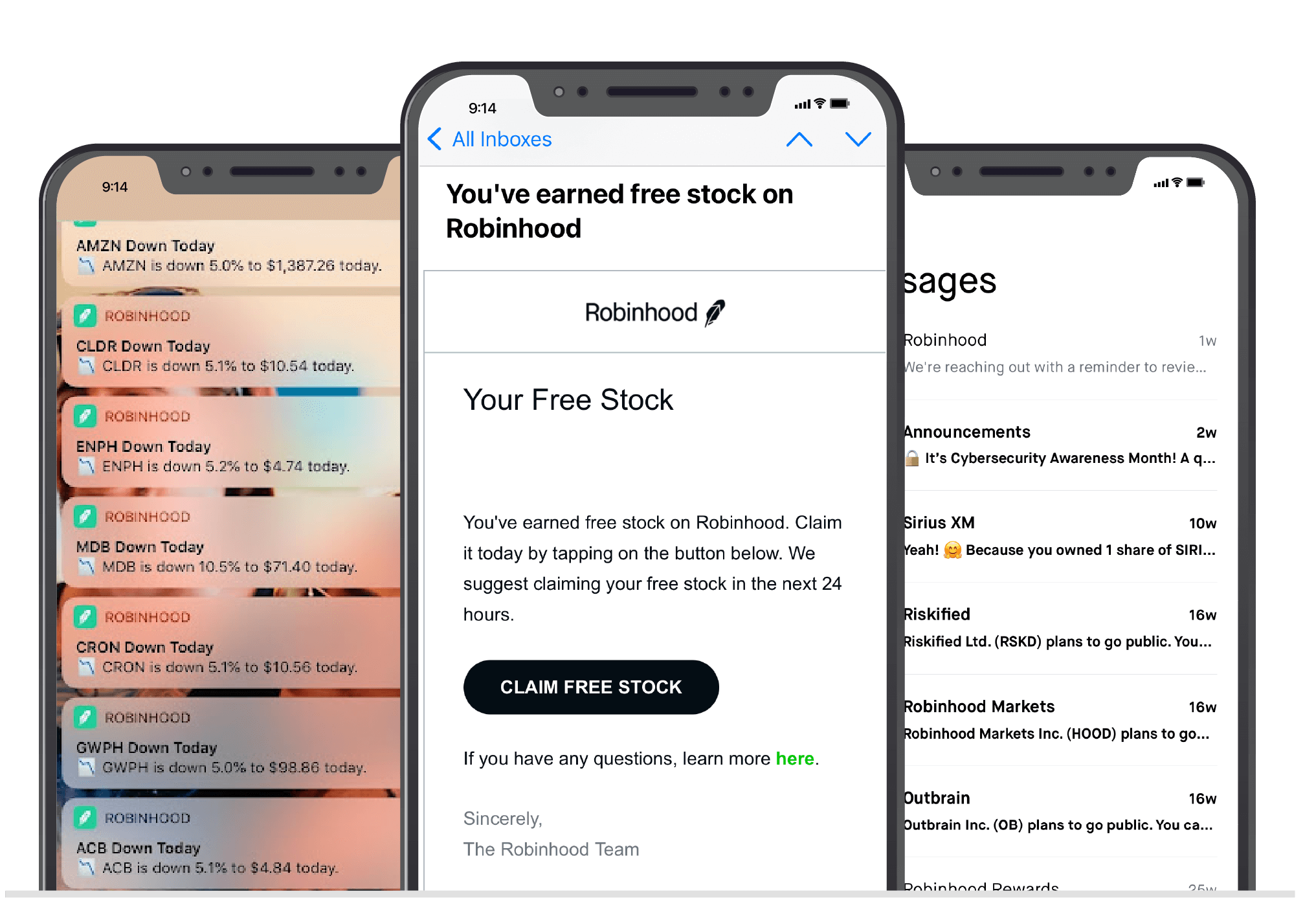 Learn more about how Kochava can help manage and optimize user engagement methods here.
As you increase retention, you can also decrease churn by monitoring uninstall tracking and utilizing predictive churn modeling. These Kochava tools allow you to analyze trends of users who have uninstalled your app and compare that behavior across different audiences, events, and campaigns. 
Predictive churn modeling helps determine the likelihood a user will churn and applies a churn score to each user. You can then use that information to create reengagment audiences to get those users with a higher churn score back into your app.
Learn more about what churn solutions Kochava offers here.
3. Customer Satisfaction 
There are multiple ways to measure customer satisfaction. You can look at customer support analytics or the Net Promoter Score (NPS) which indicates how likely a customer is to recommend the product or service. Knowing that your users are happy with the product is one of the best indicators of a successful business.
Improve Your User's Trust with Seamless Customer Support
The functionality of fintech apps is expansive, which can be both helpful and confusing. Providing your users with multiple support methods whenever they need it will help retain and gain new users. Communication methods such as chatbots are a common implementation in fintech apps, making it easier for your app to assist users with simple tasks in a more efficient way. 
Just as Kochava provides extensive support for their customers, your app should too. Consider adding chat functionality to your app as well as the ability to call or email a support agent.
Depending on the subvertical of your fintech app, other KPIs could include LTV, DAU, conversion rate, and cost per install (CPI). Clearly define your goals and analyze the KPIs that best fit.
Summing it Up
Stand out from other fintech apps by optimizing your app's KPIs. These performance metrics will help show you what areas need improvement and what features are currently working. By looking at MAU along with user retention rate, churn rate, and customer satisfaction, you will be able to increase your user's LTV. 
In addition to those KPIs, consider measuring DAU, CPI, and any other metrics that reflect your app goals.
Once your KPIs are defined, look at how you can improve them with audience activation and user engagement tools while incorporating ways for your customers to engage with you through multiple support channels. Consider utilizing a central measurement platform to gain a holistic understanding of your app's performance, analyze marketing campaigns, and further your app growth.
Do you have questions about ways to measure and improve your fintech app KPIs? Contact us at support@kochava.com or visit us at kochava.com.