Improve campaign conversion rates by tailoring the product page experience
Marketing by nature is not a one-size-fits-all endeavor. Personalization in content, creative and messaging is key to reaching and connecting with distinct audience segments. The fact that iOS developers and marketers have been stuck with one App Store product page for this long, is frankly quite surprising. Thankfully, Apple introduced Custom Product Pages (CPP) at WWDC 2021. 
The new CPP feature enables app developers to curate up to 35 distinct variations of their App Store product page to target specific audiences, locales, demographics, and more. Once a developer implements CPPs, they're visible to consumers in the App Store on devices running iOS 15 or iPadOS 15 and later. Marketers can use CPPs to improve performance on user acquisition efforts by presenting consumers with a more tailored and focused App Store experience. As a mobile measurement partner (MMP), Kochava makes it easy to incorporate CPPs into your marketing strategy.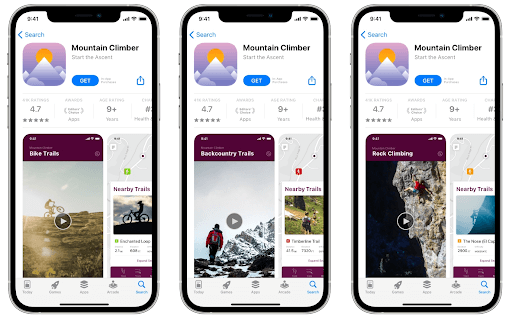 How to create Custom Product Pages
Custom Product Pages can be configured within App Store Connect. See Apple's detailed documentation for step-by-step instructions. 
When utilizing CPPs, the following product page metadata is customizable: 
App Preview Videos

Screenshots

Promotional Text
Marketers are encouraged to work with developers to form a plan on how to best utilize their 35 CPP entries. Be sure to map out the specific goals that you want to accomplish with each version, and gather the product page metadata (preview videos, screenshots, and text snippets) that will support the desired goals.
Incorporating CPPs into your marketing efforts
Once a custom product page has been created, it is assigned a unique URL that features a distinct Product Page ID (PPID) parameter.
https://apps.apple.com/us/app/bike-rider/id12345678?ppid=45812c9b-c296-43d3-c6a0-c5a02f74bf6e
With these unique CPP URLs in hand, you're ready to use them in your marketing campaigns. Kochava makes this easy by allowing you to input a distinct destination URL behind any Kochava tracking tag that then redirects users to the App Store. Marketers can name the Kochava tracker according to the CPP it points to in the App Store for easy reporting visibility in Kochava.

Kochava trackers can be employed across paid media campaigns as well as owned media efforts. You can even use CPPs behind quick response (QR) codes with Kochava SmartLinks.
If you're working with a media partner that can dynamically populate varying Product Page IDs based on targeting criteria of the users being programmatically served an ad, then you can use Kochava's dynamic macro replacement capabilities. This enables marketers to insert a macro into the destination URL that can be replaced by whatever PPID value is passed by the ad network or demand side platform (DSP) on the click request. As opposed to one CPP URL per tracker, this approach allows one tracker to be used for many CPP destinations.

If you have questions about this option, connect with your media partner representative and your Kochava Client Success Manager, or email Support@Kochava.com.
Analyzing CPP performance impact
App Store Connect will offer basic App Analytics on CPP performance. 
Available metrics will include: 
Impressions

Downloads

Conversion Rate

Retention

Average Proceeds per Paying User
In addition to the details available via App Store Connect, you can also visualize performance within Kochava. If you use one CPP per tracker, including the CPP number or title in the tracker name will enable you to split performance metrics by tracker name in analytics. You can also filter or group reporting by tracker name.

If you utilize the dynamic macro replacement option, then putting the number or title of the CPP in the tracker name will not be possible as you will have multiple CPPs trafficking through that tracker. Instead, utilize our custom parameters feature to add a key that will surface the dynamic PPID in an easily accessible manner for reporting. Kochava created a standardized set of custom parameter (CP) keys from cp_0 through cp_9. These are incorporated into attribution reports as a group by option. This enables you to cohort and analyze performance across different PPIDs assigned to your various CPPs.

Use Kochava and your App Store Connect analytics to analyze how your various CPP versions perform. Make adjustments accordingly, test and learn, then optimize. This new feature presents great opportunities to positively impact user acquisition efforts.
Getting Started with Custom Product Pages
If you don't see CPP options in your App Store Connect dashboard, go through the App Store Submission Update process found here. This will allow you to try out CPPs before they're more broadly rolled out later this year. 
Please note that CPPs are not currently incorporated into reporting for Apple Search Ads (ASA) conversions or SKAdNetwork. Support is expected in later versions of CPP. Additionally, within Kochava, app install and event reporting tied to CPPs will only be available on conversions Kochava attributes as allowed through user consent via the AppTrackingTransparency (ATT) framework.
At Kochava, we're already thinking about ways to improve the ease of setup and available performance reporting associated with this exciting new Apple product.
If you have questions about using CPPs in your campaigns, contact your Kochava Client Success Manager or email Support@Kochava.com.