Full SKAN 4.0 support released, Samsung Install Referrer, and more
Here's a quick look back at some important Kochava updates from April.  
In this post, we'll unpack more detail on the following: 
SKAdNetwork 4.0 support 

Reminder for SKAN integrated partners

Samsung Install Referrer

Human-readable keywords for Apple Search Ads 

New and updated partner integrations
Full SKAdNetwork 4.0 support has arrived
Reminder for SKAN integrated partners
The Kochava Integrations team continues proactive outreach to networks in the Kochava SKAdNetwork Certification Partner Program regarding required updates to send the new source identifier. Please contact Integrations@Kochava.com with any questions. 
If you're an ad network, DSP, or publisher supporting SKAdNetwork and have not yet joined our SKAdNetwork Certification Partner Program, please visit this support documentation or reach out to Integrations@Kochava.com.
Utilize Samsung Install Referrer
Kochava has added support for the Samsung Install Referrer (similar to Google's Install Referrer, but for the Samsung Galaxy Store) on our native Android software development kit (SDK), and SDK wrappers (Cordova, Flutter, ReactNative, Unity, and Xamarin).

Please see the 'Samsung Galaxy Store' section in this support document for instructions on implementing support in your app(s). Install referrer data can be leveraged to more accurately attribute conversions on app installs where the installer package originates from the Samsung Galaxy Store, as opposed to the Google Play Store. 
For more information, please contact your client success manager or email support@kochava.com.
Unlock Apple Search Ads human-readable keywords
In our March update, we touched on the release of a significant update to our Apple Search Ads (ASA) integration that supports the retrieval of human-readable keywords from Apple's ASA Campaign Management API. While many other MMPs charge incrementally for this feature, it's included out-of-the-box for clients on our Advanced or Enterprise tiers. To enable this feature today for any iOS apps you measure with Kochava, please follow the steps outlined in this support document. Once activated, you will begin to see keyword names alongside the keyword IDs.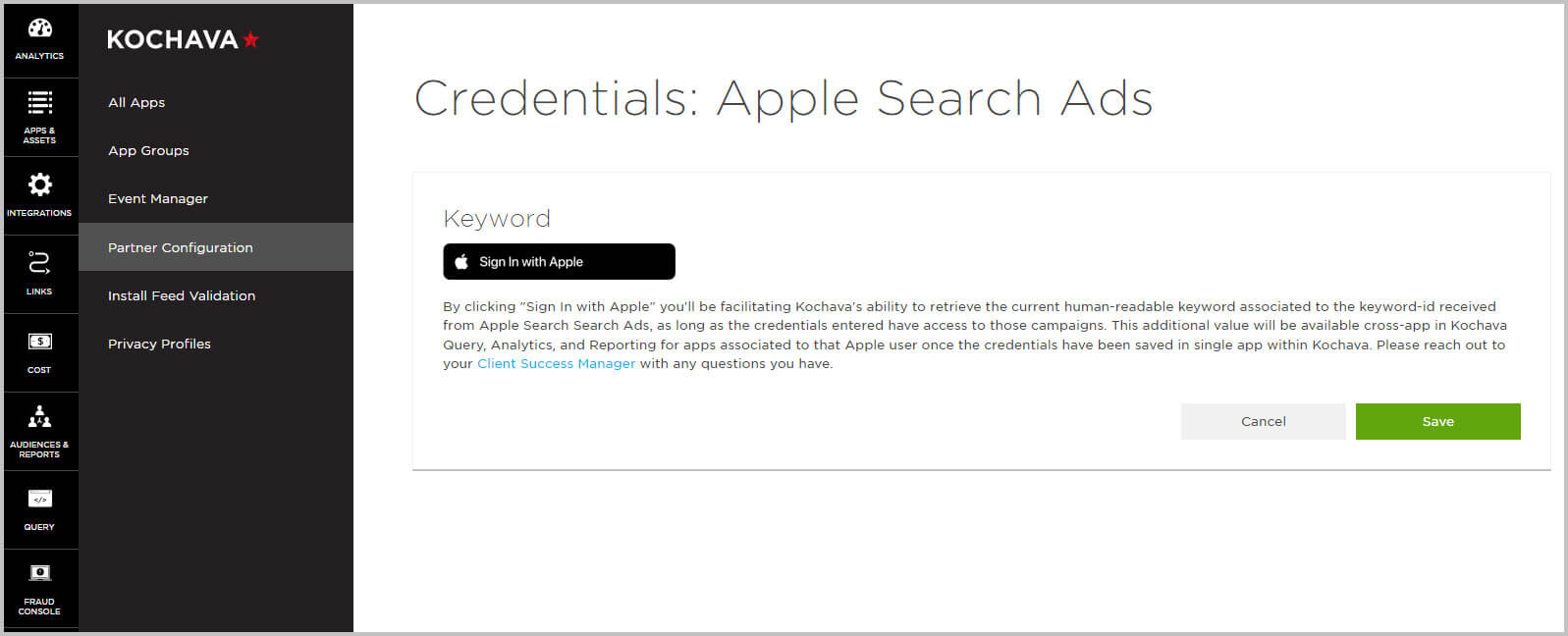 NOTE: If you use Free App Analytics or our Foundation plan and would like to learn more about this feature, please contact Support@Kochava.com for upgrade options.
New partners and updated integrations
Below is a list of new partners that completed a first-time integration with Kochava in the month of April, as well as current partners that deployed updates to their existing integrations. 
New integrated partners:
Adgamamedia

AdHornet

AdsworthShare

adZsense digital

Banner traffic

Buzz Ads

Click2APK

cpileadmedia

Cubikey
drick

Econnectmobi

eksmedia

Goodjoy ads

GrowthAdsMedia

ImagineAds

Kapture

Leadmint

LOOTicON
Mobiaviator Media

mobsource

Moolar Media

Moonshot Marketing

SKUDO

The SocialEye

TSM CLUB

Wurl

Xool Media
Integrated partner updates:
1408ad.com

Apogeemobi

Bidroid

Cauly

Clearpier Performance

Creatix Ventures
Explorads Ermoza 2

financeAds

Klay Media

Moca

MOCA Global

Myadsmantra
ppgok

Rupees Media

Trafficshark2

TUNE

Ventes Avenues
If you're an ad network, DSP, or other partner looking to integrate with Kochava, please contact Integrations@Kochava.com. 
For a list of all integrated networks and publishers, click here.