New Unity SDK available, cost support for TikTok, SKAd Insights enhancements, and more
The month of August went by too quickly, but ended happily with the return of the Kochava Short Bridge Swim along Sand Creek in Sandpoint, Idaho, for its 10th anniversary. It started in 2012, but was  skipped in 2020 and 2021 due to the COVID-19 pandemic. 
While most of the team chose to stay dry and watch comfortably from the docks, a brave bunch dove headlong into the cold lake water and swam to the opposite shore and back again. Congratulations to Jacob Manfred, Client Onboarding Manager at Kochava, who took the first place prize.
While the team tried to soak up the close of Summer, there was no lack of activity at Kochava. Our engineering, development, and integrations teams managed to release multiple product updates and process many new partner integrations. 
In this product update, we will touch on the following: 
New Unity SDK 

Kochava Cost support for TikTok

Enhancements to SKAdNetwork Insights Analytics

New and Updated Partner Integrations
Let's unpack further details on each item below.
New Unity Software Development Kit (SDK) Available
Kochava Unity SDK v5.0.0 is now available. 
The Unity SDK got a significant overhaul with improvements to its usability, performance, and stability. With these changes, the minimum required version of the Unity SDK has increased to 2019.4, and the minimum .net runtime version has increased to 4.x equivalent.
For Android devices, the minimum support API level increased from 14 to 16. iOS devices will see an updated minimum Xcode version to 13.3.1 and a complete conversion of the wrapped native SDK code base from Obj-C to Swift.
A new privacy feature was also added which allows developers the ability to restrict data on a per-use basis.
Finally, the included JSON library has changed from JSONFX to NewtonSoft's Json.NET (v13.0.1).
See full Unity SDK documentation here.
Kochava Cost support for TikTok
TikTok is the latest addition for support on Kochava Cost. This means that Kochava fully supports media spend data aggregation for TikTok for Business campaigns and complete campaign attribution and SKAdNetwork support.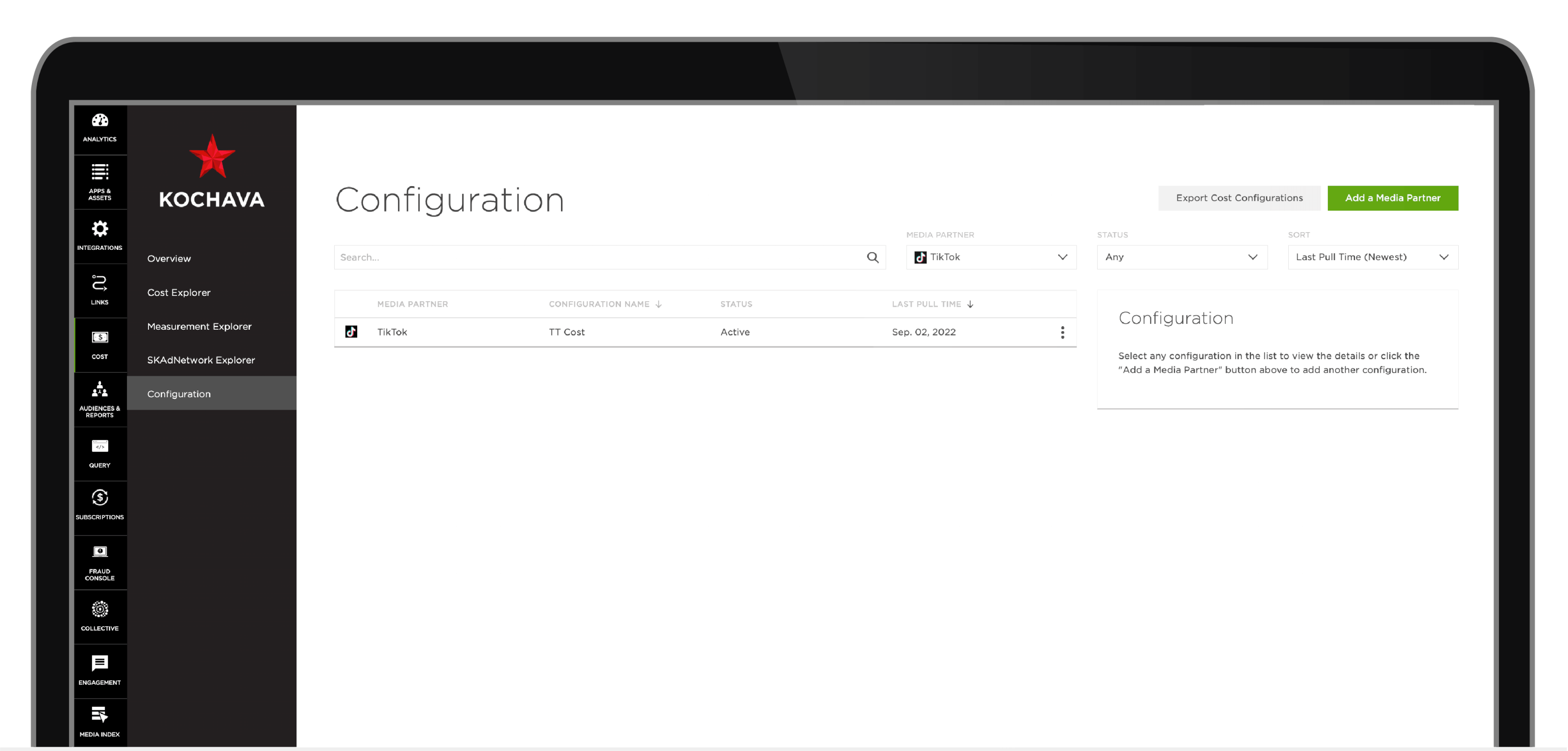 The addition of TikTok to Kochava Cost helps marketers with:
A streamlined approach to calculating return on ad spend (ROAS) on TikTok campaigns versus your other media partners to optimize spend for the greatest growth impact.

Dissect performance data against new, cost-related metrics from country to campaign to creative.

And more! 
For more information on setting up integrations within your cost dashboard, follow this link to the related support documentation. Please note that RTB House was also added as a newly available partner for cost configuration in August.
Enhancements to SKAdNetwork Insights
The SKAdNetwork Insights dashboard within Kochava Analytics was improved to address reports from certain clients when trying to access performance data prior to June 2022.
This analytics page provides a visualization of SKAdNetwork ad and measurement data associated within a specific account or desired app(s). The top section of this view gives the ability to filter by app name, date range, media partners, and/or partner campaign names.
The second and main section of this view provides data tiles with the associated metric data as well as an interactive overview graph displaying the data over the selected timeframe. These data tiles include:
SKAdNetwork Installs

Click Match Percentage

Impression Match Percentage

Click Influencers

Impression Influencers

Reinstalls

Reinstall Percentage

In-App Conversions

In-App Conversion Percentage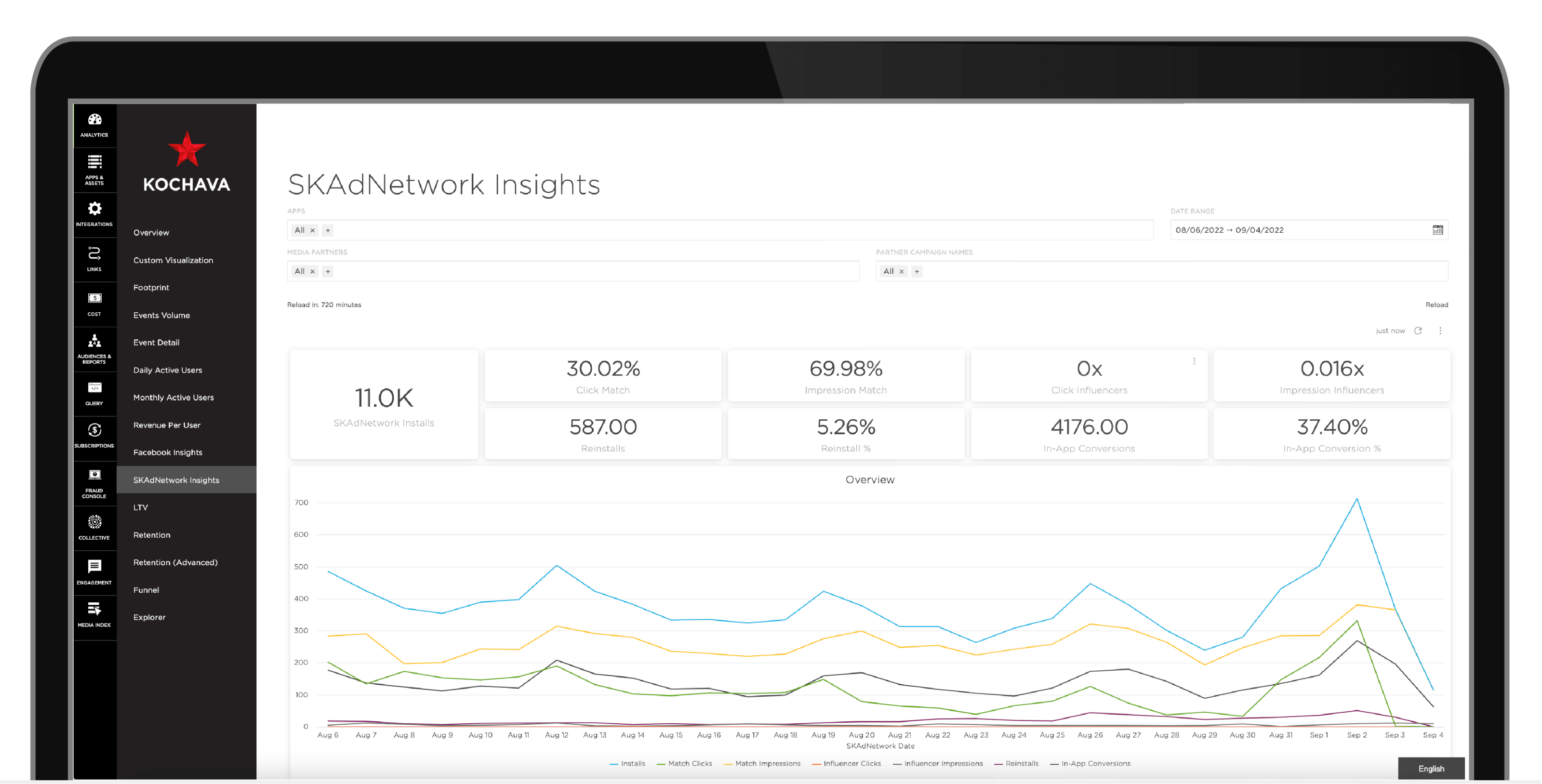 For more information, view the support documentation here.
New partners and updated integrations
The Kochava Integrations team successfully processed 46 new partner integrations in August and deployed requested updates across a host of others. A highlight list is below.
Admattic

ADSCHOLARS Marketing Management

Adscouch

Adshustle Media

Adsvigor

Advertmobi Digital

Aiplex

Akash Verma

APP PUSH MEDIA

Appjoy Media

Applead Media

Appsclicks

Aterru

Bestern Media

Cupshup
Demandesk

Digifox Innovations

Iris Media

KKR DIGITAL NETWORKING

Koneo 2

Kvrma

Mediaxpedia

Memob Audience

Mindgeeks Tech

Mobilynx

Mobisaturn

Mobiuspace

Mobviu

Optimidea Network Pvt Ltd

Performance Launchpad
Savatarr Technologies

SmartConnect

SMTP Mailers

SpiritAdsHub

Starmob Media

Tarsan MVAS

TheAdzDeals

Theadzplug

TrafficVenue

tvScientific

TWO TREY MEDIA

TYRADS

VastMedia

Vihit Digital

W. Digital B.V.

We24Seven Digital Media
Integrated partner updates:
Admitad

Adsbalance

Adsknife.com

AdTiming

Appocket
Bcnmonetize

BEdigitech

Hilltop Ads

IndusOS

Kaden
Mobilynx

Performance Launchpad

Samsung DSP

Stellarmobi

VIYU VENTURES LIMITED
If you're an ad network, demand-side platform, or other partner looking to integrate with Kochava, please contact Integrations@Kochava.com. 
For a list of all integrated networks and publishers, click here.