New iOS SDK for SKAd 4.0 Support, Kochava Summit 2023 wrapped, and more
February witnessed the long-awaited return of the in-person Kochava Summit in beautiful Sandpoint, ID from February 14-16. We want to extend a special thanks to all guests in attendance  as well as our sponsors. 
Please visit Kochava.com/Summit/ to view the full agenda, access session content, read the Kochava Summit 2023 Trends Report, and/or join the waitlist for 2024.
Here are other big milestones from February that we're excited to unpack in this update: 
New iOS SDK with SKAdNetwork v4.0 support

SKAdNetwork 4.0 updates for integrated network partners

Machine Advertising acquisition and Always-On Incremental Measurement

Android SDK updates related to the Samsung Galaxy Store

Reminder on required Android SDK updates

Reminder on iAd deprecation as of February 7th

New and updated partner integrations
Introducing Kochava iOS SDK v7 with SKAd 4.0 support
The march of progress continues on our roll-out of support for SKAdNetwork 4.0. In our last post, we touched on our updates to support the ingestion and reporting of postbacks sent for ads signed with SKAdNetwork 4.0 signatures encompassing the new source identifier with related partner campaign mapping. 
Now, we're excited to announce the launch of Kochava iOS SDK v7 which has support built-in for the SKAdNetwork 4.0 updates we will be releasing later in April across the platform. Please coordinate with your app developers to review the iOS SDK documentation and schedule integration updates for your iOS apps ahead of our full production support roll-out. Having this updated iOS SDK in place will be a prerequisite to take advantage of SKAd 4.0's new features and configurations in your Kochava account dashboard once they're made available (e.g., coarse grained conversion values, multiple postbacks, lock window handling, etc.). The new SDK is fully backward compatible with prior versions of SKAdNetwork and early integration will not impact existing SKAdNetwork functionality.
Please keep in mind that your ad network partner(s) will need to first support signing ads with v4.0, as the ad signature is the catalyst for 4.0 postbacks. Contact your Client Success Manager or email Support@Kochava.com for questions.
To stay in-the-know on other upcoming SKAdNetwork support updates, please subscribe to our newsletter.
SKAd 4.0 updates for integrated partners
The Kochava Integrations team has initiated proactive outreach to networks in the Kochava SKAdNetwork Certification Partner Program regarding required updates to send the new source identifier. We will need to receive this value in the parameter skad_source_identifier on all clicks and impressions. This can be manually added, or if partners have a macro for this, we can formally add it to your template. Please contact Integrations@Kochava.com with questions. 
If you're an ad network, DSP, or publisher supporting SKAdNetwork and have not yet joined our SKAdNetwork Certification Partner Program, please visit this support documentation or reach out to Integrations@Kochava.com.
Machine Advertising is now part of Kochava
Do you have interest in integrating incrementality and marketing mix modeling (MMM) into your media strategy planning? You're not alone, but like most other marketers you've probably found it's too cumbersome and complicated. Kochava sees that barrier to entry as one of THE problems in the ad tech industry today. We believe incrementality and MMM should be simple and approachable.
In February, Kochava acquired Machine Advertising. You can read the exclusive on VentureBeat here. Founder & CEO, Gary Danks, spoke at the Kochava Summit, highlighting the shifting landscape of advertising in this privacy-first age and why their Always-On Incremental Measurement (AIM) platform is a next-generation approach to MMM.
AIM provides:
Daily incrementality insights for spend optimization

Accurate predictive modeling

Scenario and budget planning

Easy setup with Kochava Network Reports & Cost Data
You can learn more about the AIM platform by reaching out to your Client Success Manager or emailing Support@Kochava.com to be connected with our AIM experts.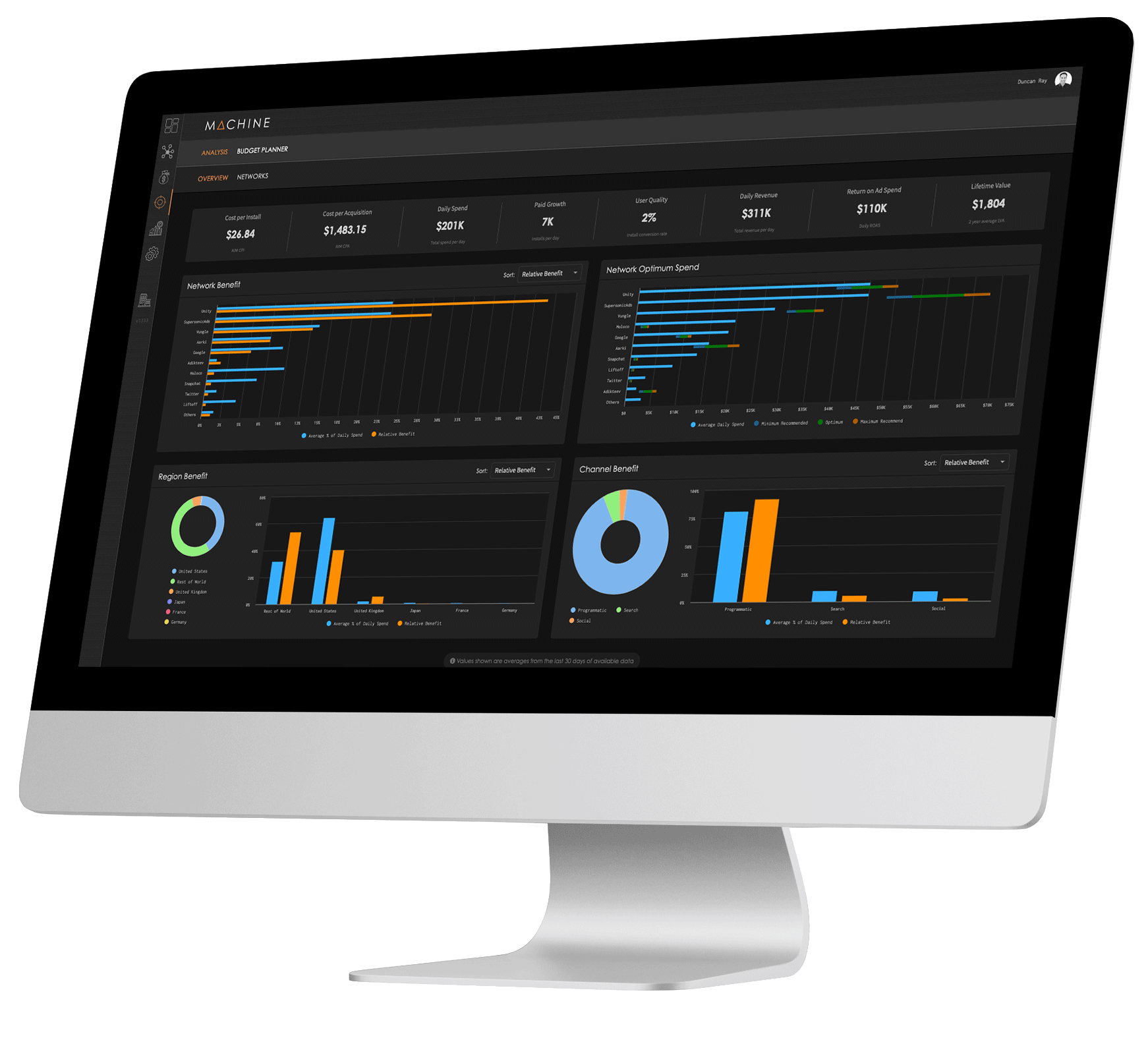 Upgrade your Kochava Android SDK version to 3.11 or above
Google is working toward its enforcement deadline relating to the updated Google Play policy that prohibits collection of both the ADID and Android ID in tandem. If you're measuring Android apps with Kochava and have any apps leveraging an Android SDK version that's less than v3.11, please update your integration ASAP to use version 3.11 or higher.
As always, we recommend being on the most recent SDK version to include all of the latest features and capabilities.
If you have an app in distribution using an SDK version older than 3.11, you may receive, or have already received, messaging from Google Play on this matter. Feel free to contact your Client Success Manager or email Support@Kochava.com if you need help running a check across your Android apps. 
In addition, you may read this prior blog post related to Google's update policy.
iAd deprecation was on February 7th
In late December, Apple advised that it was going to deprecate the iAd framework for Apple Search Ads (ASA) on February 7th, 2023. If you have not already upgraded your Kochava iOS SDK to a version that enables ASA attribution via the new AdServices framework, then you're no longer compatible to receive attribution on your ASA campaigns. Please make required SDK updates ASAP. The minimum Kochava iOS SDK version with AdServices support is v4.4.0. 
Please see this prior post for more information related to Kochava support for the AdServices framework.
New partners and updated integrations
The Kochava Integrations team successfully processed 32 new partner integrations in January and deployed requested updates across a host of others. A highlight list is below. 
New integrated partners:
Ad Growth

Adalgodigital

AD-MOBIL

Appflix Media

Blockboard

Boostyd Interactive

Click Orbits

Cue7ven DigiMark

FPK marketing

Futuretech Media

Hailink
Indian Campaign

JMVAS

Lemmonet International

marlinads

Mediafarm

Mobsonic

Mobtray Digital India

MobvableAd

Ovalio

PivoMob

Positivo Tecnologia S/A
QuyoAds

RDMPL

revu

RichardsMedia

Sidelines Group

SRDigix

TBM Groups

TextNow, Inc.

xoomads

Zemads Media
Integrated partner updates:
Ad Growth

Adobe Analytics

Adomobi

Adquant Apple Search

Adquant Apple Search Ads

Adyogis Ventures

Akash Verma

Alphamob

Apptimus

Clickadu

Clickadu

Commission Factory
CPI Droid

DemandScale

Digimotive

Fuzeclick

Fuzeclick Inc

kwaiforbusiness

Lambadapp

Liftoff

Litchiads

Mintegral

MobSuccess

Moca
MOCA Global

Offergate

Ohoo!Ads

PrimeRoll Media

QuyoAds

RevX

Sandbox Ads

Target Media Ads

Theadzplug

TikTok for Business

Ventes Avenues

Wuzzon
If you're an ad network, demand-side platform, or other partner looking to integrate with Kochava, please contact Integrations@Kochava.com. 
For a list of all integrated networks and publishers, click here.