iOS 16.1 & SKAdNetwork 4.0, Product Updates, and more
In the upper Pacific Northwest at Kochava's HQ in the beautiful resort town of Sandpoint, the cold and snow came almost as suddenly as Apple's release of iOS 16.1 and SKAdNetwork 4.0. Thankfully, though, neither the snow nor Apple's news was unwelcome, and we can begin to prepare for more updates that will undoubtedly materialize in the near future.
In this product update, we will touch on the following: 
iOS 16.1 and SKAdNetwork 4.0

General platform updates

Google Marketing Platform integration

New and updated partner integrations
Let's unpack further details on each item below.
iOS 16.1 & SKAdNetwork news
On October 24th, Apple's release of iOS 16.1 brought  forth SKAdNetwork 4.0 with new updates and details related to:
Restrictions on attribution support for web ads

Conversion postback configurability and delays

Crowd anonymity tiers

And more
With Xcode 14.1 released in early November, our developers are working on an updated iOS software development kit (SDK) to fully support advertisers on the next iteration of SKAdNetwork. Stay tuned for upcoming announcements on SDK releases and guidance on any next steps you need to take.
If you are looking for more information on SKAdNetwork 4.0, read our recently published blog.
Be sure to subscribe to our newsletter to stay informed with the latest iOS and SKAdNetwork updates.
Other noteworthy platform updates
Kochava Cost continues to support more media partners each month. In October, Tapjoy joined the list of integrations with our cost aggregation tool. Learn more about Cost and all of its integrations on our support documentation.
You may have noticed the streamlined left-hand navigation with spacing minimization allowing more area for our ever-expanding menu of platform tools.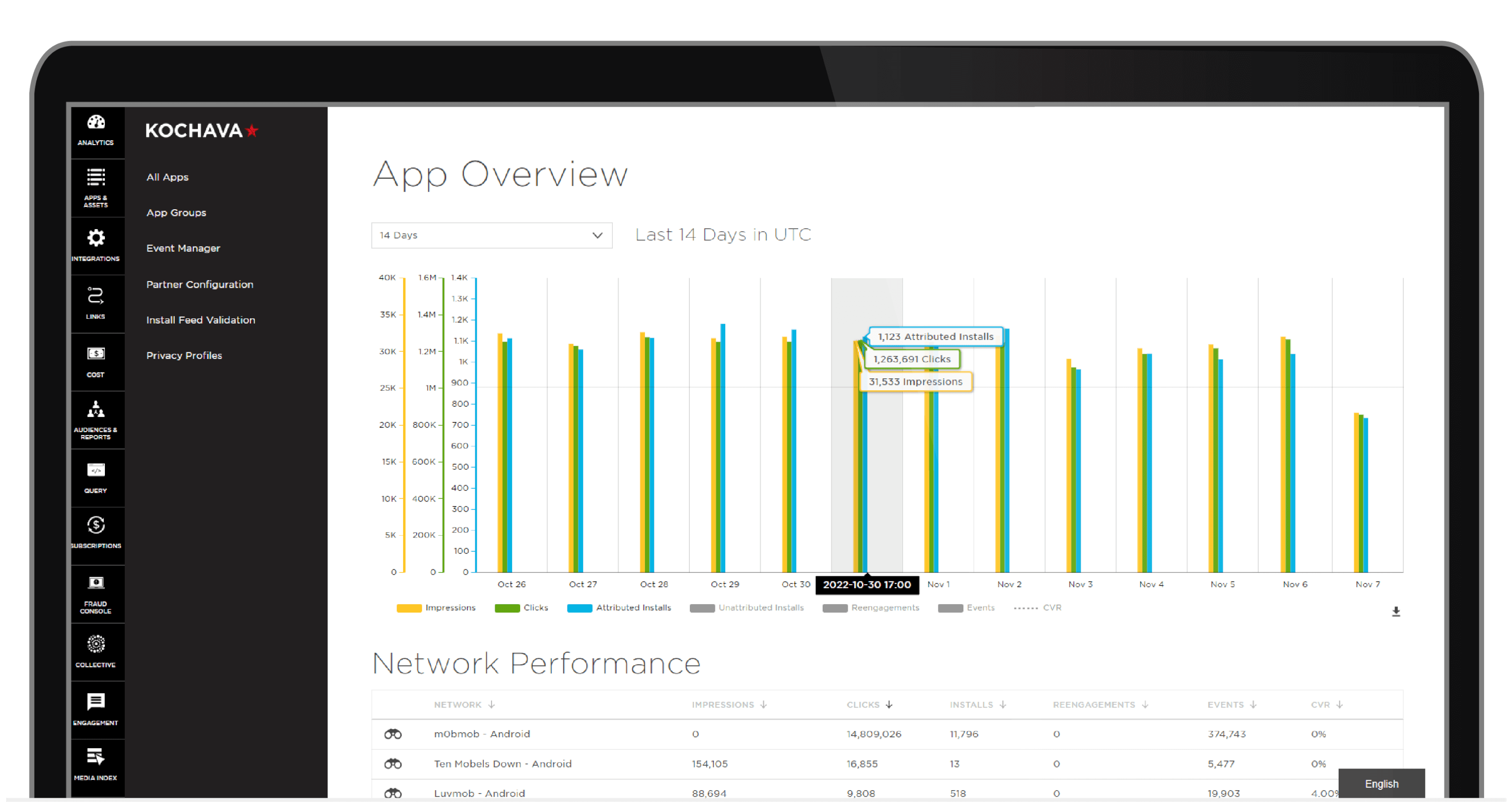 Lastly, there have been numerous updates and various enhancements to our library of SDKs. Find the latest SDKs HERE. If you have any questions about your current integrated SDK version and whether you need to upgrade, reach out to your Client Success Manager or email support@kochava.com.
Google Marketing Platform (GMP) integration
In October, we rolled out a big update to the GMP DV360 and CM360 integration and are now passing dynamic uVars or custom floodlight variables that advertisers can use across over-the-top (OTT) and mobile campaigns to pass meta data, such as show and episode titles, custom IDs and more. uVars can be populated dynamically and will surface in the GMP dashboard for reporting purposes and applications for remarketing segmentation. Learn more from our related support documentation here.
New partners and updated integrations
The Kochava Integrations team successfully processed 40 new partner integrations in October and deployed requested updates across a host of others. A highlight list is below.
Aanicca Ventures Inc

Adinterest

admobs

ADSCAAFE

AdsPayMedia PVT LTD

AdStand

ADSTOOL SERVICES PRIVATE LIMITED

Advertise

Aeonadz

Affnet Marketing Media

Amigo Media

AppGok

AppMarket Media

Arshiya Infosolutions PVT. LTD.
ARVE DIGITAL MEDIA PVT LTD

Bidmag.net

Bidmatrix

Bonjour Techies

CMK TM MEDIA

CongruentAds

CY

CyberKick

Digimcorp

Digimotive

Digital Reef

DIGITUS Ads

Erin Labs
Global Ad Media LLC

Goldlead

Midoweb

Offergate

offersix

Panda

Pando

Performco Media

PR Media

RiverTraffic

SK Planet

Triumph Ads

vfun
Integrated partner updates:
Adelphic

Checket Net

El Infinito

Glispa

InMobi
Kakao

Mobidiscover Digital Media

Nutzz

Reddit

RichAds – Push
SeedApp

Spyke Media

VIYU VENTURES LIMITED

Yahoo! JAPAN Display Ad Network

Yandex.Direc
If you're an ad network, demand-side platform, or other partner looking to integrate with Kochava, please contact Integrations@Kochava.com. 
For a list of all integrated networks and publishers, click here.