Search Ads Maven, Kochava Cost, Facebook Insights analytics and more
February was a productive month with major updates to the Kochava platforms as well as an important launch of Search Ads Maven, an Apple Search Ads campaign management platform. Read on to learn more about what we've been working on.
Introducing Search Ads Maven
Kochava launched Search Ads Maven, providing advertisers with a central data and intelligence center to help scale and optimize Apple Search Ads (ASA) campaigns. The tools that Search Ads Maven provides exceeds the abilities of the native ASA dashboard by:
Unifying campaign performance data

– Link one or more of your ASA accounts to view campaign performance and analyze key performance indicators (KPIs). Any updates or changes made in SAM or your Search Ads account automatically update within the other platform.

Providing advanced keyword intelligence

– Discover new keywords to maximize your ad spend on ASA as well as track competitor performance to ensure you win each bid.

Automating alerting and rules – Maintain your campaigns with automated altering and rules. Get notifications on campaign performance via Slack or email and automatically  raise bids if a campaign is under-performing.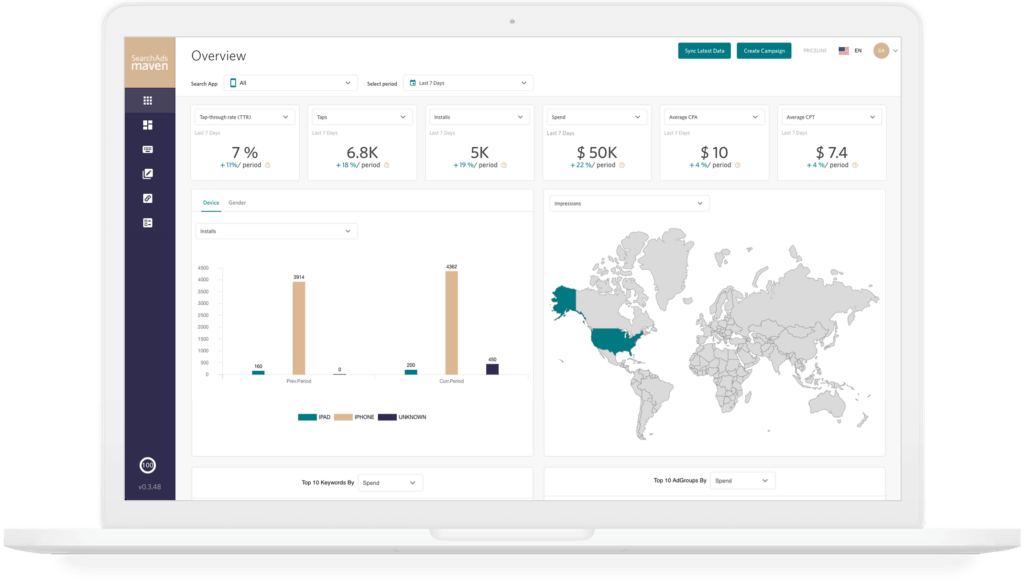 Search Ads Maven will soon unify full-funnel app engagement data from your mobile measurement partner (MMP). Demo the platform today!
Next generation cost aggregation tool
With the latest version of Kochava Cost, easily consolidate all of your ad network spend data into one, simple dashboard to optimize your return on ad spend (ROAS). 
What's new?
Updated partner integrations

New analytics and reports

Streamlined cost configuration and management

Quicker access to key metrics and simplified restated cost

And more
View campaign performance and direct your ad spend to high performing networks for the most efficient use of your marketing budget.

Since the launch of the latest Cost platform, we have deployed the SKAdNetwork Explorer view. This new view seamlessly combines your cost data with your SKAdNetwork campaign data into a single visualization tool for in-depth analysis of partner spend on iOS acquisition via SKAdNetwork.
Having your cost data within Kochava streamlines your ROAS calculations to help you make more effective and efficient marketing decisions. Learn more about Kochava Cost and how to get started here.
New Facebook Insights analytics
Gain more access to your Facebook campaign performance data with the newest Facebook Insights module available within the Kochava Analytics dashboard. Bring together data from the Facebook Ad Insights API with Kochava install, post-install event, and reengagement data for a more complete view into your Facebook campaigns.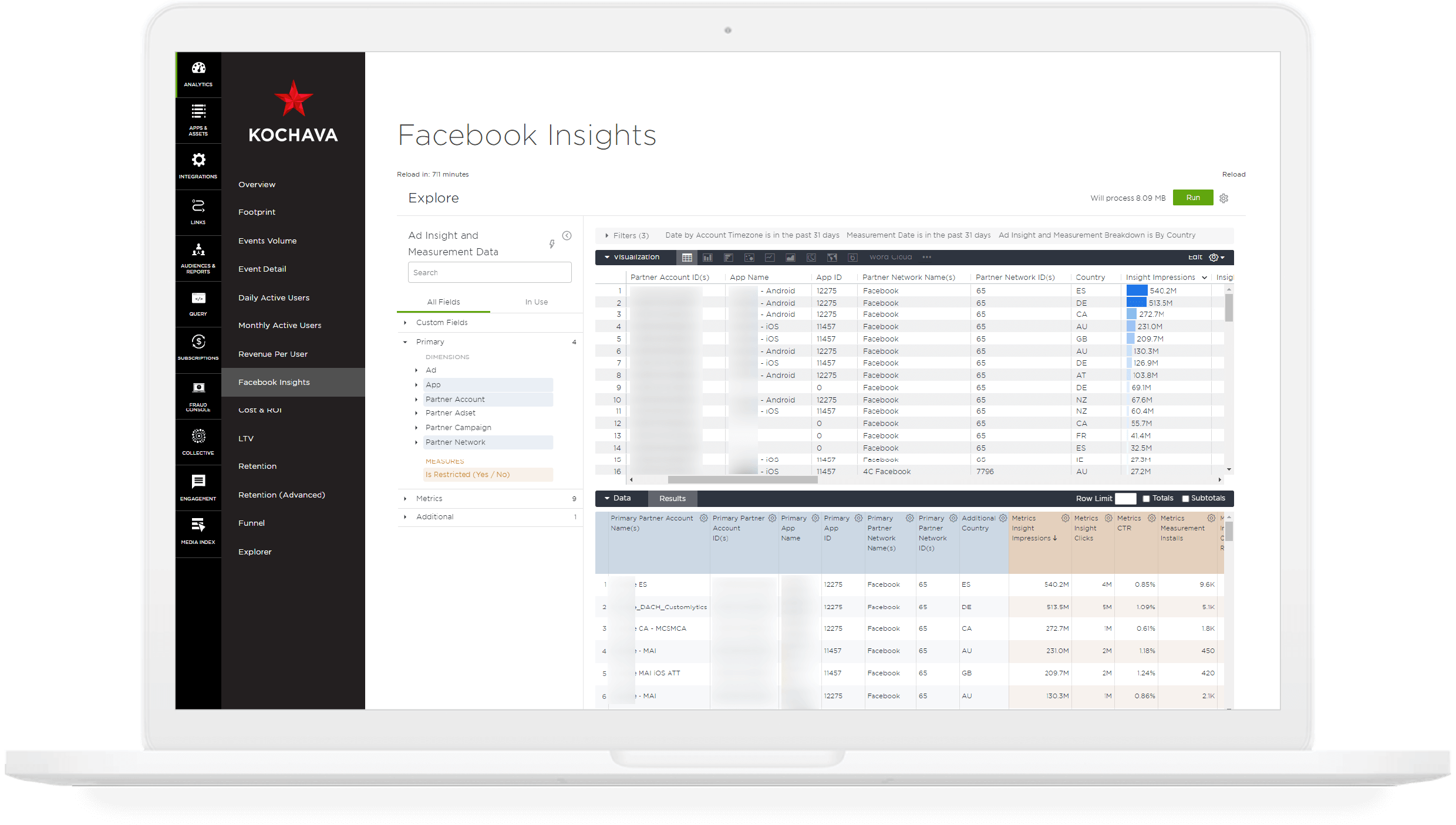 Within the dashboard, view daily performance insights by campaign, ad set, ad, and country or dive deeper by filtering, sorting, or splitting your data to view key performance metrics against defined cohorts.
Learn more about utilizing Facebook Insights in Kochava here.
Additional note-worthy updates
Below are some more updates from this past month:
Added app name and platform filters to the Cost Analytics overview page

Finalized flat file import for Kochava Cost for non-API partners 

Optimizatized Facebook Insights Analytics for data surfacing issues and FB ad account IDs not populating

Added support for REACT native 67 and GRADLE 7.2
These are just a few of the many product updates released in February. We will continue to make improvements and introduce new features as the year progresses. If you have any questions, please feel free to contact your Client Success Manager or email support@kochava.com. 
Stay up-to-date with the latest news by subscribing to our newsletter.