3 ways marketers can ride out the waves of economic uncertainties
Our once (fairly) calm ocean has been riddled with COVID swells, waves of shifting privacy policies, and overall economic surges that have left marketers tumbling. The possibility of a recession has been brought to the forefront of many of our minds, but we must remember that this isn't our first storm. Let's build a lifeboat, put on our water wings, and surf the waves of uncertainty until the winds die down. So how do we navigate ad budget cuts while staying afloat?
1. Don't panic! Let's think this through
When it comes to any emergent situation like a flux in our economy, people are always surprised and not many of us are prepared, because we don't want to admit to any negative changes. In these times there are two ways to proceed: (1) messy and scared or (2) accept the problem and get ahead of it. Let's choose option two.
Here's what we know: ad spend growth will likely decelerate in 2023. According to a survey by IAB, ad buyers revealed that there will be a 3.1% decrease in year-over-year ad spend growth between 2022-2023, versus 2021-2022.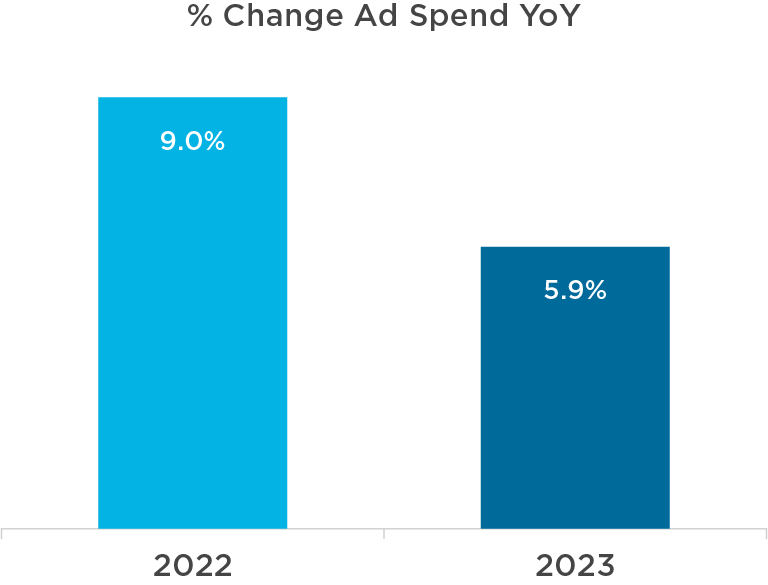 Here's the problem: Marketers will have less money to spend on advertising. But let's reframe it: Marketers have the opportunity to reassess their budgets and optimize for future growth.
In many ways, ad budget cuts force marketers to get creative, reevaluate their techniques, optimize their spend, and proceed with more clarity and confidence. One might even say that a marketer can learn more and mature in their craft by weathering budget cuts, versus only operating in times of plentiful and growing spend.
2. Reevaluate what you're currently doing
When you're in a stressful situation it's best to take a step back and look at things from a different perspective. Before you can build a lifeboat, you need to determine what tools and supplies you have. What will safely get you over that next wave and keep you afloat?
It's no surprise that in economic uncertainties, media budgets get evaluated more frequently. In fact, 63% of IAB survey respondents said that they will be evaluating and reforecasting their budgets more frequently in 2023. Of those reforecasting, 45% said they would be doing this on a monthly basis, with another 20% doing it on a daily or weekly basis. Continuous reforecasting can help marketers make better predictions on their future ad performance and adjust their budget accordingly. However, be wary of too much micromanagement. You need to give new strategies enough time to age, before deciding whether they're a failure or a success. Finding a balanced approach is key. Ask yourself:
What platforms and partners are actually pulling their weight?

By reevaluating what partners and platforms you're running ads on, you will be able to understand which one's are providing you with the best long term value while avoiding the cannibalization of your audiences. In the past, you might have been quick to cut out partners that are not driving immediate results (e.g. installs), but you might be overlooking their ability to bring in high-quality customers further down the line. Partners who are bringing in immediate revenue but short term, low quality customers are not sustainable and could be a waste of your ad budget over the long haul.

Have your customers' habits changed?

How your customers/users spend their own money can affect how a marketer spends their's. During an economic downturn, your customers might be spending less overall or spending more on specific things. As a marketer, you might be wasting ad dollars pushing products or services that aren't making you money because your customers have moved their focus elsewhere. Listen to your customers and observe how behaviors may have shifted, then and refocus your budget on what is actually making you money.
By looking both at your own marketing efforts and your customers trends, it will be easier to align the two and make ad budget cuts with more confidence.
3. Optimize for efficiency AND profitability
When the sea is calm, as it was a few years ago, it's easy to extend your resources. You might have had a generous marketing budget and you got used to spending money on large campaigns across multiple channels. Now with ad budget cuts staring you in the face, it's overwhelming to imagine having a limited budget. With less ad dollars, you will have to allocate the amount you have more efficiently while still striving for a profit.
Start by improving the efficiency of your overall marketing strategy by checking in  on your key performance indicators (KPIs) and potentially evolving how you measure success. Specifically, look at user/customer lifetime value (LTV). It's cheaper to keep acquired customers than it is to obtain new ones. If you focus on driving more engagement with your current customers, you can more efficiently boost growth and profitability.
Another telling KPI is the average revenue per user (ARPU). This metric is important because it indicates how profitable a product or service is based on how much revenue is gained from each user, giving you helpful insights into your overall growth and success. That being said, don't be fooled by averages and be sure to check for outliers. If you have Bill Gates and this writer in a room, then you have 2 billionaires on average. As such, make sure you check for outliers that can steer important decisions. 
Compare your historical KPIs with current numbers, and continue to monitor LTV and ARPU to observe any changes. Efficiently allocate your ad budget to the high-value customers you've already acquired and who are more likely to turn a profit.
Finally, get creative. Use the data you have to think outside the box. Maybe you focus more on your owned media efforts and optimize your website and social presence. Maybe you utilize customer generated content via influencer marketing or an ambassador program. Out-of-home (OOH) marketing is becoming more and more measurable with cost-efficient techniques such as community events, pop-up shops, or chalk art.
Marketing efforts that were effective two years ago might not be effective now. Consumer behavior has changed and so should your advertising. Look to your customers and optimize for efficiency and profitability all while staying within budget. We believe in you.
Ad Budgeting for Marketers – Webinar insights
For expert advice from marketing veterans, check out this recent  Kochava webinar event featuring Realtime Agency that covers how to continue driving growth in the face of economic downturn. You can learn how seasoned marketers can weather seasons of budget cutting – all the while maintaining healthy performance and growth.
Navigate ad budget cuts with Kochava
Reducing your ad budget can be a complicated and overwhelming task, but it doesn't have to be. Kochava suite of solutions offer actionable, data-backed steps that simplify the process and optimize your ad spend. 
To make informed decisions about your ad budget, consider the following:
Avoid paying for repeat customers by using

lifetime install deduplication

, which is included by default in Kochava.

Increase spend efficiency with

Incremental Intent

solutions to identify and eliminate areas of excess spend while retaining quality customer growth. 

Unify your media spend and simplify data collection with Kochava Cost to track which campaigns generate the highest return on ad spend (ROAS).