Whether you are researching a mobile measurement partner or are an existing Kochava customer, here are the reasons to implement the latest Kochava SDK
Mobile marketing has exploded as the primary way to connect with consumers and fast became the "tether" to which all modes of marketing can be tied back to. While measurement has been the cornerstone of our SDK (software development kit) that enables use of the Kochava platform, effective data-driven marketing includes several key attributes that a measurement SDK should have.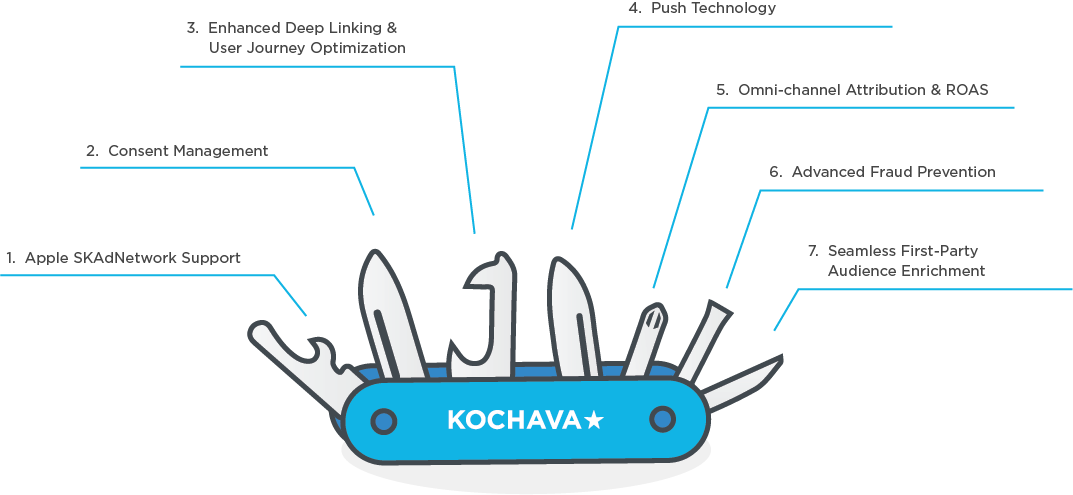 1. Apple SKAdNetwork Support
With iOS 14, and the upcoming enforcement of Apple's AppTrackingTransparency (ATT) framework, advertisers will be looking to the SKAdNetwork to gauge the success of their iOS acquisition efforts. Kochava makes it easy to adopt the SKAdNetwork, handling all of the heavy lifting for advertisers, and providing robust conversion models that offer the most in-depth performance insights on user quality. Integrate our SDK with no code required to support SKAdNetwork. Get informed on choosing SKAdNetwork-certified partners and about selecting a conversion model. And, we're here to guide you along the way too. Learn more about our SKAdNetwork support here and request a free consultation.
2. Consent Management
With iOS 14, marketers will have to request consent from iOS users for Apple's AppTrackingTransparency (ATT) framework; however, this requirement is separate from data privacy regulations, such as the California Consumer Privacy Act (CCPA) and the General Data Protection Regulation (GDPR). To comply with such regulations, our SDK includes access to intelligent consent management so that developers can implement consent prompts according to a user's location.
3. Enhanced Deep Linking and User Journey Optimization
Providing an uninterrupted user experience from click to content is a part of your brand's identity. Deep links direct your users to the content they want in your app. Make sure their experience is seamless with deferred and dynamic/contextual deep linking using Kochava SmartLinksTM technology. We support iOS Universal Links and App Clips and Android's App Links and Instant Apps. 
4. Push Technology
Reengagement as we've known it will become increasingly difficult with limitations to Apple's IDFA (Identifier for Advertisers) and Google's phasing out of third-party cookies. For these reasons, maintaining user retention is all the more crucial to increase in-app revenue. With push technology, you don't need device identifiers like the IDFA, and you can A/B/n test messaging and measure uninstalls too. Segment and target your first-party audience with focused reengagement campaigns to drive retention and lifetime value (LTV).
5. Omni-Channel Attribution and ROAS
Measure user engagement from any marketing channel with our SDK's omni-channel attribution capabilities. Kochava has an SDK for every major device platform including: Android, Android TV, iOS, tvOS, Mac, Windows, Roku, Fire TV, and beyond. Measure every device type and understand where your quality users are coming from across paid and owned media channels with holistic multi-touch attribution.
6. Advanced Fraud Prevention
Protect your ad spend from digital predators. Ad fraud continues to be a rampant problem in the industry, but it isn't always obvious to the untrained eye. The Kochava SDK contains built-in capabilities to authenticate transactions and mitigate fraud. Additionally, the SDK enables you to use customized traffic verification and dynamic blocklisting technology.
7. Seamless First-Party Audience Enrichment
With increasing data privacy regulations, the first-party data you have about your audience is extremely valuable. Available data categories include app activity, app graph, demographics, point of interest visitation, interest and behavior, wireless carrier, and more. Ask us for a free match rate analysis and data sample.
Get the Latest Kochava SDK
Make sure you have a cross-platform measurement SDK that maximizes your insights from Apple's SKAdNetwork, supports deep linking, has push notifications built-in, protects you from fraud, and enables you to unlock the 360-degree perspective on your customers with audience enrichment. Transacting business in this ever-changing ecosystem, you need a measurement SDK that is multi-functional and includes these marketing data solutions.
Get more information about downloading the Kochava SDK, or contact us.