Helping advertisers connect with SKAdNetwork-ready growth partners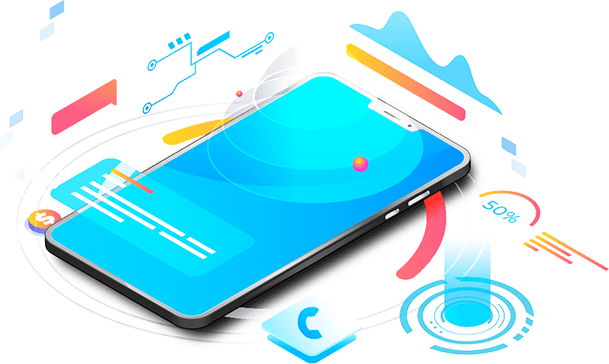 As 2020 comes to a close, the promise of enforcement for Apple's AppTrackingTransparency (ATT) framework in Q1 2021 has advertisers growing more eager to start using the SKAdNetwork. With ATT set to decrease the availability of the identifier for advertisers (IDFA) on iOS devices, deterministic attribution on mobile growth campaigns will in large part be confined to the SKAdNetwork. So which growth partners should you run your first SKAdNetwork campaigns with?
The Kochava SKAdNetwork Certification Program
Kochava is proud to announce a SKAdNetwork Certification Program for partners which will help marketers make the best decision.
To find the most up-to-date list of SKAdNetwork Certified Partners, visit the Kochava Media Index, and select 'SKAD Certified' in the sidebar filter menu under Type.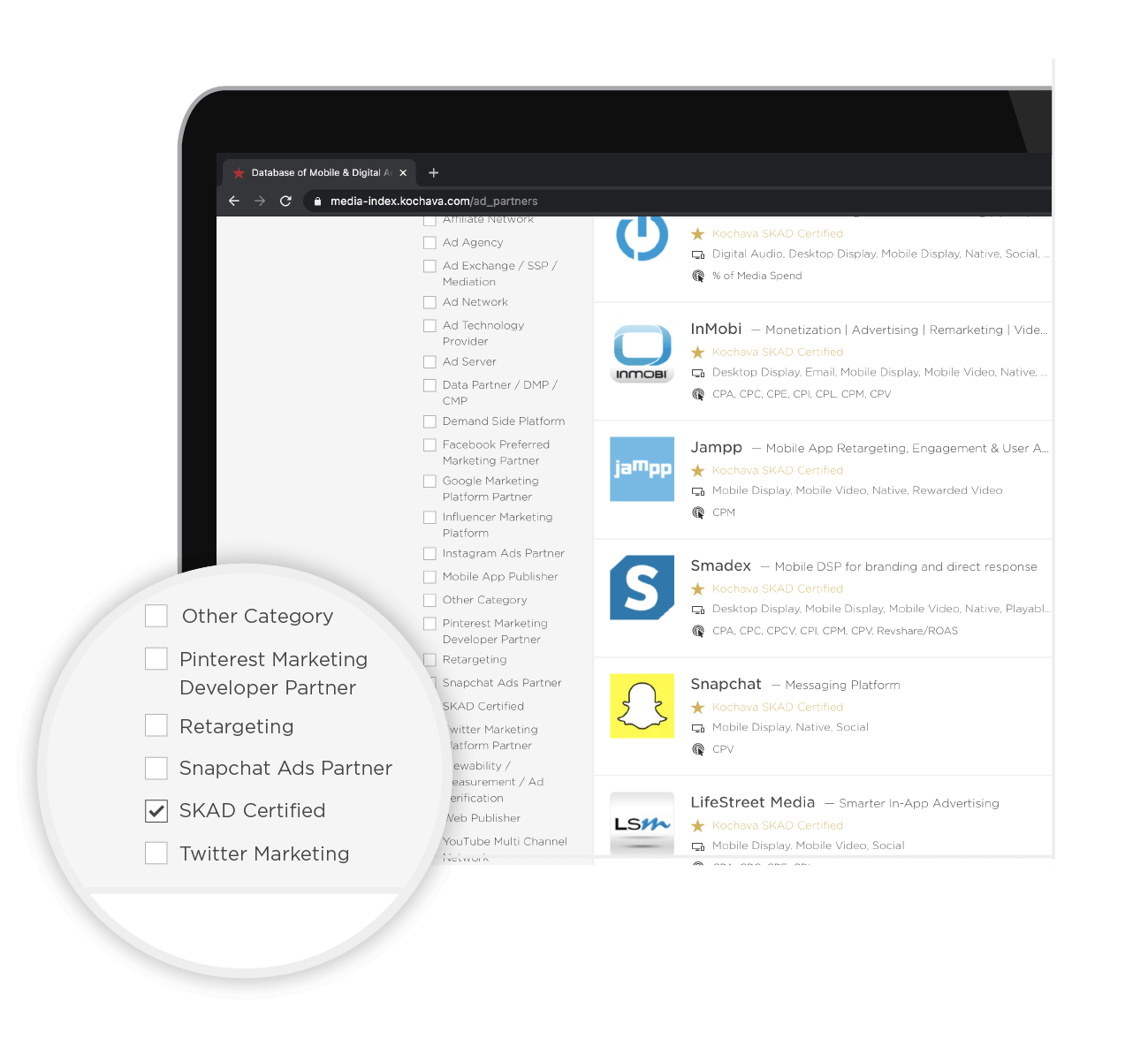 Advertisers, if you do not see your partner(s) listed in the Kochava Media Index, please advise them to contact Integrations@kochava.com today in order to fast-track their SKAdNetwork certification.
What our partners are saying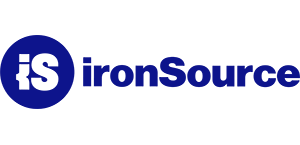 "We're committed to supporting the advertisers that trust us with their growth goals. Partnering with Kochava on SKAdNetwork certification ensures that we are fully prepared to make this a seamless transition as advertiser adoption of SKAdNetwork takes off."
—Yevgeny Peres, VP Growth, ironSource

"2020 has seen unprecedented shifts in mobile advertising and our strong partnership with Kochava enables us to help advertisers meet new challenges with opportunities."
—Mark Ellis, CEO, Liftoff
Why certification matters
With minimal adoption to date, SKAdNetwork is a relatively untested technology. Marketers need to work with partners they can trust as they venture out into this uncharted territory. Kochava has been working closely with our integrated partners to develop a set of criteria and minimum requirements for inclusion in this program. As such, certification through the program indicates that a partner is taking necessary steps to maximize advertiser success on SKAdNetwork and provide the most granular level of performance insights feasible through SKAdNetwork.
Key certification requirements include:
Provide SKAdNetwork ID from registration with Apple as an Ad Network
Syndicate SKAdNetwork postback data to Kochava to facilitate advertiser reporting and optimization (Kochava provides multiple options for partners to send this data to Kochava.)
Relay SKAdNetwork campaign data mapping values included on the remaining clicks and impressions sent to Kochava in real time (eg, campaign ID, campaign name, and related ad network's custom parameters)
Learn more about these requirements here.
Start your SKAdNetwork journey with confidence
If you're an advertiser and your app isn't SKAdNetwork-ready, contact Kochava today.
We provide turnkey support for the SKAdNetwork, wrapping the advertiser app methods directly into our SDK with no coding required. Plus, download our free guide on how you can make the most of SKAdNetwork's conversion value method with the right conversion model. Kochava provides the most robust and configurable models in the industry.
Learn more about how Kochava can support you as an advertiser on SKAdNetwork.
SKAdNetwork support-in-a-box for ad networks and publishers
Are you an ad network or publisher and looking to streamline your adoption efforts for SKAdNetwork? Learn how our SKAdNetwork support-in-a-box provides scalable SKAdNetwork postback ingestion and reporting that's compatible across all major mobile measurement providers. Let us help you formulate your strategy to support postback data from SKAdNetwork so you can avoid implementing costly in-house infrastructure.
For questions on SKAdNetwork certification as a partner, please contact Integrations@Kochava.com.
If you're a Kochava client with questions, please contact your Client Success Manager or email Support@Kochava.com.