Increased complexity in advertising measurement cements the importance of the MMP
AdTech is evolving at an alarming pace, accelerated by privacy-focused initiatives that upend longstanding norms of how user and device data is transacted – making it more and more difficult for marketers to measure the true impact of their ad spend. Mobile measurement partners (MMPs) have long been entrusted as stewards of data across the AdTech ecosystem, and as measurement has become more complex, MMPs have pressed onward, innovating to adapt to the many changes and challenges that have arisen. The goal of the MMP is to provide advertisers with actionable, directional insights they can use to continue making the best decisions with their ad dollars.
Kochava has been forging the way for advertisers since 2011. With attribution science progressing toward a more complicated aggregation of smaller disparate data sets, requiring the application of complex math, we too continue to evolve into a future-proofed, MMP of tomorrow.
Complexities of modern attribution
Yes, modern attribution has become increasingly complex and will no doubt increase in complexity in the future. To really understand where attribution is headed, it's important to look back on where it started.
Attribution used to be fairly straightforward. An impression or click occurred, and a conversion resulted, giving advertisers a simple one-to-one connection to understand which media exposure contributed to which conversion.

While this type of attribution is still in use in a number of scenarios, a renaissance of privacy-focused initiatives has led to a new era of privacy-first attribution that's no longer one-to-one, but cohort-based and anonymous by design. This is leading to an increasing number of cohorts of aggregated signals needing to be reconciled and/or balanced with record-level activities of first-party data, all while making the bigger performance picture clear and understandable for the marketer.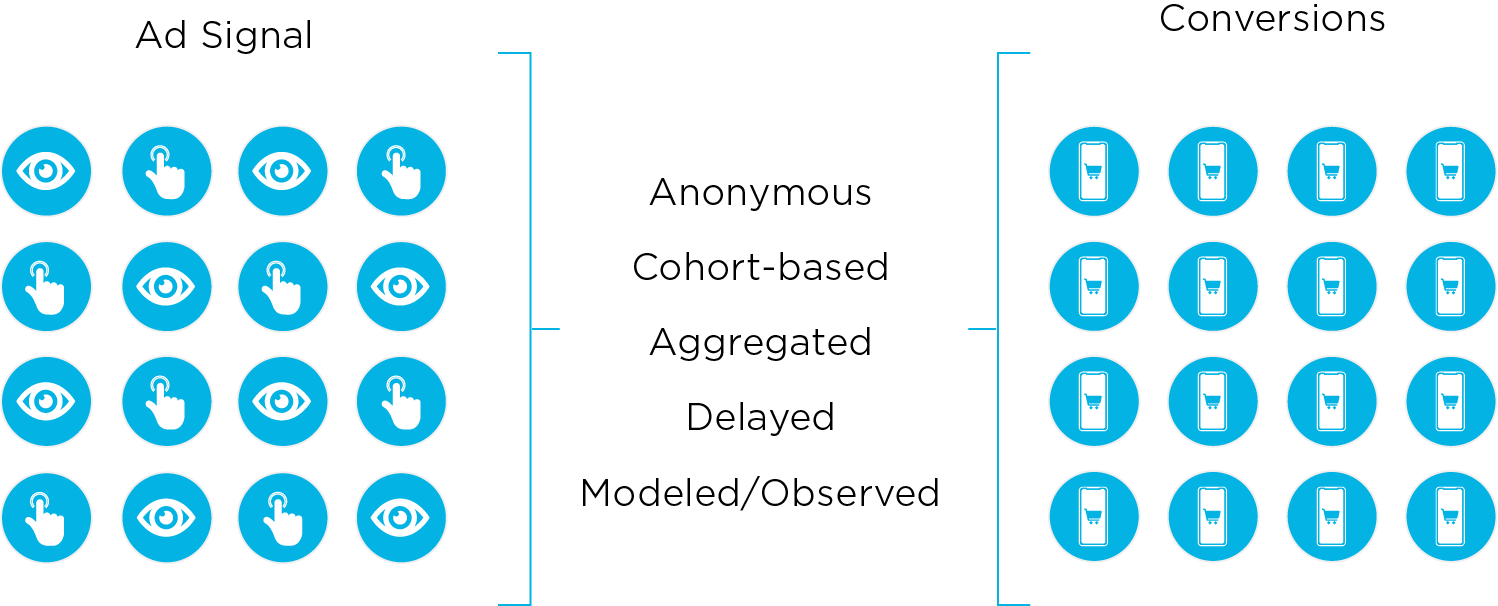 It's no small task, but MMPs are uniquely positioned to meet this need by managing the integrations, aggregations, and complex math to give marketers the best possible insight into the performance of their spend.
Apple largely spearheaded the privacy-first attribution revolution with their introduction of the AppTrackingTransparency (ATT) framework with iOS 14. The ATT framework essentially placed traditional one-to-one advertising attribution behind a user opt-in wall. At the same time, they launched the second version of SKAdNetwork, a privacy-enhancing technology that offered an anonymous and privacy-first approach to measurement that did not require opt-in. 
In 2024, Google is set to follow with their roll-out of the Privacy Sandbox for Android, which in many ways could be likened to SKAdNetwork for Android, although there are plenty of differences. While these privacy shifts play an important role, the lack of cohesive policy and implementation make it increasingly important for advertisers to work with an MMP that can help guide them through the complex web of attribution depending on channel, platform, region, and other variables.
Cross-platform measurement is a top focus in 2023
According to a recent study by the IAB, 55% of respondents cited cross-platform measurement as their top focus for 2023.
Kochava helps marketers navigate cross-platform measurement complexities with solutions that provide turnkey attribution and data handling across the various privacy layers that exist, at the platform/OS level, the publisher/network partner level, and the government regulation level.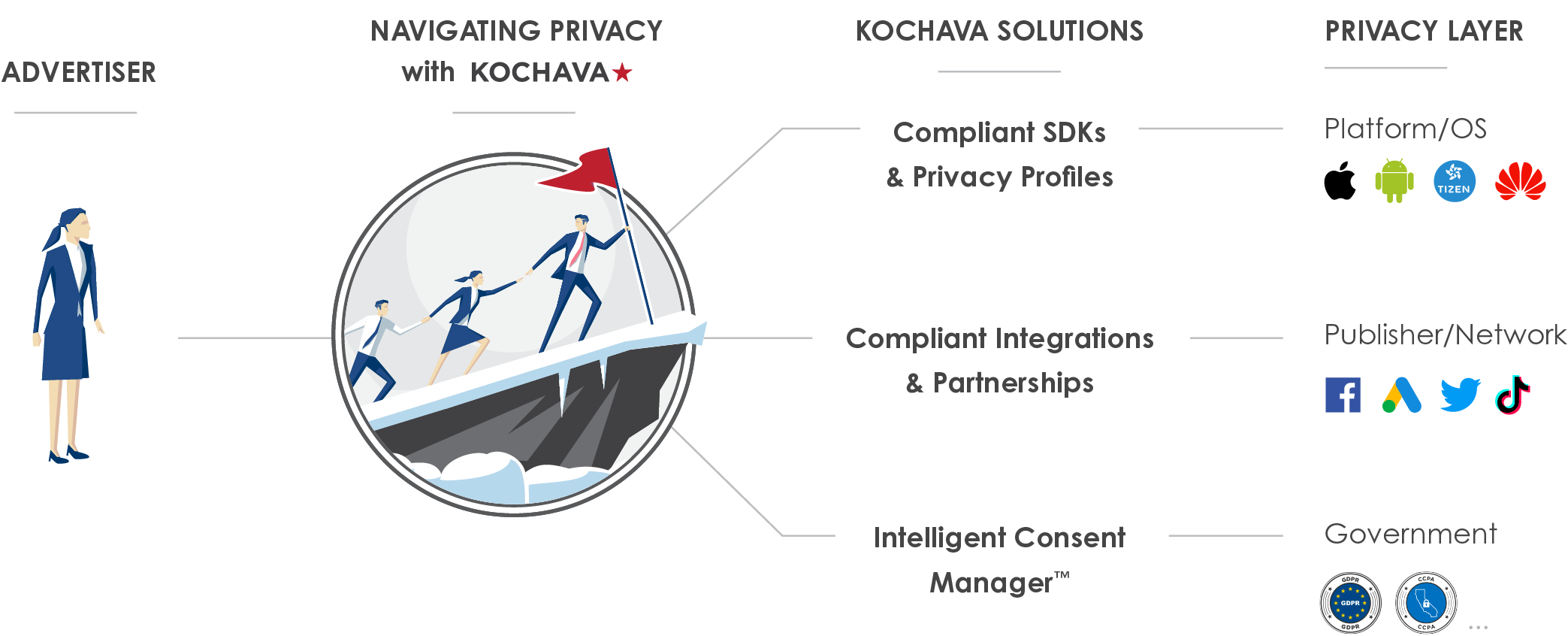 Throughout the omni-channel marketing landscape, Kochava operates on many layers of measurement methodologies that can be applied to extract performance insights for the marketer while staying in line with the complex web of privacy-first policies.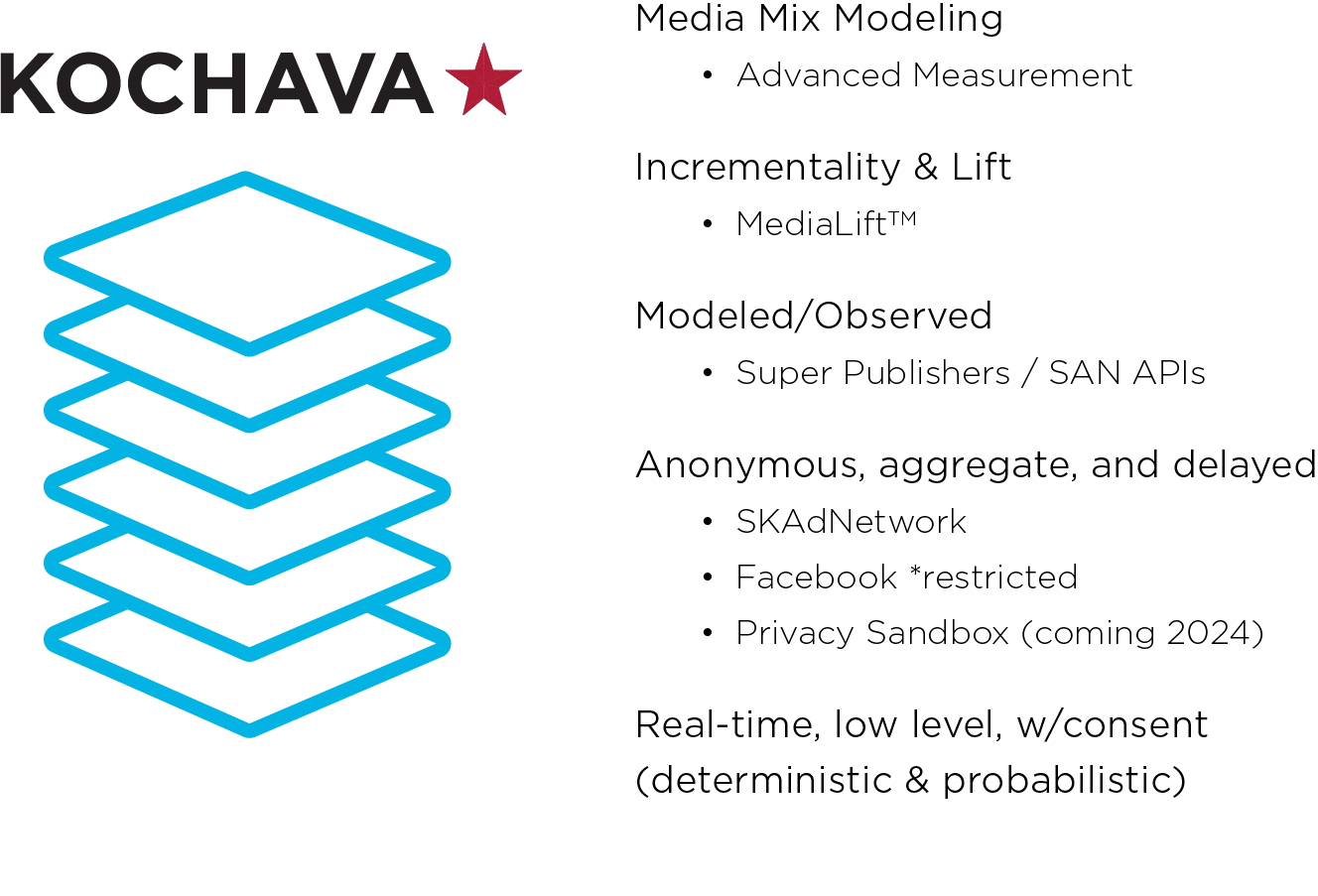 To learn about the finer details of how Kochava operates across these layers and ways you can leverage them in your omni-channel measurement strategy, contact us for an expert briefing.
Optimizing your media mix modeling insights
Media mix modeling (MMM), also called marketing mix modeling, is becoming more and more essential as user privacy enhancements challenge marketers to find new ways to arrive at the performance insights they can use to optimize their spend. With MMM, the data collected from marketing and non-marketing sources is used to build a demand model that can be analyzed to determine the impact marketing has on overall conversions and business outcomes. With these insights, marketers can adjust their spend and optimize performance from a more holistic vantage point.
Kochava recently acquired Machine Advertising, whose Always-on-Incremental Measurement (AIM) platform, is a next-generation marketing mix modeling tool. AIM maximizes the effectiveness of the marketer's budget by providing advanced control over factors such as incrementality, channel saturation, and seasonality. 
The more traditional approaches to MMM quickly become outdated without regular updates, making it time-consuming and requiring skilled resources in order to manage. This often made MMM a laborious exercise that only large organizations had the resources to maintain in-house or the budget to outsource externally. AIM is different in that it's a sophisticated learning system that ingests new data daily and continuously updates and enriches its models. The always-on approach ensures that the insights it produces are always accurate, up-to-date, and ready to use – providing its users with turnkey recommendations for optimized budget allocations.
This is accomplished through a top-down measurement approach that leverages aggregated and anonymized data, as opposed to the bottom-up path of an MMP that traditionally relies on granular, row-level data. AIM works further down the measurement spectrum by starting with market-level aggregated data to analyze media effectiveness and then continues down the funnel to provide more granular actions to inform budget allocation by media partner.

These two methods feed into each other to help marketers improve processes and campaign performance. Utilizing AIM in conjunction with any MMP ensures that all aspects of the measurement spectrum are addressed and provides usable data to better inform buying decisions. 
As a prerequisite to the use of the AIM platform, you will need aggregated cost data by app, country, network, and day. Most MMPs offer cost aggregation tools, and the AIM platform can work with any MMP.
For marketers utilizing Kochava, Kochava Cost provides cost aggregation with data connectors to ingest cost metrics across all of your omni-channel partners. If you're a current Kochava client and aren't using Kochava Cost but have an interest in MMM, be sure to contact your Client Success Manager or email support@kochava.com about implementing cost measurement.
Preparing for the future of attribution
The future of attribution is already here; Kochava is continuously innovating and adapting to evolve along with the ever-changing advertising ecosystem. 
In preparation for Google's Privacy Sandbox release in 2024 and the depreciation of MAID, Kochava is participating in Google's beta testing. With only a year to go, advertisers should coordinate with an MMP that supports SKAdNetwork and will also be able to ensure their success on the future of Android.
Looking forward, Kochava will unify all aspects of modern attribution into one highly effective insights layer spanning omni-channel integrations, varying degrees of performance data aggregations, and juggling the complex math necessary to deliver a sensible read on your campaign outcomes.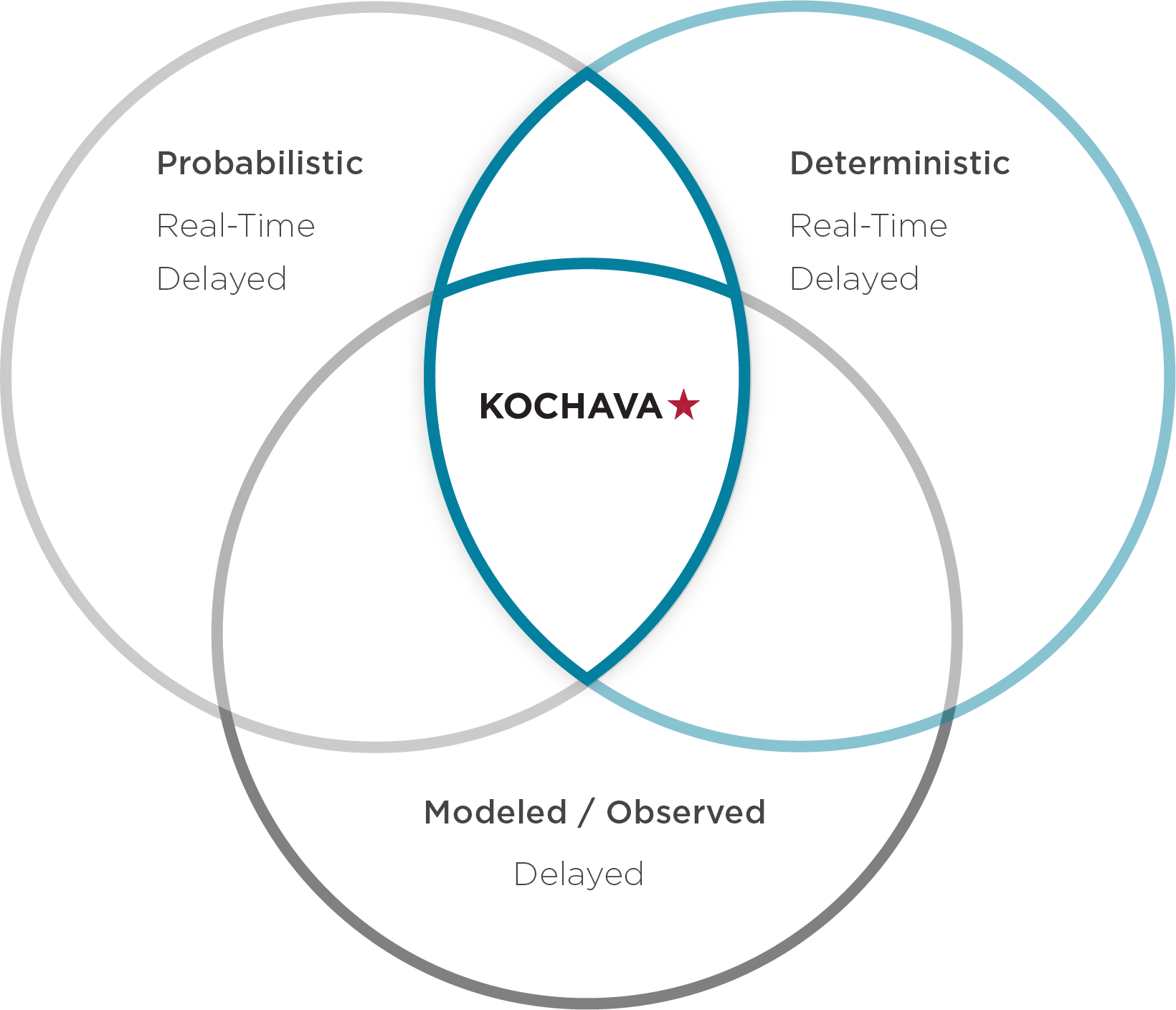 Helping today's marketers prepare for tomorrow
MMPs are no longer last-touch measurement houses. For years, Kochava has been supporting fractional attribution, hosting the data that brands use to drive their own in-house media mix modeling, and performing one-off incrementality studies. The policy changes across major players have forced the industry to adapt, and as an MMP that prioritizes innovation, we're ready to accept the challenge and help marketers thrive. 
Stay up-to-date on the latest in AdTech and news from Kochava by subscribing to our newsletter.