Your Guide to Over-the-Top (OTT) and Connected TV (CTV) Vocabulary
Welcome to your advanced TV terminology guide. This piece will break down terms associated with all things television and explain where they fit into the OTT/CTV ecosystem. Advanced TV is a blanket term that describes the non-traditional way TV is viewed. Advanced TVs are connected over the internet and stream shows and movies through streaming services like Netflix and Hulu.
As we dive deeper into the advanced TV space, many more industry terms emerge, and it can be challenging to keep them straight. So let's clarify these definitions and provide some examples.
TV buying is the process of purchasing ad space and time on a platform or service to target specific audiences to increase your customer base. TV buying has evolved over the years. Traditionally, ads were purchased and served on cable/satellite television, reaching broad audiences. Today, ad space can be bought and sold automatically and served to specific viewers across many programs and devices. The following are three types of tv buying, all of which are still used in various ways.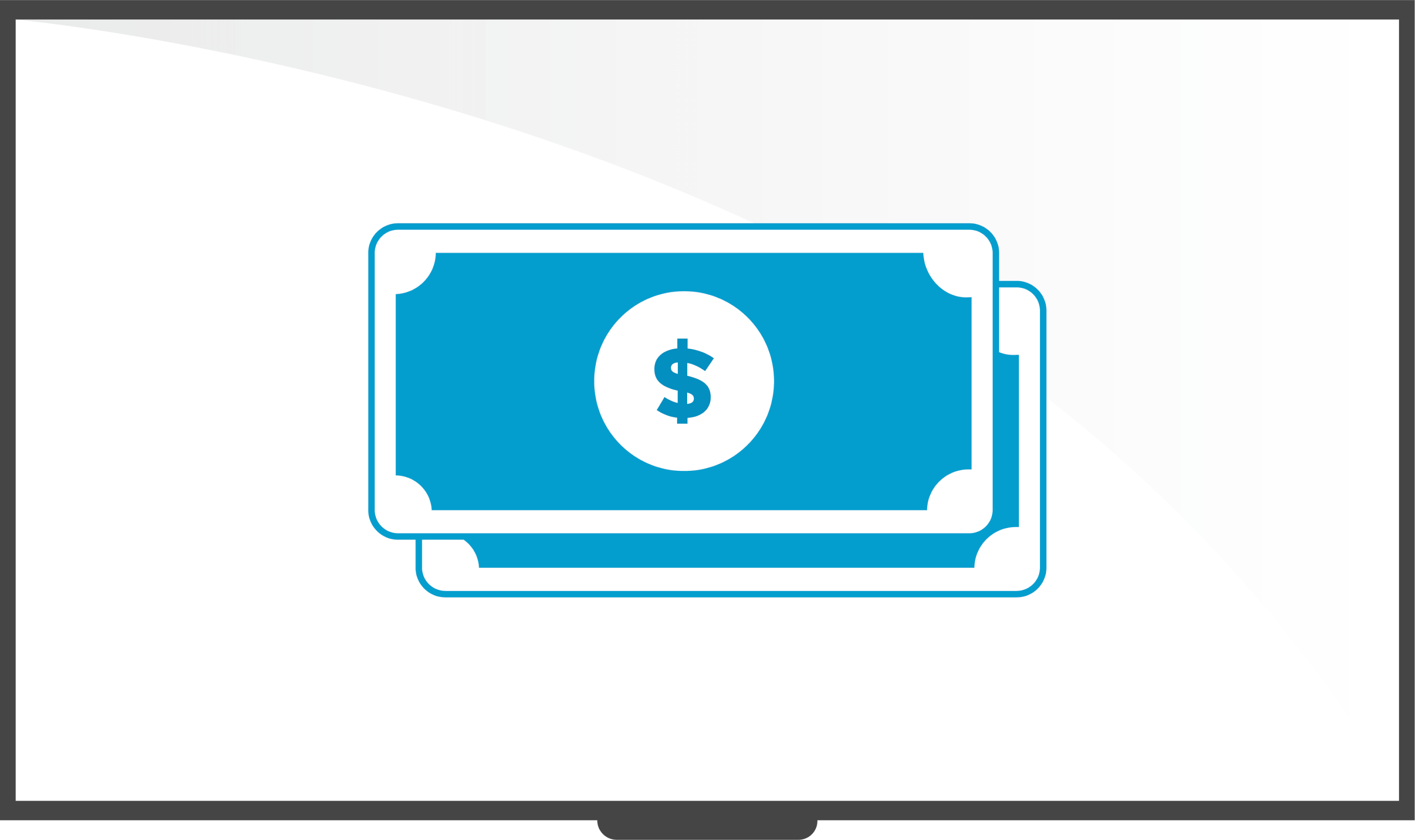 Traditional TV
Traditional TV is the original way of ad buying where ad spots were purchased based on viewer data such as gender, age, and other demographics and served on specific TV ad programs. This type of ad buying reaches a wide range of viewers across linear TV ad spots.
Programmatic TV
Programmatic TV is the process of automatically buying audience-based ads on a platform using set-top-box (STB) data to identify those specific audiences. Ad space is then bought programmatically to target those audiences.
Addressable TV
Addressable TV uses programmatic technology and automatically segments audiences to target ads at the household level. In real-time, these addressable TV advertisements are served to viewers across set-top providers (cable platforms) and Video on Demand (VOD) inventory. Addressable TV allows for advertisers to potentially target customers and geographies more precisely.
TV formats are ways that television is served to viewers. Like TV ad buying, TV formats have significantly changed over time. The evolution of how viewers can watch, where they watch, and when they watch television has provided advertisers with many more data points, allowing them to target their audiences more effectively and effectively.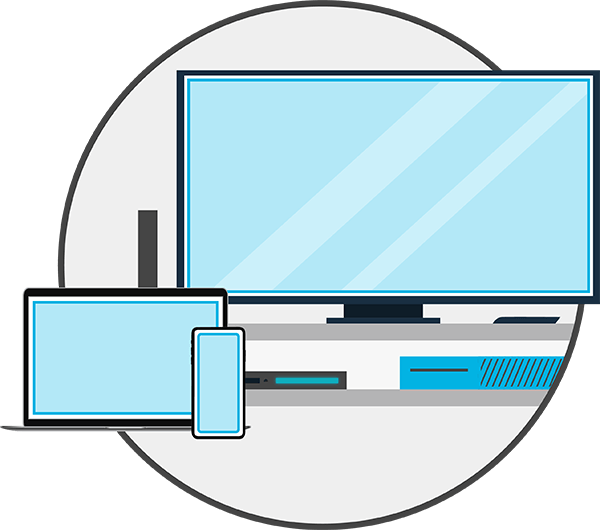 Linear TV
Linear TV is the traditional television format that displays content through a satellite or cable box and is watched at a scheduled time on a specific channel.
OTT
OTT, or over-the-top, refers to television and film content streamed "over-the-top" of the internet directly to viewers, rather than through traditional broadcast, cable, or satellite mediums. Content may be streamed on connected TV devices, desktops/laptops, mobile phones, and tablets from apps or websites.
CTV
CTV, or connected TV, describes televisions that are either directly internet-enabled like smart TVs or devices that plug into a TV to stream content "over-the-top" of the internet. Common household CTVs include Amazon Fire, Roku, Chromecast sticks, Apple TV, PlayStation, and Xbox gaming consoles.
Digital TV
Digital TV transmits television signals across digital media such as desktop, mobile, or tablets rather than traditional methods like linear television.
TV content refers to how television can be made available to viewers. Instead of only paying for cable or satellite services and watching the content available only on those provided channels, viewers can decide what content they want to view and pay for that content in various ways. Advertisers, too, can determine what type of TV content they serve ads on depending on the audiences they want to target.

MVPDs
MVPDs, or Multichannel Video Program Distributors, distribute or serve multiple television channels to viewers typically on a subscription basis like Dish TV.
vMVPDs
vMVPDs, or Virtual Multichannel Video Program Distributors, are similar to MVPDs but distribute and serve channels across digital, OTT platforms such as YouTube TV.
VOD
VOD, or Video on Demand, allows viewers to watch television content when they choose instead of watching programs at a scheduled time.
SVOD
SVOD, or Subscription Video On Demand, are streaming services that require a subscription (e.g., Netflix, Hulu, & Amazon Prime Video), and viewers can watch content when they choose.
AVOD
AVOD, Advertising-based Video On Demand, are streaming services that offer free, ad-supported streaming video (e.g., Crackle, Tubi, Vudu). Viewers can watch content for free, but advertisements will occasionally appear during their view time.
TVOD
TVOD, or Transaction-based Video On Demand, allows viewers to pay only for the content they want to watch, typically on rent or buy basis for a one-time fee.
TVE
TVE, or TV Everywhere, refers to content that can be streamed on any device. Views can log in to the platform to view content and pay for their service within that platform.
There are many types of TV content, and each platform can have a combination of the above features. For example, Hulu is both an SVOD and AVOD streaming service and provides viewers with the option to buy add-ons that fall under the TVOD category. On the other hand, Netflix only operates under the SVOD umbrella because it is solely subscription-based. The below LumaScape shows the segmentation of different TV content and where they all fit into the streaming ecosystem.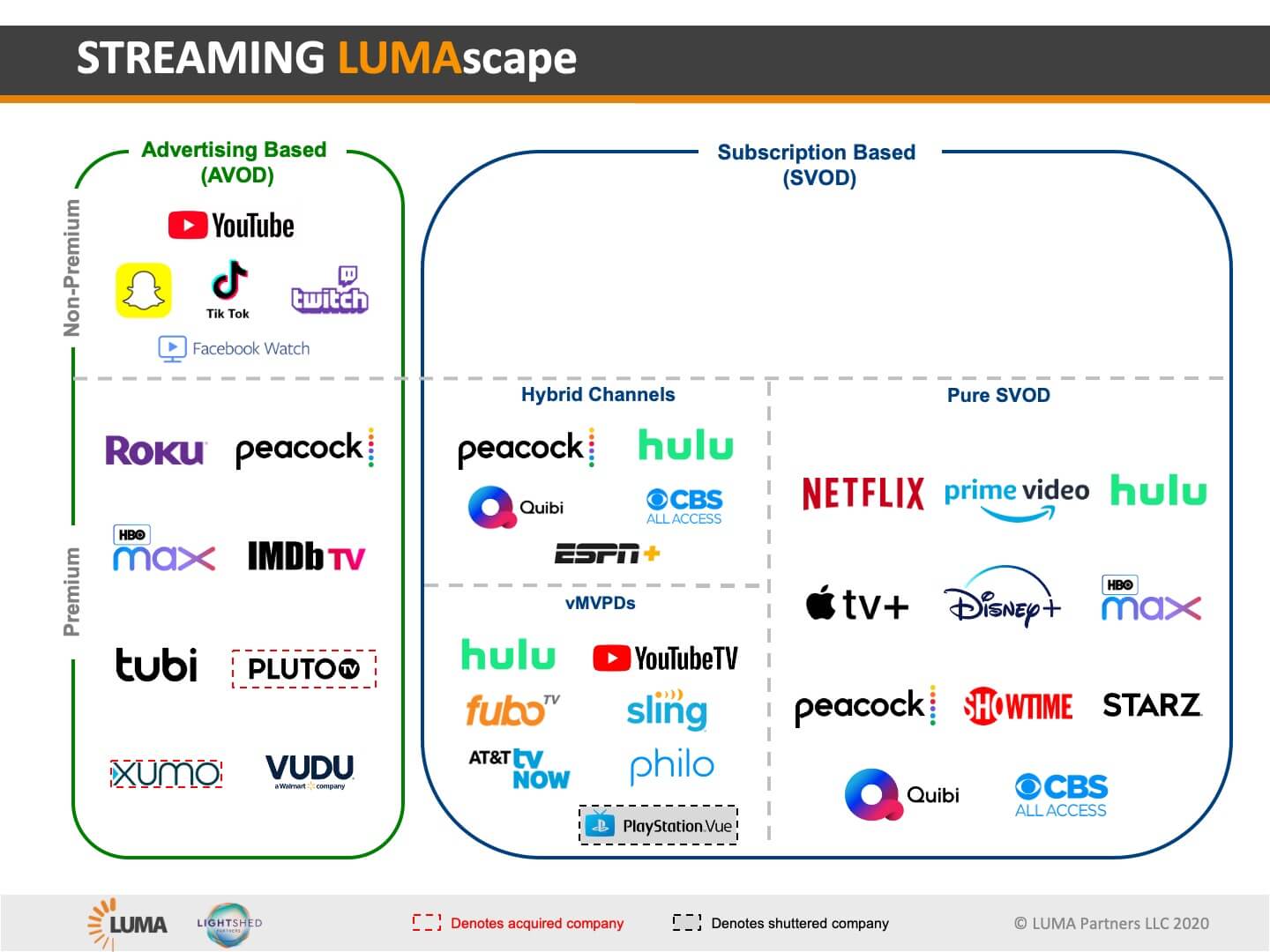 As an advertiser, when choosing what platform to serve ads on, make sure to examine the different platforms, what they offer, and how or if they display ads to ensure you are reaching your desired audiences.
Hopefully, this guide has helped clarify some of the terms in and around advanced TV. If you want to learn more about advanced TV, download our guide on an Introduction to OTT & CTV, which will look at the OTT and CTV ecosystem, the benefits of advertising on these platforms, and how to get started.
For more information, visit our website or reach out to us at support@kochava.com.