How an MMP serves marketers in the privacy-first age of advertising
The role of the mobile measurement partner (MMP) has evolved significantly across the last 10+ years.  Kochava was founded in 2011 to help marketers attribute mobile app installs and events back to the advertising campaigns that drove them. The worldview was small then with a limited ecosystem of media partners and the primary device platforms measured being iOS and Android. Today, the Kochava Marketers Operating System® (m/OS) helps countless brands worldwide connect the dots of campaigns spanning thousands of media partners to business outcomes across not only mobile, but the full spectrum of connected devices (mobile, web, connected TV, smart home, etc.).
Since 2020, not only did COVID related impacts significantly alter the evolution of the global advertising economy, but we also witnessed a number of major developments in the digital ad ecosystem. These developments, though largely focused on a somewhat undefined notion of "privacy" sent shockwaves through digital advertising, even causing some to speculate that the era of the MMP had ended.
Apple's AppTrackingTransparency (ATT) framework, the introduction of Apple's SKAdNetwork, Facebook's deprecation of the Advanced Mobile Measurement (AMM) program, and Google's announcement that Privacy Sandbox will be coming to Android have upended many of the traditional measurement methodologies. The foundations of advertising targeting and measurement are being uprooted and replaced right before our eyes. So what role does the MMP occupy in the marketing tech stack of the future? Let's answer that.
As a next generation MMP, Kochava is not simply linking impressions or clicks to in-app conversions. We're measuring and attributing marketers advertising campaigns within the construct of a highly complicated and sophisticated array of data privacy controls that are designed to protect the end-user while offering maximum advertiser insights. These data privacy controls originate from device operating systems and platforms, advertising media partners, and government jurisdictions. The grid below offers a visual representation of this complexity and the specific Kochava solutions that intersect with each.

Navigating the web of privacy layers created by the trifecta of policy sources requires an expert that's dedicated to following the continual evolution of user privacy across connected devices, platforms, and global regions. While brands and their privacy and/or legal teams make the ultimate decisions on how they operate, the MMP sits as the navigator, a guide if you will that helps marketers and their organizations traverse these complicated waters with turnkey tools. 
Our robust library of software development kits (SDKs) provide out-of-the-box support to interoperate with the distinct policies and restrictions of each platform. We created Privacy Profiles to enable marketers to choose what data points are collected by our SDK, as well as how those data points are or are not utilized for attribution purposes.The application of this tool will continue to expand across our platform. 
Further, Kochava sits as a Certified Partner with all major super publishers (also often called the 'walled gardens' or 'self-attributing networks'). This status is only maintained through rigorous audits and thorough adherence to the policies of each partner. These policies can be related to everything from data redaction and retention limits to data sharing and handling. Maintaining these integrations is a full-time effort across the entire organization and ensures that to the end-advertiser we offer turnkey compatibility with the media partners they want to run campaigns with a no-hassle plug-n-play ability. The certified partner status enables us to process and analyze data on behalf of advertisers that they would not be able to access directly themselves. This makes the MMP an absolute necessity. 
Intelligent Consent Manager™ is our built-in consent management platform. In relation to government jurisdictions like the General Data Protection Regulation (GDPR) in Europe or the California Consumer Privacy Act (CCPA) and other US State policies, we go beyond simply being compliant as your service provider or business partner. We empower you with tools to prompt for consent, capture consent strings, and/or persist a user's consent status across your marketing tech stack.
Your single source of truth
Across your omni-channel media efforts, the next generation MMP acts as your eyes and ears, tuning into every signal from your media partners to help you decipher the true driving force behind each user engagement.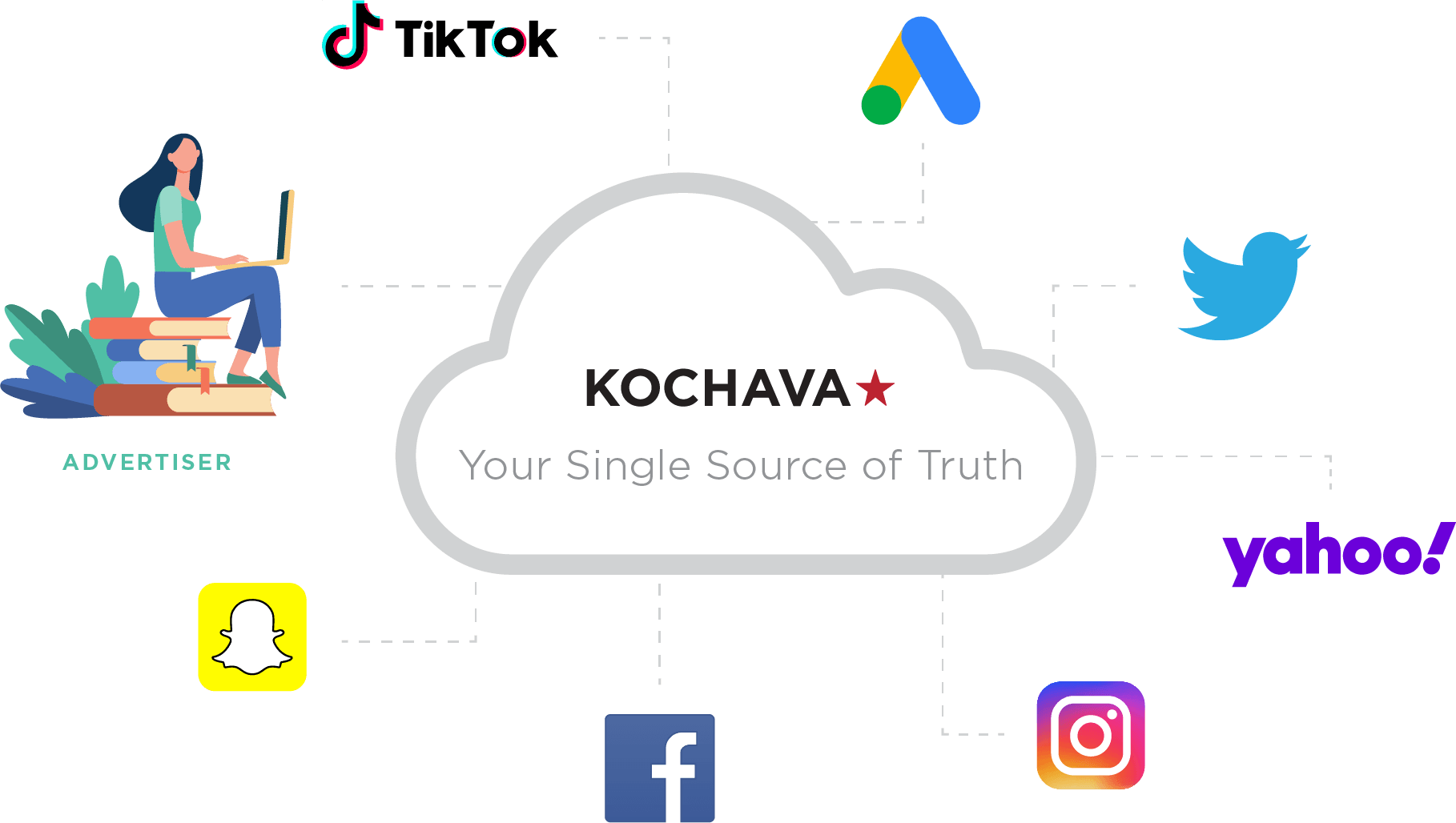 As an example, even with Facebook's deprecation of the AMM program, as a measurement partner, Kochava is still receiving the row-level, consented conversion claim data from Facebook that enables a cross-check against all of your other media efforts to determine a final outcome. That makes Kochava one of only a handful of companies worldwide that's entrusted with the responsibility to steward this data on behalf of advertisers. 
Kochava cannot share any row-level Facebook data with the end advertiser, but we do sit on the raw data internally. Our data scientists and analysts can run analyses that output unique optimization intelligence in aggregate form that's not available anywhere else. 

Many other self-attributing networks have or are in the process of creating specific policies around data redaction and data sharing. This positions the MMP as the certified intermediary to connect advertisers to the understanding of their omni-channel performance, while allowing each walled garden to protect the privacy of their user's data.
Navigating omni-channel attribution nuances
The MMP also serves to help advertisers navigate the increasingly complex web of varying attribution options. Nuances exist across different platforms, media channel types, and partners. While the marketer should be aware that those nuances are present, they should be able to look to the guidance of their MMP as the expert in the space. 
As an example, iOS alone has become extremely complicated. The consent, or lack thereof, of the user via Apple's ATT framework impacts not only the availability of the identifier for advertisers (IDFA), but also any attribution outside the SKAdNetwork, unless you're dealing with owned media. If it sounds complex, it is. 
The pivot table below expresses the types of attribution available based on where the media is served, whether it's paid or owned media, and what the consent of the user is in the target app of the advertiser.

Kochava Privacy Profiles, previously discussed, enables the advertiser to configure their attribution options within this iOS specific construct.
Quick plug-n-play with Apple's SKAdNetwork & Google's Privacy Sandbox
The chart above also expressed the relevance of Apple's SKAdNetwork as a continued source of performance insight on iOS user acquisition via in-app campaigns. Lacking any user or device-level identifiers, plus being delayed at least 24 hours post-conversion, SKAdNetwork was a significant departure from how mobile app campaigns had long been attributed. Next generation MMPs quickly stepped into the gap to offer out-of-the-box SKAdNetwork support for iOS apps. Conversion value models were established to extract maximum user quality insight from the limited data model of the SKAdNetwork. The plug-n-play SKAdNetwork solutions offered by Kochava and other next generation MMPs are vital tools for ensuring an advertiser's success on SKAdNetwork. Through Kochava's free offering – Free App Analytics®, SKAdNetwork support is available at no cost to long tail developers and SMBs who are just starting out and don't have a budget for a full-featured MMP solution. 
With Google's recent announcement that Privacy Sandbox is coming to Android, we're likely to see another manifestation of re-imagined attribution with Google's Attribution Reporting API. While at least two years out, advertisers should align themselves now with a next generation MMP that has adapted well to Apple's SKAdNetwork who will also be able to ensure their success on the future of Android.
The next generation MMP should be a partner you can look to as your North Star that helps you navigate a highly complex and sophisticated ecosystem that lacks one central authority to establish a standardized solution for all. As long as device platforms, media partners, and government jurisdictions continue to establish their own distinct set of rules, restrictions and policies, we will continue to face a dizzying maze of unique circumstances and challenges across advertising endeavors. Kochava is dedicated to being the next generation MMP that brings your omni-channel worldview into focus amidst this backdrop. 
Stay up-to-date on the latest in ad tech and news from Kochava by subscribing to our newsletter.