A few weeks ago, I picked up Seth Godin's book, "We Are All Weird: The Rise of Tribes and the End of Normal." It's his self-described "manifesto about the end of the mass market," and it's fascinating. It's also relevant to the market I've been serving (and watching evolve) for the past five years.
Godin describes how the bell curve of yesteryear's mass market has dramatically flattened and spread.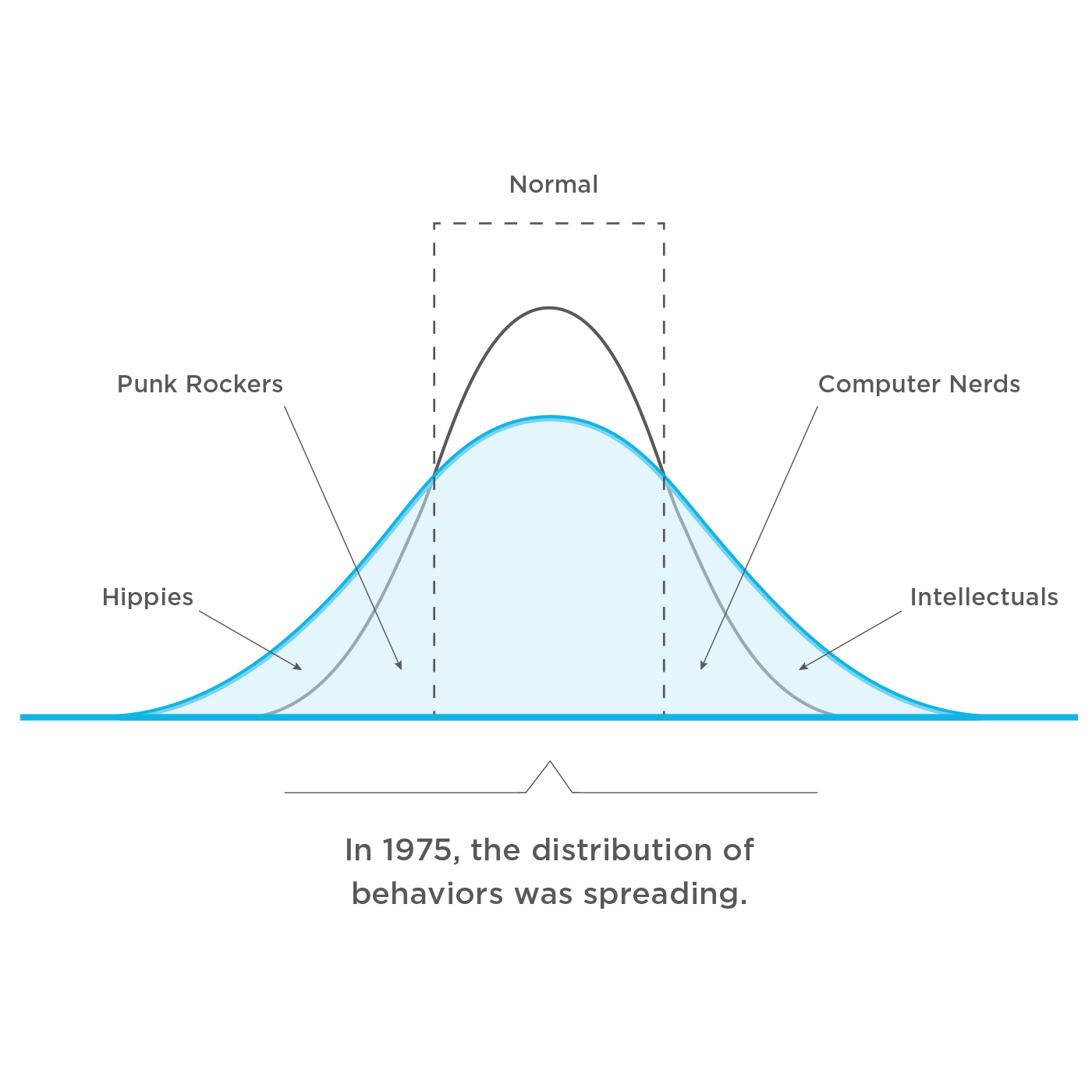 We see the portions of the market that were on the fringe of the mass now organized into tribes so that "normal" is fading as the best target of effective marketing. There is no longer one massive audience to reach. As Godin says, "The way of the world is now more information, more choice, more freedom." And marketers have had to evolve to reach the many silos of interest that now comprise the market.
Mobile is one of the only truly effective ways to make this possible. The meteoric adoption of ubiquitous handheld computers and mobile as a marketing channel has both enabled the rise of the tribe and caused it. Tribes are groups of like-minded people, and they are powerful when it comes to marketing. If the product fits the needs of one in the tribe, it is likely the rest feel similarly. In some cases, tribes have made enhancements of their own to the product, making marketers listen to what they want to see in it. This is where the "weird" comes in. It's in the individuality of these tribes. Buying your product enriches their experience in some way. As Godin writes, "The key element of being weird is this: You insist on making a choice."
He further explains how mass advertising activities no longer comprise the majority of effective marketing efforts at major ad agencies; publicity, promotional, and service activities do. In other words, specialized, targeted, creative approaches to reaching people in the efforts of promoting brands has eclipsed traditional forms of advertising. The game has changed.
In this age of mobile, effective marketing requires the right tools. One of my favorite quotes from the book is, "Average is for marketers who don't have enough information to be accurate."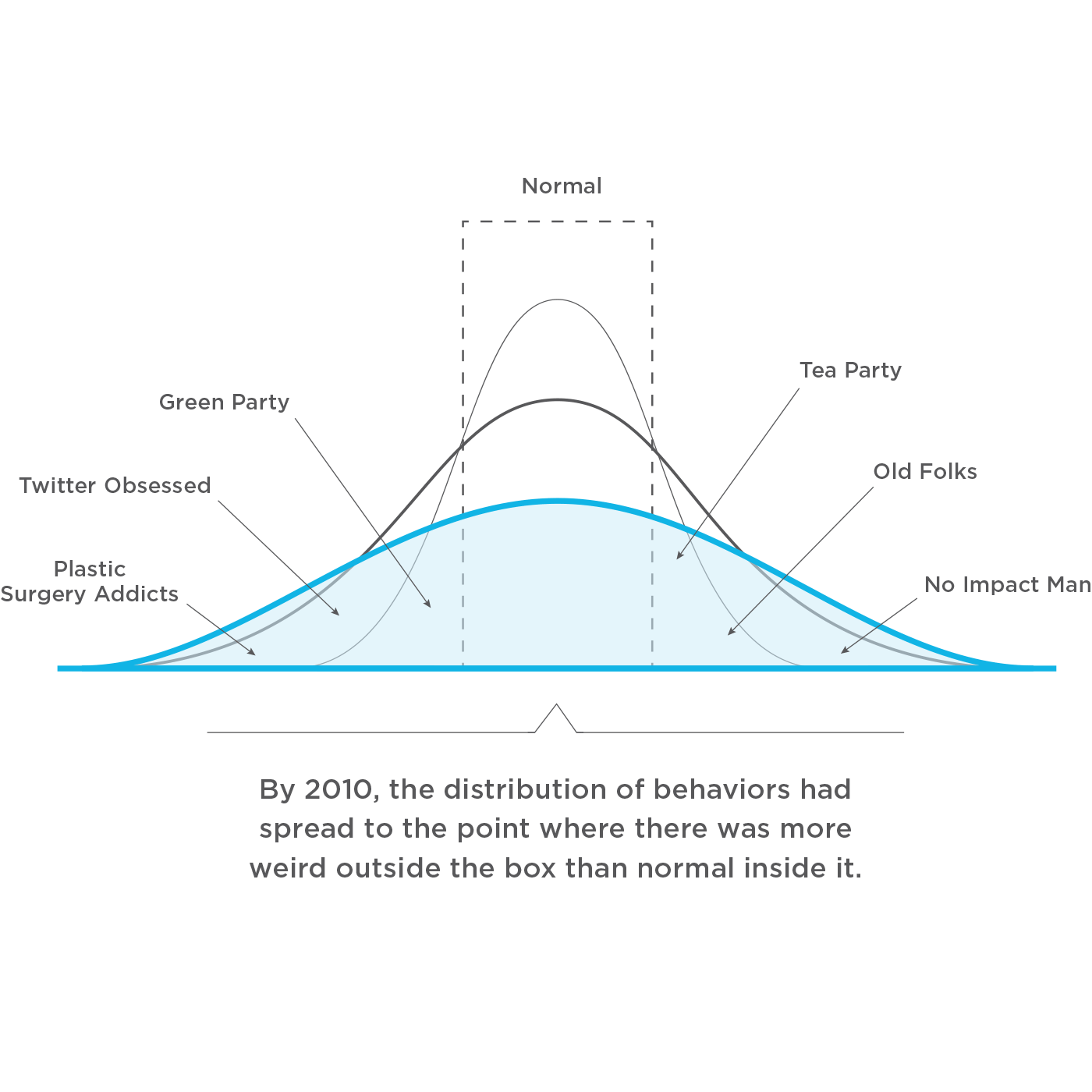 Data is a must-have in this new game but so is the ability to find those many silos of interest, the once-alone who have formed powerful communities who want your products. As the bell curve flattens and normal becomes elusive, tribes of the unique tighten. As Godin writes, " They don't like advertising that isn't about them, for them, or interesting to them. But talk directly to them about something relevant and personal, and they love you."
It's all about finding the right audiences
I've said this before in a previous blog post: Our marketers have more insight about a publisher's audience than the publisher often knows themselves. Kochava customers have an unfair advantage because of our tools. Despite this, using a measurement platform as a proxy for targeting new audiences is like driving your car forward while only having the use of your rear-view mirrors to see.
That's why earlier this year, our team expanded the offerings from attribution and analytics for mobile to the Unified Audience Platform. Kochava has created innovative products to correspond with the shifts and undulations of the industry, responding to customer needs and constantly working on the next generation of tools. The Kochava Collective is part of that strategy. It is our integrated targeting product that brings highlighted segmented audience targeting directly to marketers (either through automated lookalike models or ad-hoc queryable audiences). This past week, we celebrated surpassing one billion devices in the Kochava Collective, making it the largest independent mobile data marketplace in the world.
Kochava is focused on the tools marketers need in the "We-Are-All-Weird" world of hypertargeting, segmentation, activation and measurement. The Kochava Unified Audience Platform is the outcome of being focused on what marketers need, and enabling them to scale.
The idea of casting a wide net and seeing who gets caught in it no longer works at scale. Marketers need to know their audience in order to best communicate with them, and the Unified Audience Platform provides the necessary tools. To close with one of Godin's many gems: "The Marketplace brings power to the chooser….If people choose to interact, they gain power, because their choice is up to them, not the marketer. If you want me to buy from you, perhaps you should acknowledge and then respect my weirdness."
About the Author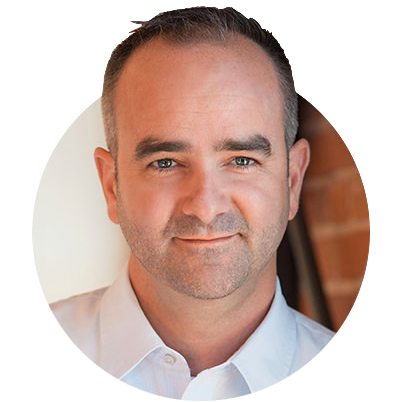 Charles Manning is the founder and CEO of Kochava, the leading mobile attribution analytics platform serving tier-one advertisers worldwide. For nearly 20 years, he has been creating technologies that use data for system optimization, ranging from business service management (BSM) to information technology (IT) to attribution analytics. Charles began his career at Oracle and later held executive and C-Level positions at M-Code, Managed Objects, and PLAYXPERT.