Understand where your OTT streamers are really coming from
In the U.S., well over a majority of households are subscribed to a streaming service (eg, Hulu, Paramount+, Netflix, Disney+, SlingTV, etc.) and in many cases more than just one. Over-the-top (OTT) streaming services have witnessed exponential growth especially with many more people staying at home this past year. With a wide array of streaming devices and platforms through which consumers can connect to their services, brands' heads are spinning trying to keep up and understand their customers.

As an OTT streaming service, knowing where your best users are truly coming from can be a challenge. Is that new app install on a Roku device really organic? Or is it the same user who was acquired a week earlier through a mobile app acquisition campaign on Facebook? What about that new mobile app install? Was it actually driven by your Google app install campaign, or did that same user convert through a platform-direct Roku ad on their connected TV two weeks earlier? 
Marketers on the front lines must have this intel to maximize return on ad spend (ROAS). To connect these dots, brands with OTT streaming services need:
Holistic measurement across every device and platform their service touches

Omni-channel attribution across their media mix

Effective cross-device identity resolution

Cross-functional communication between mobile growth and display teams, as well as OTT and CTV focused growth teams
Holistic Measurement for OTT streaming services and CTV
Users can engage with OTT streaming services through connected TV (CTV) devices such as smart TVs, streaming boxes and sticks, and even gaming consoles. Users can also stream OTT content on devices that aren't technically categorized as CTV, which would include mobile smartphones, tablets, and computers (eg, laptops, desktops).

Brands don't want to miss a beat in capturing every user touchpoint and path of conversion, which means they need to measure user engagement on every device and platform their users may touch. However, implementing measurement capabilities into all of these devices and platforms on your own would be daunting. 
Within one platform, Kochava enables consolidated measurement across all devices through which OTT content may be streamed with turnkey software development kits (SDKs) to support Android and iOS, tvOS, Fire TV, Roku, Windows Xbox, and others. Here's the comprehensive universe of devices and platforms measurable with Kochava.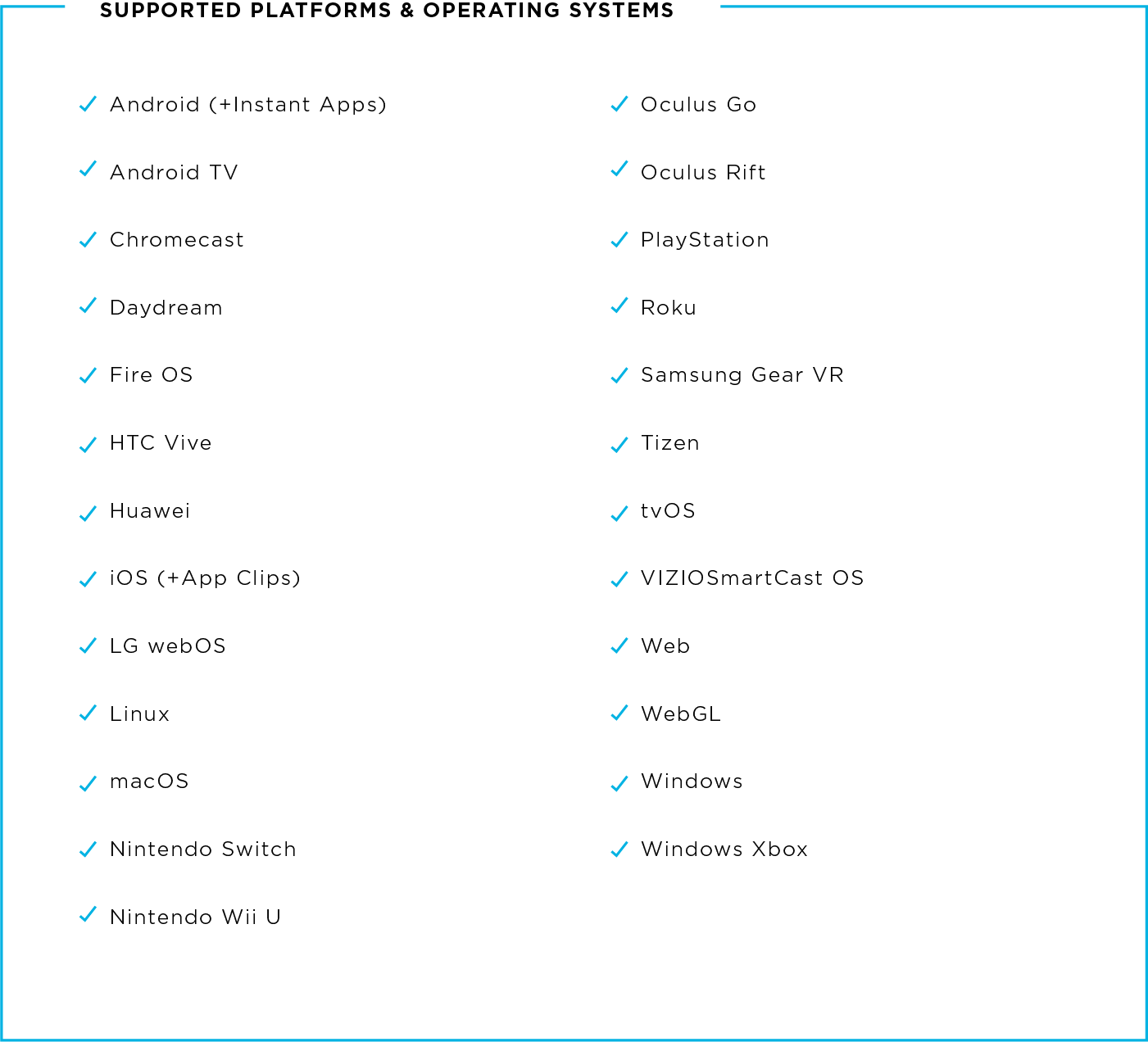 This means that no matter where your user may install your app and engage with your service, you will have visibility to it within Kochava. 
Omni-Channel Attribution
Measuring user engagement across devices and platforms is one part of the puzzle. Gaining attribution for your omni-channel media efforts across all paid partners, plus owned media is another. To understand what media spend is driving install and in-app conversions across the various platforms, you'll need built-in integrations across social and programmatic, display, super publishers (like Google, Facebook, Snapchat, Twitter, etc.), affiliate networks, and more. 
Kochava hosts over 4500+ integrations that encompass ad networks, demand-side platforms, OTT (including publisher direct, platform direct, and programmatic), out-of-home (OOH) and digital-out-of-home (DOOH), and other advertising mediums/channels. The ability to dissect performance trends across your paid media mix and see what moves the needle in gaining users with longer retention and lifetime value (LTV) is paramount. 
Owned media also shouldn't be ignored, as it can be one of your most valuable channels. Whether it's cross-promo, email, social, or another non-paid channel, Kochava offers tools that simplify owned media attribution, including dynamic cross-platform links, quick response (QR) codes, email service provider (ESP) integrations, etc. 
Cross-Device Identity Resolution
Counting your total customers can't be done by counting the devices that have your app installed. With the average household and consumer owning multiple connected devices, chances are high that one user is behind multiple devices engaging with your app. 
Identity resolution is key to resolve distinct user/account identities across devices. IdentityLink® from Kochava streamlines identity resolution exercises within your organization by enabling first-party user identifiers to be appended to device-level data and engagement. For iOS 14+ devices, marketers can control data collection and data use of IdentityLink® attributes via Kochava Privacy Profiles.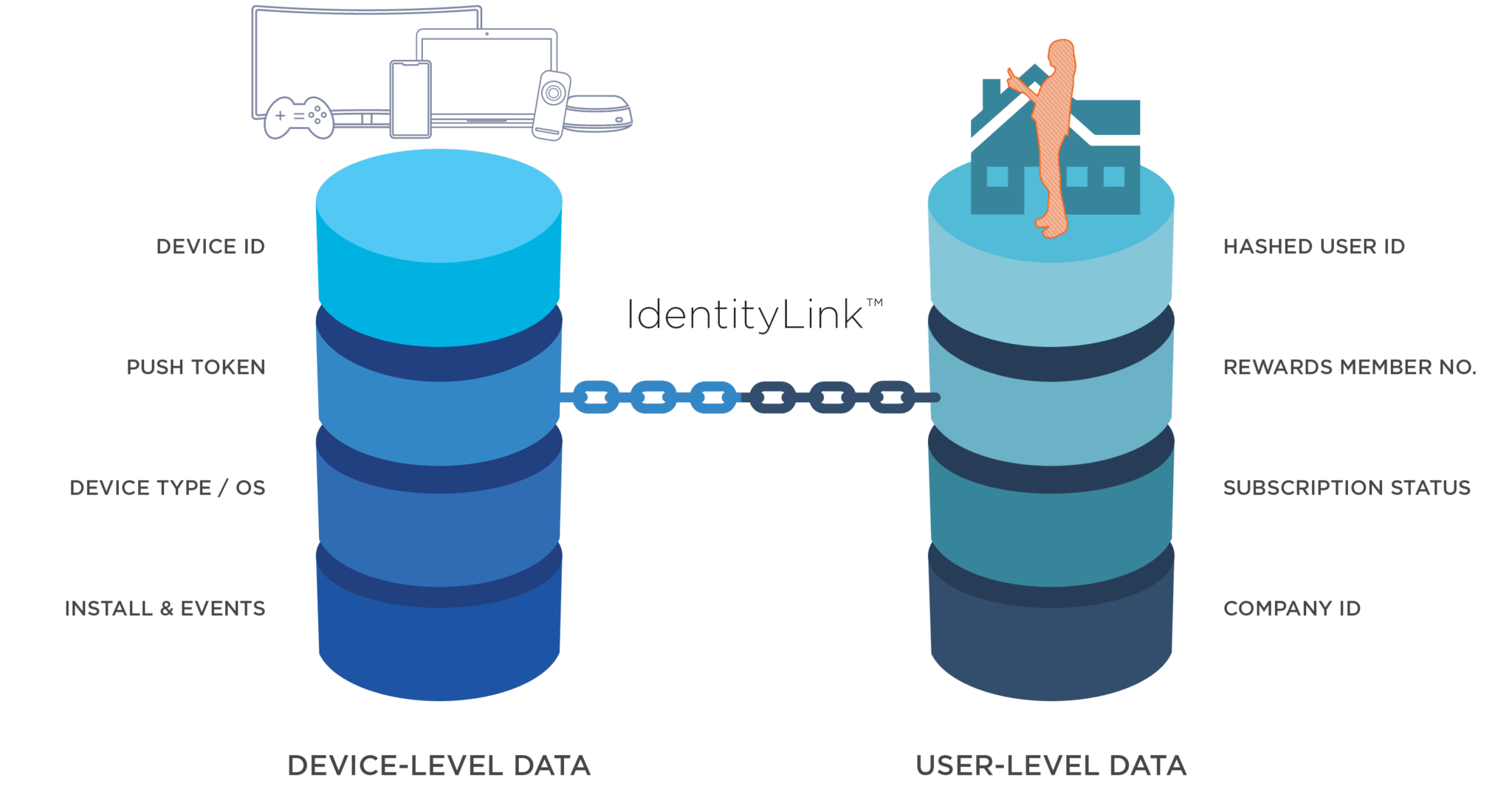 With effective identity resolution, brands can understand the optimal channels and platforms for user acquisition, albeit mobile-first, CTV-first, or display-first. Ad spend can then be optimized to maximize ROAS.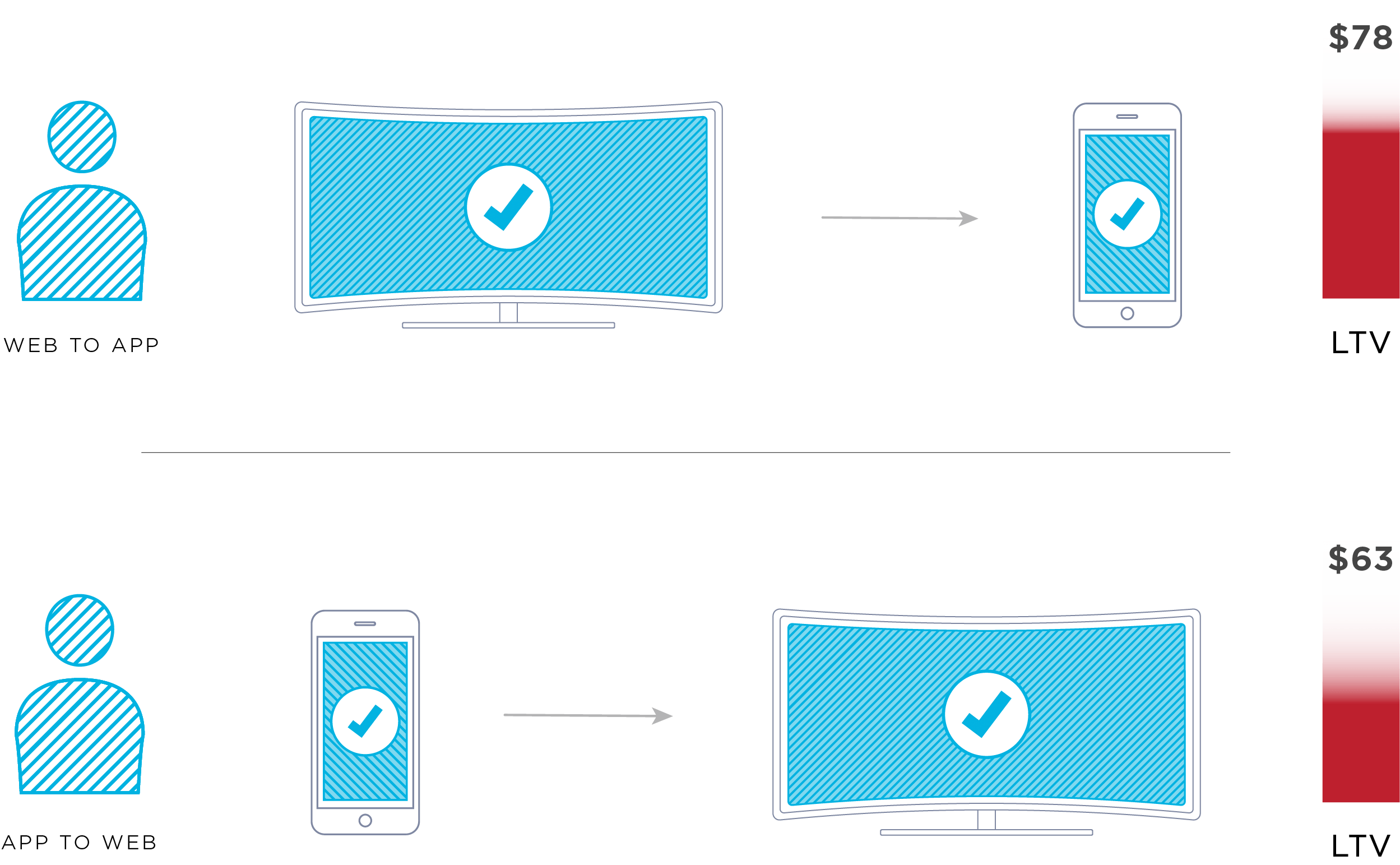 Cross-functional marketing coordination
In certain organizations marketing teams for mobile growth, web and display, and OTT and CTV may work completely independently of one another—operating in siloed vacuums with one hand not knowing what the others are doing. This is a mistake to avoid. Today's consumer sits at the intersection and is active across a myriad of channels, platforms, and devices. Marketing teams should work in coordination to reflect that reality. 
A platform-direct ad campaign run on Roku can certainly drive direct OTT streaming app downloads on that user's Roku device. However, that user could also see the ad on their CTV screen, pick up their Android smartphone and download the Google Play version of the OTT streaming app to watch from their phone. 
If the OTT and CTV team running the campaign only sets up measurement and attribution for Roku devices, a bigger picture is being missed. If they coordinate with the mobile growth team, they can ensure that their Android and iOS apps (which would also include tablets and iPads) are also set up for consideration against the campaign.  
With Kochava, a seamless integration with Roku allows advertisers to measure and attribute Roku ads seamlessly across devices and platforms, not just Roku devices. Kochava also has integrations with Vizio and other partners to support similar cross-platform, cross-device attribution to media. Talk with an expert at Kochava to learn how to leverage these integrations.  
Conclusion
OTT streaming apps have the fight cut out for them, with heavy competition and ongoing content wars to attract new users and keep the users they find. Having the right tools to measure every user touchpoint across omni-channel media and all connected devices is the firm foundation needed to be successful. 
Kochava provides solutions to the top OTT streaming brands in the space. Learn more about our OTT solutions here or contact us to speak with an expert.
Are you an advertiser looking for growth opportunities through the OTT & CTV space? Download our free guide. 
Learn the basics of OTT and CTV with the first blog in this series: What is the Difference between OTT and CTV?