The policy update focuses around interstitial ads that negatively impact users in specific scenarios and will take effect on September 30, 2022. With gaming revenues already under pressure, finding creative solutions to monetize ads has become increasingly important. Read on to learn more about Google's policy and understand what it means for app developers.
Google's interstitial ad guidelines
Interstitial ads are full-screen static or video ads that block out the app's other content for a set time period. Because the format, timing, and placement of interstitial ads can impede the user's experience, Google wants additional governance around this ad format.
According to Google, ad experiences that will no longer be allowed include:
Full screen interstitial ads of all formats (videos, static, GIF, etc.) that are shown unexpectedly for users when they have chosen to do something else

Ads that appear during game play at the beginning of a level or content segment

Full screen video interstitial ads that appear before an app's loading screen

Full screen interstitial ads of all formats that cannot be closed by the user after 15 seconds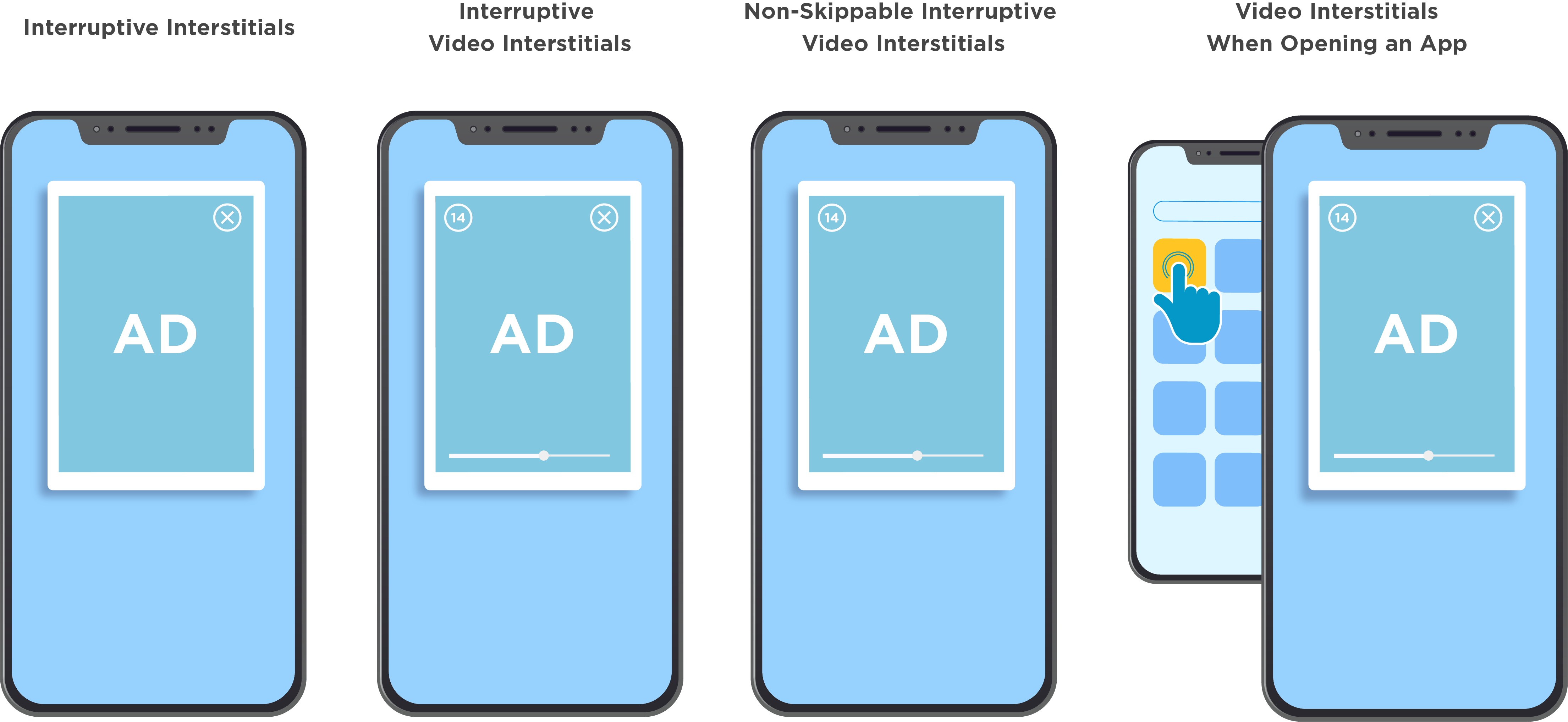 While these restrictions make up a large portion of interstitial ads, there are a few ad experiences that will not be affected. These include:
Rewarded ads; an opt-in ad format

Banner ads which only take up a portion of the screen and do not interfere with the user's experience
Overall, Google's Better Ads Experience aims at improving the user's in-app experience by eliminating ads that interfere with the content. With this in mind, developers will need to find ways to stay within Google's policy without sacrificing revenue.
Next steps for developers
As mentioned above, Google's policy will take effect on September 30, 2022 so it's important for app developers to get started on a plan to adapt. 
Start by taking inventory of any interstitial ads that are running. 

Next, review each ad and compare with Google's policy. If they don't adhere, remove the ad and replace it with an ad experience that complies, if possible. 

For questionable ads, reach out to your ad network(s) for best practices and next steps.
Don't lose out on revenue
Interstitial ads might be a large portion of your ad revenue and removing a portion of them could impact your overall revenue. However, keep in mind that working through these changes could have a positive effect on your overall app growth strategy, too. Many users may find interstitial ads distracting and frustrating which could result in higher churn rates. 
Removing poor interstitial ads experiences from your app could increase customer loyalty and overall app satisfaction. The longer term result is improved retention and higher lifetime value (LTV) per user. 
If you find this policy shift greatly impacting your revenue, below are some alternative approaches to mitigate the loss of interstitial ad income.
Consider other ad formats
While interstitial ads appear between content and take users away from the app experience, intrinsic ads exist in the natural in-game environment and allow users to continue playing a game without pause.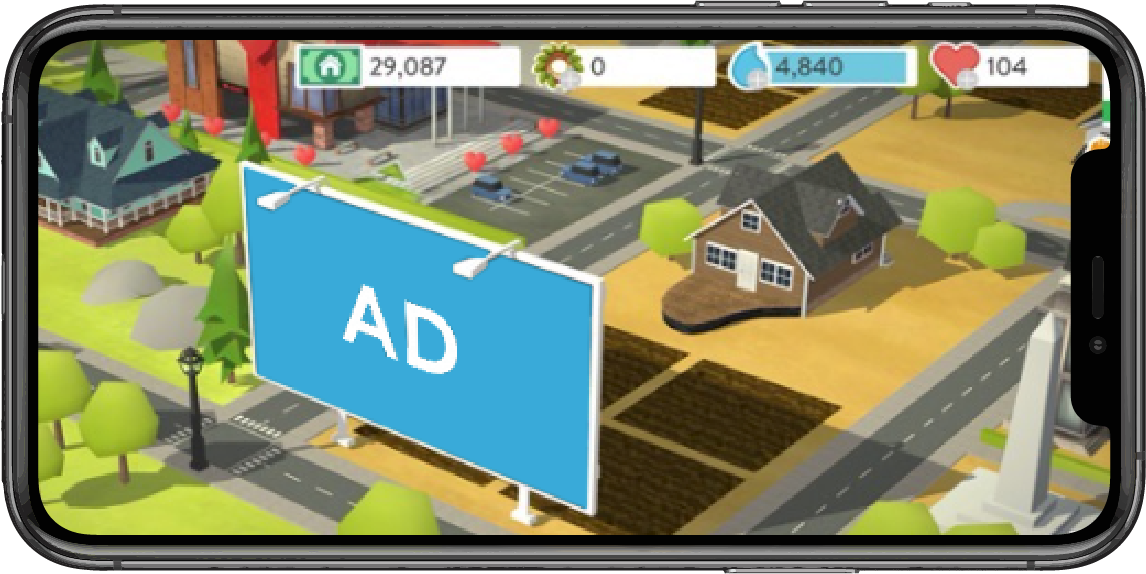 For example, a user is leading their player through a game and a billboard appears in the background of the gaming environment. The billboard is advertising a quick service restaurant (QSR) special. The user sees the ad while they play but the ad does not interrupt their experience.
This type of ad format is becoming more and more popular with role-playing games (RPG) and 3D gaming environments and adds an alternative layer of ad monetization. Major players in this space include Adverty, Frameplay, AdMix and more, all of whom leverage the Kochava Publisher's Suite to provide performance attribution to end advertisers. Inquire with these in-game ad providers to understand how to incorporate this format into your game.
Subscription-based models
Recently, many apps have been moving to a subscription-based revenue model. With this model, users pay a monthly or yearly fee in exchange for access to the app and other app features. Oftentimes, the app is ad-free after a subscription is purchased, improving the user experience and increasing overall user lifetime value (LTV). It has been found that apps that utilize a subscription-based model tend to see higher revenue per user than apps with other revenue models.
Rolling out a subscription model could be an effective approach to Google's new policy and other industry changes that continue to challenge in-app ad targeting and resulting revenues.
Consider implementing more options and paths for IAPs, including at lower price points. Depending on what the user buys, you can reward them with an ad-free experience, power-ups, or other enticing benefits. Offering additional, cheaper items for IAP can help offset revenue loss from reduced interstitial ad placements.
Ways to save with Kochava
No matter what option(s) you choose to maintain or even boost app revenue, Kochava provides extensive ways to help you save, such as:
Cost tracking
Kochava Cost allows you to know where every ad dollar is working and maximize return on ad spend (ROAS) with accurate cost aggregation tools. View all of your spend  across every ad network in one dashboard for simplified analysis and better optimization decisions.
Advanced deep linking
Aside from interstitial ads, a broken or inaccurate link is a frustrating user experience. Take your users exactly where they want to go from ad click to in-app content with Kochava SmartLinks™ no matter the user's device, platform, or media source. Deep linking done right can boost conversion rates as much as 40%.
Install deduplication
Never pay to acquire the same user device twice. With install deduplication, prevent repeat acquisitions attribution for an app's existing users. Kochava provides lifetime install deduplication and retains the secure traction record for all of your historical app installs in perpetuity.
Fraud prevention
Kochava offers a multilayered fraud solution to prevent and detect all prevalent and emerging fraud tactics such as: click injection, install hijacking, click flooding, and more. With real-time fraud detection, know which ad partners are being flagged so that you can take immediate action and protect your ad spend.
If you're looking for more ways to increase revenue and optimize your app, Kochava offers holistic measurement and attribution solutions for every budget.
If you're not currently a customer, contact us. If you already use Kochava, please contact your Client Success Manager or email support@kochava.com for questions. 
Stay up-to-date with the latest news by subscribing to our newsletter.