SKAdNetwork 4.0, R.I.P. iAd, Android SDK news, and Google app campaigns for pre-registration
Welcome to 2023! The new year has started off strong with exciting updates and advancements. We're thrilled to continue building upon what we accomplished last year. If you need a refresher on where we ended 2022, check out the EOY product updates here. Stay tuned for more improvements in the year ahead!
In this product update, we will touch on the following: 
SKAdNetwork v4.0 postback support

Google App campaigns for pre-registration 

Necessary Android SDK updates

View-through re-engagement support coming soon

iAd deprecation coming February 7th

Leveraging your MMP data with Search Ads Maven's Scripted Automation

New and updated partner integrations
Let's unpack further details on each item below.
SKAdNetwork 4.0 postback support
Kochava now supports data ingestion of SKAdNetwork 4.0 postbacks with data being accessible in Kochava Query. If you're sprinting for early adoption of SKAdNetwork 4.0 and will be using a server-to-server integration approach where you're mapping your own conversion models, lock windows, etc., Kochava will receive and surface all of the new data fields – ensuring no data loss. Please keep in mind that your ad network partner(s) will need to first support signing ads with v4.0, as the ad signature is the catalyst for 4.0 postbacks. Contact your Client Success Manager or email Support@Kochava.com for questions.
To stay in-the-know on other upcoming SKAdNetwork support updates, please subscribe to our newsletter. 
Google App campaigns for pre-registration now supported
Kochava now supports Google's App Campaigns for pre-registration. App campaigns for pre-registration enable marketers to drive proactive excitement for an app or game before its official launch – generating an early install base that gives user acquisition for new titles an immediate bump. Once your app or game is live and installs begin, Kochava's integration with Google allows for install attribution back to these pre-registration ads. You can find the results from this new Google Ads campaign type in both Kochava Query and Reporting (when "include SAN claim data" is  part of the requested report).
Please note that this is a newer campaign type that's not yet available to all advertisers, so be sure to ask your Google account representative about your options for early access. To learn more about the requirements, benefits, and best practices for this campaign type, visit this Google help article. 
For any questions, reach out to your Client Success Manager or email Support@Kochava.com.
Ensure your Kochava Android SDK version 3.11 or above
Google is working toward its enforcement deadline relating to the updated Google Play policy that prohibits collection of both the ADID and Android ID in tandem. If you're measuring Android apps with Kochava and have any apps leveraging an Android SDK version less than v3.11, please update your integration ASAP to use version 3.11 or higher.
As always, we recommend being on the most up-to-date SDK version to include all of the latest features and capabilities.
If you have an app in distribution using an SDK version older than 3.11, you may receive, or have already received, messaging from Google Play on this matter. Feel free to contact your Client Success Manager or email Support@Kochava.com if you need help running a check across your Android apps. 
In addition, you may read this prior blog post related to Google's update policy.
View-through reengagement attribution coming soon
Kochava product and engineering teams are in the final stages of testing and rolling out support for view-through attribution on re-engagement campaigns. Kochava has long supported click-through attribution for re-engagement campaigns, but this marks a major expansion of performance visibility where impressions can now be attributed to any post-install event designated as a conversion on your re-engagement trackers. 
A number of clients are about to begin testing this new functionality in beta phase, with a full production release and general availability set for March. Please be on the lookout for additional email communications related to updated control settings at the app level within your account. Due to the potential for view-through attribution on re-engagement campaigns to greatly increase attributed conversion volumes, this feature will be auto-defaulted to 'off' on any existing app within your account. This means you will have full control of whether or not to activate impression-based re-engagement on each of your existing apps. After the full production release, newly created apps will have the app-level feature auto-defaulted to "on".
iAd deprecation coming February 7th
In late December, Apple advised that it will be deprecating the iAd framework for Apple Search Ads (ASA) on February 7th, 2023. If you have not already upgraded your Kochava iOS SDK to a version that enables ASA attribution via the new AdServices framework, please do so ASAP. The minimum Kochava iOS SDK version with AdServices support is v4.4.0. 
Please see this prior post for more information related to Kochava support for the AdServices framework.
Leveraging MMP data with Search Ads Maven's Scripted Automation
You can now tap into your MMP data and drive unlimited potential for ASA campaign automation. Remember that ASA, unlike most other super publishers, does not support post-install event postbacks to be used for app event optimization. As such, any optimization you may want to do based on how certain keywords drive lower funnel performance outcomes, is a manual and painstaking process – UNLESS you have a way to automate it. 
In January, the Search Ads Maven team added Scripted Automation. It's a breakthrough tool that puts marketers in the driver's seat to create tailored automation rules for the optimization of ASA keyword bidding. Unlike basic automation rules, Scripted Automation has no limits or barriers based on predefined triggers, filters, or action types. The sky is literally the limit.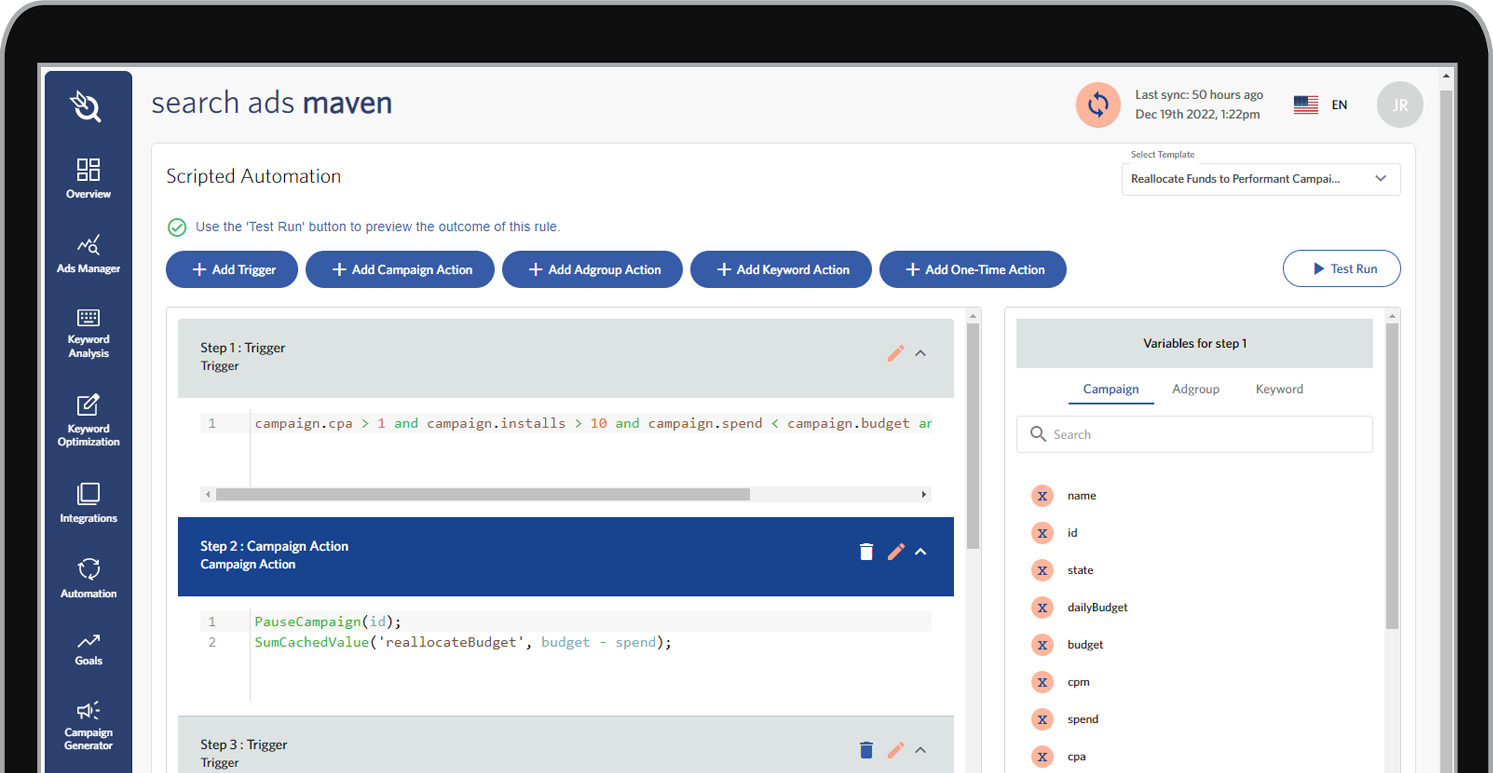 While a keyword may seem to perform well based on total taps and installs, it may severely underperform in driving a brand's main key performance indicators, which happens after an install. As an example, a major fintech company built a trigger around their max tap-to-action cost where the desired action is a registration as measured through Kochava (not just an app install). When the tap-to-action cost exceeds a specified amount, let's say, $15.00, they can auto-decrease the keyword spend and re-allocate it to keywords where the tap-to-action cost is within their desired range. Previously, the marketing team had to do this manually. Now, this process can be fully automated and always-on. 
If you're spending at any volume on ASA and would like a quick consultation to understand the time-savings and spend optimization Scripted Automation could provide, contact your Client Success Manager, email Support@Kochava.com, or directly request a demo.
New partners and updated integrations
The Kochava Integrations team successfully processed 76 new partner integrations in January and deployed requested updates across a host of others. A highlight list is below.
New integrated partners:
Abhiman Innovations

Acemob

Adcare Media

addrollmob

Admile

Adscope

Adsfill Technologies

Adsrivera

Adsvigour

Adura Network

Adyogi Ventures

Afflix Traffic

Alphamob

ANDROMOBI

AppTMedia

Apptrust

Appulse

Appup

Atlasmobi

breezemob

Burning Clicks

cactuweb

campfiremob

ClicksPros

Clicktapp digital media

Cloudmobi
Comemobi

confidentmob

Conversie Media

deeperads

dejavumobi

driftapps

Ehypr Solutions

Everadnet Solutions

Explorads Ermoza

fanfaretech

Fightmob

freesiads

furthermoreads

GeoAds Media

GLobalapps360

greengrass

Infinitie Network

inspire Adz

Ioger

isoisotech

Isummerads

jujubemob

kidultmedia

lilacads

Linkme
mobwhaleapp

modifymobile

Myadsmantra

Neoleads

NumixAd

OMMEDIA

paazoo

palettemobi

PeppaAds

Perfologix Interactive Ventures

Prudigital Media

PUBEARN

RaceMedia

RAGHUVANSH

ReachEffect

Rich Media Advertising

Rockets

SuperAudiencer

surfertech

Techolex Technologies

Turbomobi

Upyield

Vellzo Media

VU VAN NAM

wellads
Integrated partner updates:
ADLAD

Adzhubmedia

Affinity Global Inc

APP PUSH MEDIA

Ascended

Bidstalk
Creative Clicks

Digidarts Marketing

GeoAds Media

JFele

Linkme

PrimeRoll Media
Quantafi Digital

ReachEffect

Switch

Thing or Two

Yahoo! JAPAN Display Ad Network
If you're an ad network, demand-side platform, or other partner looking to integrate with Kochava, please contact Integrations@Kochava.com. 
For a list of all integrated networks and publishers, click here.