Explore the largest selection of partners in the industry with Kochava
Marketers everywhere are hearing the call to advertise on over-the-top (OTT) and connected TV (CTV). Targeting and addressability on advanced TV platforms is far superior to traditional linear TV and new technological advances allow for performance marketing measurement.
Additionally, major streaming services that have long ascribed to the subscription video on demand (SVOD) model, are hybridizing their services to introduce ad-supported, lower-priced tiers. This means more ad inventory supply is becoming available, and to fill those slots, platforms and publishers should be lowering their rates to increase demand. 
What better time to explore advanced TV advertising, right?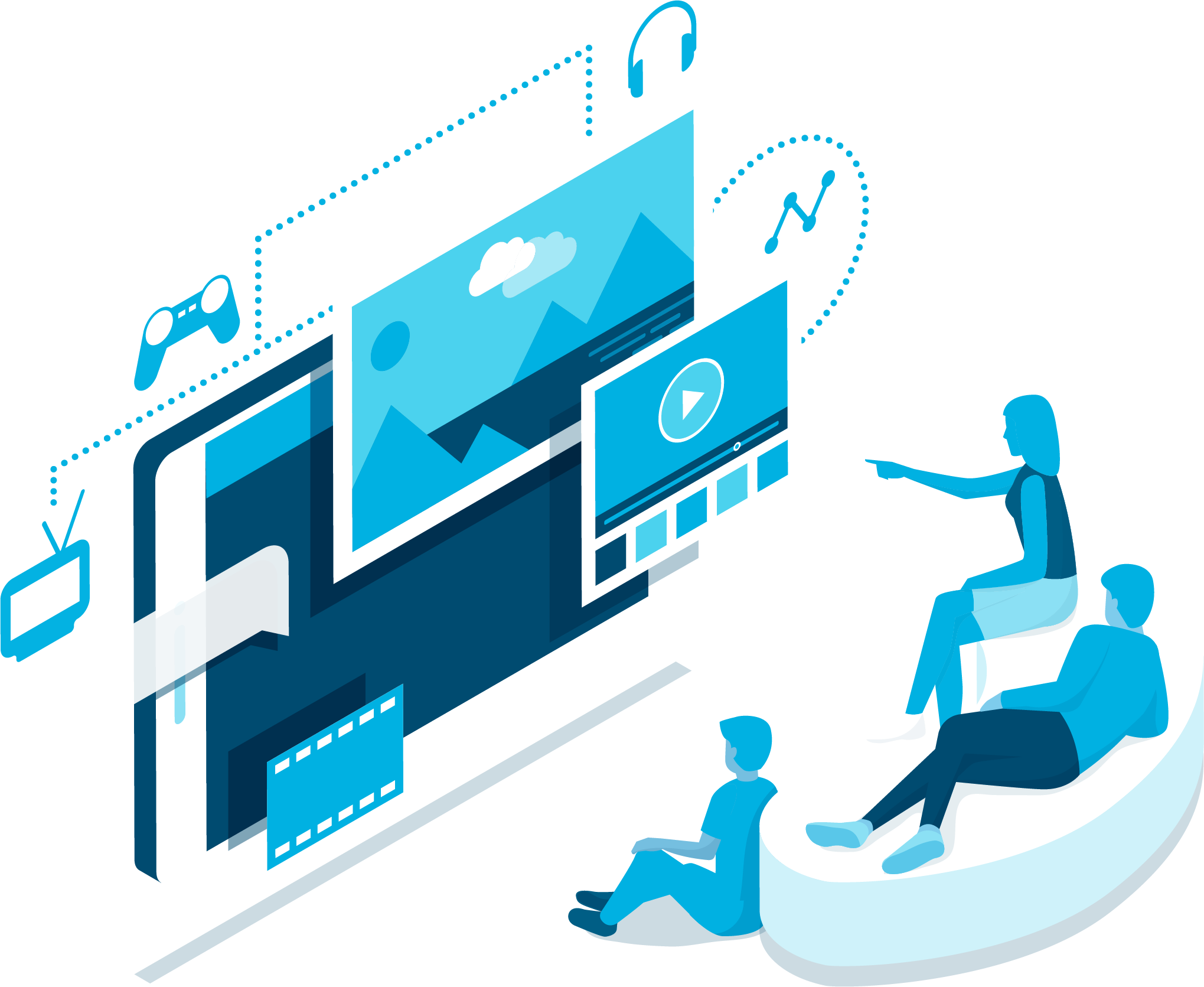 But with so many OTT and CTV growth partners to choose from, it can be hard to determine which  will work best for your advertising strategy and budget. This blog aims to provide you with insights into the many OTT and CTV platforms available and the different opportunities they provide so that you have all of the knowledge you need to choose the right partner.
It's important to clarify the different ways ad space is bought and sold on OTT and CTV platforms. Not all platforms approach ad buying the same way and understanding how they work can help you decide which option is right for your marketing needs and budget.
There are two main types of OTT buying: programmatic and direct. Under the direct category, there are platform-direct and publisher-direct, each with their own nuances, so let's define them.
Programmatic buying is the automated, real-time buying and selling of ad space within streaming platforms or on a specific device. Ad placement can be automated with programmatic bidding because of direct relationships between inventory exchanges and other OTT advertising platforms. 
Programmatic buying is typically based on a cost-per-impression (CPI) or cost-per-action (CPA) pricing model. However, it can also use an effective cost-per-mille (eCPM) model because the price for programmatic buying varies so much. Some advertisers are willing to pay more if they want a specific impression.
It is one of the most effective and cost-efficient ways for advertisers to enter the OTT space. Advertisers can target audiences viewing OTT content across multiple services, platforms, and devices, whereas with direct buying, the reach will be limited to a specific publisher or platform. 
Many programmatic OTT platforms support sequential messaging and impression retargeting. For example, a video ad could be delivered on a CTV device, and then the same user could be subsequently retargeted with a mobile display ad featuring a specific call to action. This multi- channel, cross-device targeting can be highly effective in driving conversions.
Direct OTT buying is when advertisers work directly with platforms or publishers to purchase ad space. The price of the ad space is negotiated as well as the placement of the ad, when it will appear, and the length of the campaign.
Unlike programmatic, direct buying is usually fixed because prices are the same regardless of the ad exposure and guarantees ad impressions. Because of this, direct buying is based on a cost-per-mille (CPM) pricing mode, not an eCPM. However, some partners are offering performance-based models based on CPI and CPA, reducing the risk to the advertiser, since they only pay on performance.
Platform-direct buying is when advertisers go directly to major connected TV platforms such as Roku, and Vizio, and buy inventory through the platform's own exchange. While this is a straightforward way to buy ad space, it limits the campaign to that specific platform and doesn't allow for cross-platform advertising.
Publisher-direct is when advertisers go directly to the publisher platform like Hulu, Sling,
Paramount+, or Crackle. This allows for more control over ad inventory. However, as with platform direct buying, publisher direct buying limits the advertiser's campaign to that specific publisher's streaming service, even if the ad may appear across other platforms and devices where users are streaming.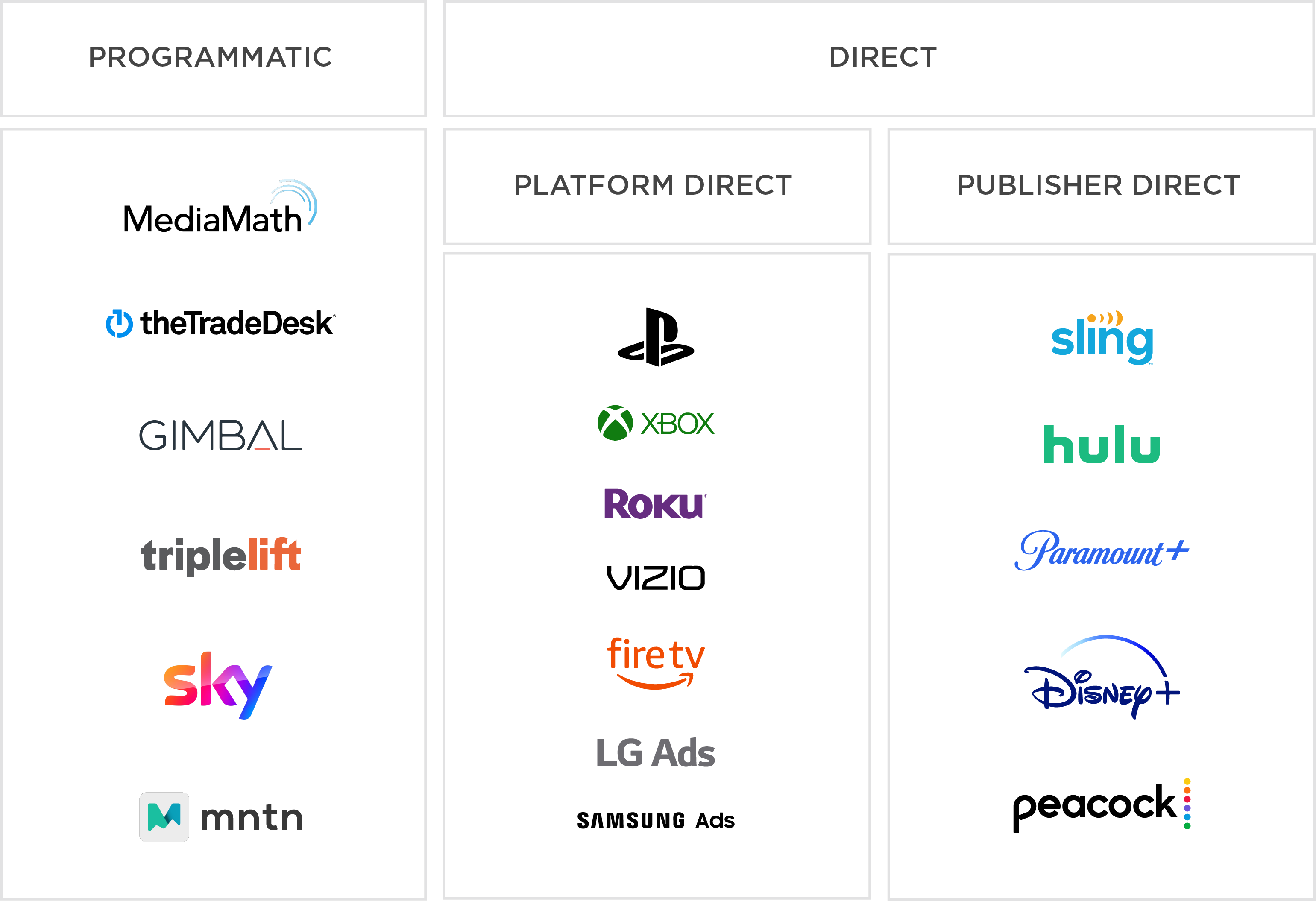 Campaign activation with OTT and CTV advertising partners
Now that you have an idea of what type of partner you want to use in your next OTT and CTV advertising campaign, you will need to decide how you want to measure that campaign. Choosing a mobile measurement partner (MMP) can be an effective option. An MMP has the knowledge and experience to provide accurate measurement across every campaign, channel, and platform – helping to incorporate your OTT and CTV efforts into the mix with your other omni-channel initiatives. 
Kochava supports the largest footprint of programmatic, platform-direct, and publisher-direct integrations for OTT and CTV campaign activation. 
With so many partners, Kochava won't hold you back in the way of limited integrations. You have the freedom to drive growth your way and measure it all within one platform.
If you're already a Kochava customer, contact your client success manager or email support@kochava.com for assistance activating a campaign with any of these partners. If you aren't a Kochava customer, get in touch with us for a free consultation here.
Attributing cross-screen performance
Think about the call-to-action and conversion goals associated with your performance marketing campaigns on OTT and CTV. Do you want viewers to download your mobile app, visit your website, or download your streaming app through a CTV platform? Whatever the answer is, it's vital that your measurement partner for OTT and CTV campaigns can support same-screen and cross-screen attribution. An ad for a streaming service may drive the user to download the channel app on the CTV device where they see the ad. Another ad may drive the user to download a mobile app and place an order, or visit a website and perform an action. Kochava attribution supports these different user journey flows from ad through to conversion. 
If your brand or service is present across a host of connected devices, Kochava IdentityLink® can connect the dots between mobile apps, websites, CTV devices and beyond for a complete view into all user touch points.

Are you a publisher or platform offering OTT and CTV inventory?
If you're an OTT and CTV growth partner, you can seamlessly allow advertisers to measure campaigns run on your inventory with the Kochava Publisher's Suite. With premium integrations, the Kochava Publisher Suite enables performance marketers to measure campaigns outcomes the way they measure their social and programmatic campaigns. Kochava for Publishers allow you to:
Connect the dots between ad delivery and business outcomes

Gain premium CPM, CPI, and CPA rates

Get credit for conversion your inventory is driving 

Allow advertisers to visualize your traffic alongside other channels
Learn more about Kochava publisher tools here.
There hasn't been a better time to break into the advanced TV space. Before you can begin, though, it's important to find the right OTT/CTV partner to ensure a successful campaign. No matter what type of platform you choose, Kocahva has an extensive roster of integration partners to choose from. 
When it comes to measuring those campaigns, Kochava provides insights across any channel or partner you are using. Ready to get started? Request a free demo here.