As times have changed, the shoppers' experience has changed too. Gone are the days of waiting in line, dressing rooms, and sales attendants. Many brick and mortar stores, stores with physical locations, have introduced online and/or app options for customers to streamline their buying experience.

Brick and mortar stores that already have an app presence are ahead of the curve. Phygital marketing, the act of combining physical experiences with digital techniques, is on the rise. If your retail store already has an app or if you are looking to create one, consider the following points to understand your customers as they move between devices, locations, and channels.
1 – Communicate Between Marketers and Developers
No matter your app vertical, the first step in creating a measurement strategy is to ensure there is clear communication between marketers and app developers so that each team knows the needs and expectations of the other. Marketers should figure out what information will be the most important to measure while developers should listen to the needs of the marketer and communicate to them what can be accomplished within the timeframe.
Marketers and developers should discuss what in-app events will be measured and how they are named so that it is easier to know what data is mapped to each event. Creating naming conventions for events and other data points will make the information easier to analyze and leverage for app event optimization with certain social and programmatic advertising platforms.
2 – Configure Insightful Events
Retail and other brick and mortar stores that have a physical location(s) as well as an app benefit from measuring more events that link users to both physical stores and in-app activity. These events allow marketers to gather information to better understand their users as they move between different channels.
Within the Kochava platform, almost any in-app activity can be passed as an event. When creating these events, marketers should decide which steps in the engagement funnel will derive the most insights and create events accordingly. Consider integrating the following standard events into your app to gain a better understanding of your measurement data.
Sign-Up – This event is triggered when a user signs up or registers in the app.
Sign-In – This event is triggered whenever a user signs into the app.
Item Added – This event is triggered when a user adds an item to an order.
Order Start – This event is triggered when a user initiates their first order in the app but has yet to complete it.
Order Complete – This event is triggered when a user successfully completes checkout on their first order in the app.
Ad View – This event is triggered when an ad is served to the user within the app.
Rating – This event is triggered when a user rates the app.
In addition to the standard events, it's beneficial to add custom events to drive users further into the funnel. Custom events could include:
Store ID – This event links an order to the store it was purchased from.
User In Store – This event is triggered when a user selects a store to shop from within the app.
User In Store Number – This event links a store to a user.
Delivery Type – This event is triggered when a user chooses the type of delivery (In-store, curbside, ship to home).
In-Store Check-Out Coupon – This event is triggered when a user redeems a coupon via the app during in-person check-out at a physical location
Push Notification Authorization – This event is triggered if a user opts-in push notifications.
These are just a few examples of custom events that a retail store could implement. If your app has unique features that you would like to measure, feel free to create more custom events.
Gain more insights from your events by passing rich metadata along with them. Instead of only knowing if an item was purchased, with additional metadata, know the name of the item ordered, the price of the item, and other product-specific information (eg. color, style, size).
For example, a retail app might have multiple physical locations. By passing metadata, you can learn that an app user purchased red rain boots within the app, had the item delivered to their home and then returned the item at the nearest store to their home location. With this information, you can create a campaign that offers coupons for items returned in-store to encourage customers to continue shopping after making a return.
For each standard event, there are a number of metadata points that can be configured, including:

With all of this added data, marketers can gather more granular details on each event they configure. Custom events can also pass metadata. For more information on what data can be utilized, read the support documentation here.
4 – Naming Events and Metadata
With so many data points, it is important to name each event with titles that are easy to understand. Events should be titled with the user action they represent, and the metadata key names under each event should clearly state what data is being passed. For example: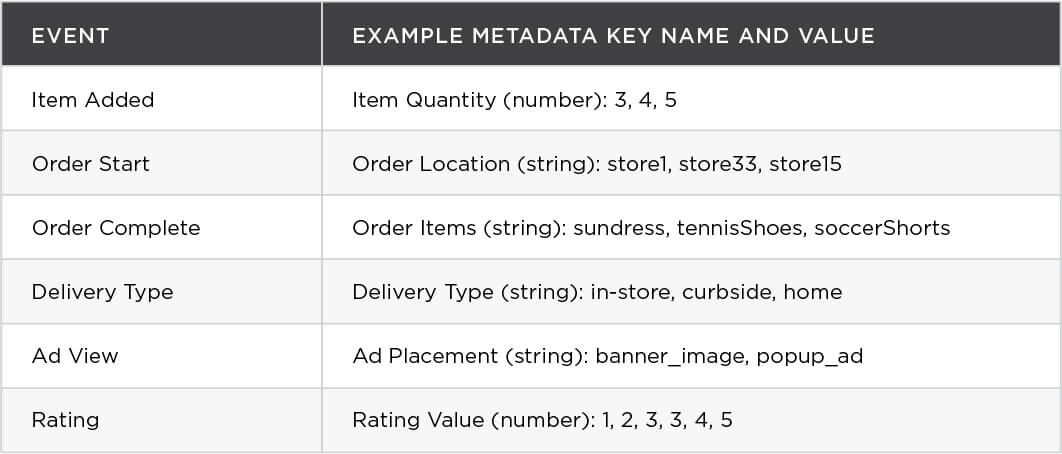 5 – Linking Users Across Marketing Channels
Once all the events are created and you start gathering data, you can analyze the information to see install to event completion across all of your app users. With this information, you can answer questions such as:
What stores are the most popular for in-person shopping?

Do more customers get items delivered or do they pick it up in-store?

Are certain items only purchased on the app?

What strategies combining in-store and in-app elements drive the most revenue?
Having answers to these questions, and others, will show you a more complete view of your user's journey as they move between your app and store. Understanding this journey will allow you to optimize marketing campaigns to effectively smooth out any friction points and observe new opportunities to engage your customers.
As the customer journey becomes more complex, it becomes increasingly important to effectively measure the data gathered from all of your marketing channels. By creating insightful events that can be mapped to physical store locations and in-app activity, you will be able to understand the user journey, improve your return on ad spend (ROAS), and increase the lifetime value (LTV) of your customers.
Learn more about how Kochava can help establish a measurement strategy for your retail app by contacting us for a free consultation or visiting kochava.com.