Learn about the SKAdNetwork versions and their features
SKAdNetwork (SKAN) has been around for a minute. In fact, it was first released by Apple back in 2018. Since then, four versions have been created with the most recent, v5.0, announced at WWDC 2023. 
While five long years have elapsed since the first release, SKAN is still finding its stride with iOS marketers and hasn't gotten the traction it might have initially anticipated. Will we see more adoption after the release of 5.0? Let's take a look into what SKAN 5.0 will look like and how it stacks up against previous versions.
What to expect with SKAN version 5.0
Up until now, SKAN support has been limited to acquisition attribution only, but with version 5.0, there will be added support for re-engagement attribution. While Apple's mention of this release was subtle, the new feature will potentially increase adoption rates. The inner workings of SKAN for re-engagement have yet to be revealed, but the ability to attribute ad taps that prompt existing users to return to the app is undoubtedly a welcomed addition. However, it's important to acknowledge that re-engagement targeting on iOS already poses challenges due to the limited availability of IDFA (Identifier for Advertisers) since it's availability became subject to user opt-in at the app level via the AppTrackingTransparency (ATT) framework in April 2021.
It remains to be seen how fast the industry can finish adopting all of the SKAN 4 updates introduced at WWDC 2022 and then take the step up to be on v5 to gain the benefits of re-engagement attribution. 
Get more information on the SKAN releases from Apple's release notes.
Feature details by SKAN versions
Each SKAN version builds upon the previous release, but some releases have made a bigger impact than others. Version 3 introduced support for influencer reporting and delivering copies of postback to advertisers (previously only the ad network received the postback, which then had to be shared/forwarded to an advertiser and their measurement partner) making this one of the most adopted versions. However, SKAN v.4 was a big jump from the previous versions, introducing so much change that it upended some learnings, practices, and optimization modeling that had finally gained a foothold for effective use with v2-3. 
Apple introduced 2 more conversion postbacks (for a total of 3), along with three fixed conversion windows spanning day 0 to day 35 with fixed time ranges that could be prematurely ended with a new feature called lock window. New types of conversion values were introduced, along with a more complex approach to privacy thresholds which deploy multi-tiered crowd anonymity…say that three times fast. To top it all off, a new parameter was created to replace the 2-digit campaign ID.
Let's take a look at the lock window functionality. All the time-based cohort modeling that was innovated to help marketers with early predictions on performance based on more stable conversion windows in v2-3 is negated. As such, some partners recommend advertisers don't enable the lock window because of the disruption it could cause. Separately, the 2 additional conversion postbacks are appreciated, but they arrive so late that many ad network partners have advised they won't be factoring them into their campaign optimization modeling for the foreseeable future.
In July of this year, Apple introduced SKAN 4.0 but then quickly rolled back to v3.0 ten days later due to a significant bug between SKAN and the AdService API. After a few days, Apple claimed the bug was fixed and SKAN 4.0 was once again available. Due to the bug with v4.0 and the major changes arriving on the scene with SKAN 4, adoption has been understandably slow. Partners need more time to see how the version adapts to their strategy before implementing it at any scale. The chart shows each release and the changes that were introduced with each version.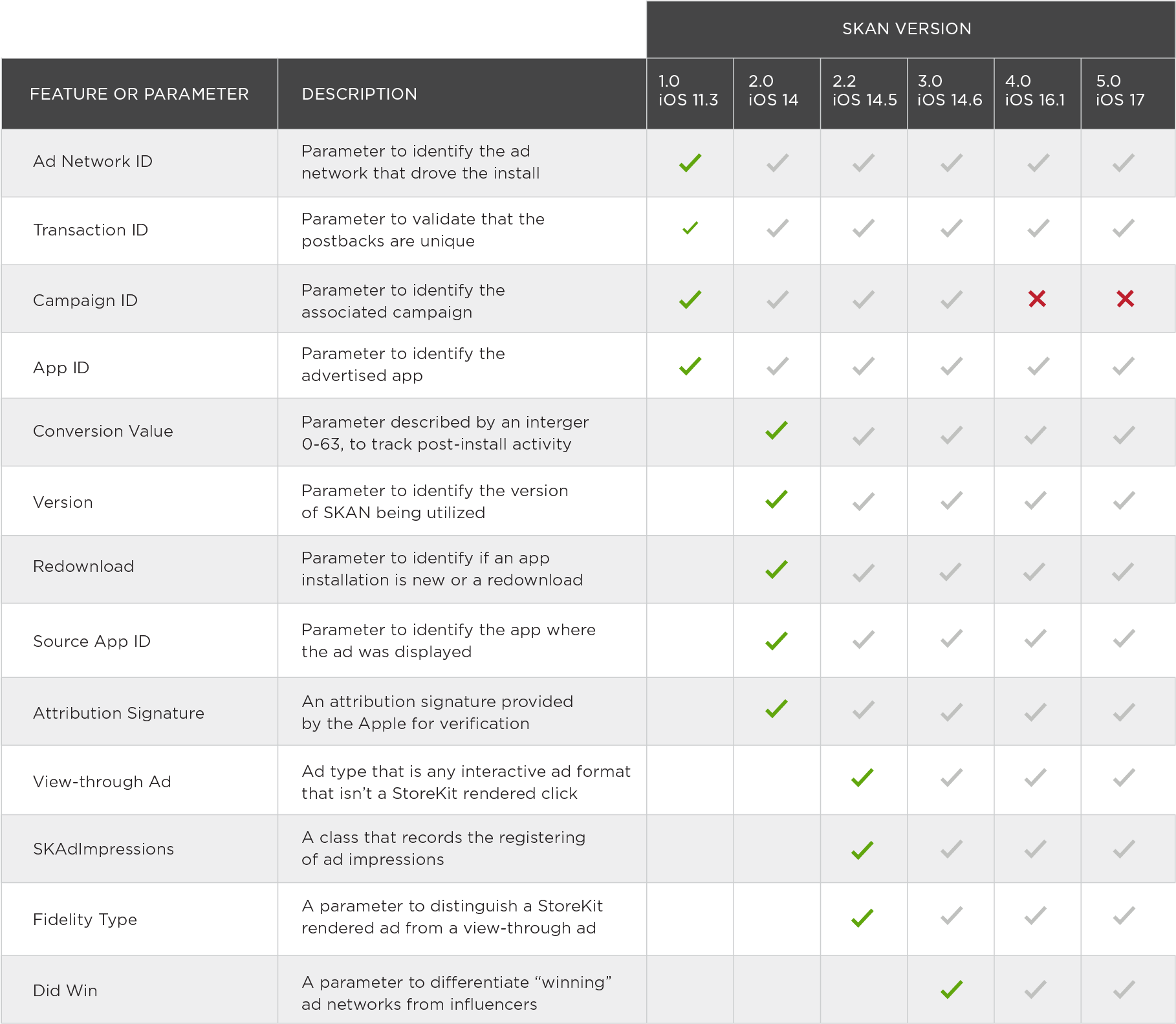 Which SKAN version is best?
The answer is: it depends on the ad networks you're running with. Ask your trusted SKAN ad network partners what version of SKAN they're ready for and sign ad signatures with AND best positioned to optimize using the postbacks from SKAN they receive. They're also likely to have recommendations for the optimal SKAN configurations to select within your mobile measurement partner (MMP) dashboard (e.g. how long to set your measurement window for SKAN v2-3, and whether to enable lock window on SKAN v4, etc.). It's important to remember that your SKAN configuration and chosen conversion value model is one size fits all, meaning you can't customize it per ad network. As such, if recommendations from your ad network partners are in conflict, you may want to follow those of the partner you're driving the most spend and success with. 
Last, but not least, you can update your app as the advertiser to be v4 ready ahead of your partners. Your SKAN settings with your MMP will be backwards compatible. Once your ad network partners begin signing ads with v4, you'll be ready to roll.
Pros of implementing SKAN
While SKAN is certainly complex, below are just some of the pros of using SKAN across all versions. 
Enhanced privacy

– SKAN prioritizes user privacy by limiting the amount of personal information shared with advertisers and their partners. This protects user data and ensures compliance with privacy regulations.

Attribution insights

– SKAN provides a solution for advertisers who have limited access to user-level data, such as the Identifier for Advertisers (IDFA) on iOS devices. It allows them to maintain some method for measuring the effectiveness of their ad campaigns without relying on user-level data.

Fraud prevention

– SKAN employs measures to prevent ad fraud by providing limited and aggregated data. This reduces the risk of fraudulent attribution and increases the accuracy of campaign performance measurement.

Compliance with Apple: Complying with Apple's privacy guidelines and using SKAN is crucial for app marketers to maintain a positive relationship with the platform. SKAN ensures adherence to Apple's privacy policies, reducing the risk of App Store rejections and other consequences that may arise from attempting to bypass SKAN.
Getting started with SKAN
Even though each SKAN release has included more features than the last, the confusion and frustration  around how it works have been major reasons why some advertisers have struggled to embrace it. With more education around the topic and as the push for user privacy mounts, SKAN will become more widespread. In the meantime, determine which SKAN version your preferred media partners are using as there's a wide variation in version adoption across the partners that have invested in supporting SKAN for their ad inventory. 
If you're new to SKAN or need to brush up on it, gain an in-depth dive into what SKAN is and how it works with  The Ultimate Marketer's Guide to SKAN for free. You can also read all about Kochava support for SKAN 4.0 here, and check out Kochava SKAN solutions.