Attribution and targeting strategies post-ATT enforcement
For months, Apple has been alluding to their soon-to-be required AppTrackingTransparency (ATT) framework. According to their latest update, Apple will begin enforcing ATT in the early spring of this year (2021) with iOS 14.5. This means that without user opt-in, the Identifier for Advertisers (IDFA) will be unavailable, and how advertising measurement (ie, attribution) and targeting is performed will change. The question arises, are there any IDFA alternatives out there? 
What is an IDFA and why it's important
The IDFA serves as a globally unique identifier assigned to an iOS device. Digital advertising uses an IDFA for addressability, ad targeting, and deterministic attribution for campaign conversions. 
The IDFA is important because it makes it possible to identify the same device and user across different apps with 100% accuracy. This helps advertisers understand their users and target specific audiences with content they find useful, interesting, or beneficial. By gaining a holistic understanding of their users, advertisers can increase their return on ad spend (ROAS) and drive growth more efficiently.
The future of attribution and targeting
While there are no true IDFA alternatives, there are different ways to perform attribution and targeting after the enforcement of the ATT framework. In either case, it all comes down to whether the user opts in or opts out of tracking through the ATT framework. 
Attribution eligibility post-ATT enforcement
The IDFA will continue to be available in instances where the end user opts in to tracking through the ATT framework in your app. If the user has also opted in to tracking in the app where the ad was served, you will have access to the IDFA on both ends, thus enabling continued real-time, deterministic attribution by linking the two identical IDFA's across ad and conversion. From there, what attribution method(s) are available or aren't available varies based on ATT status of the user, paid vs. owned media, and in-app vs. mobile web channels. We created the below table grid as an aid to understand your options based on these varying factors. You can read our in-depth breakdown on how the ATT framework impacts advertising measurement in this prior blog post.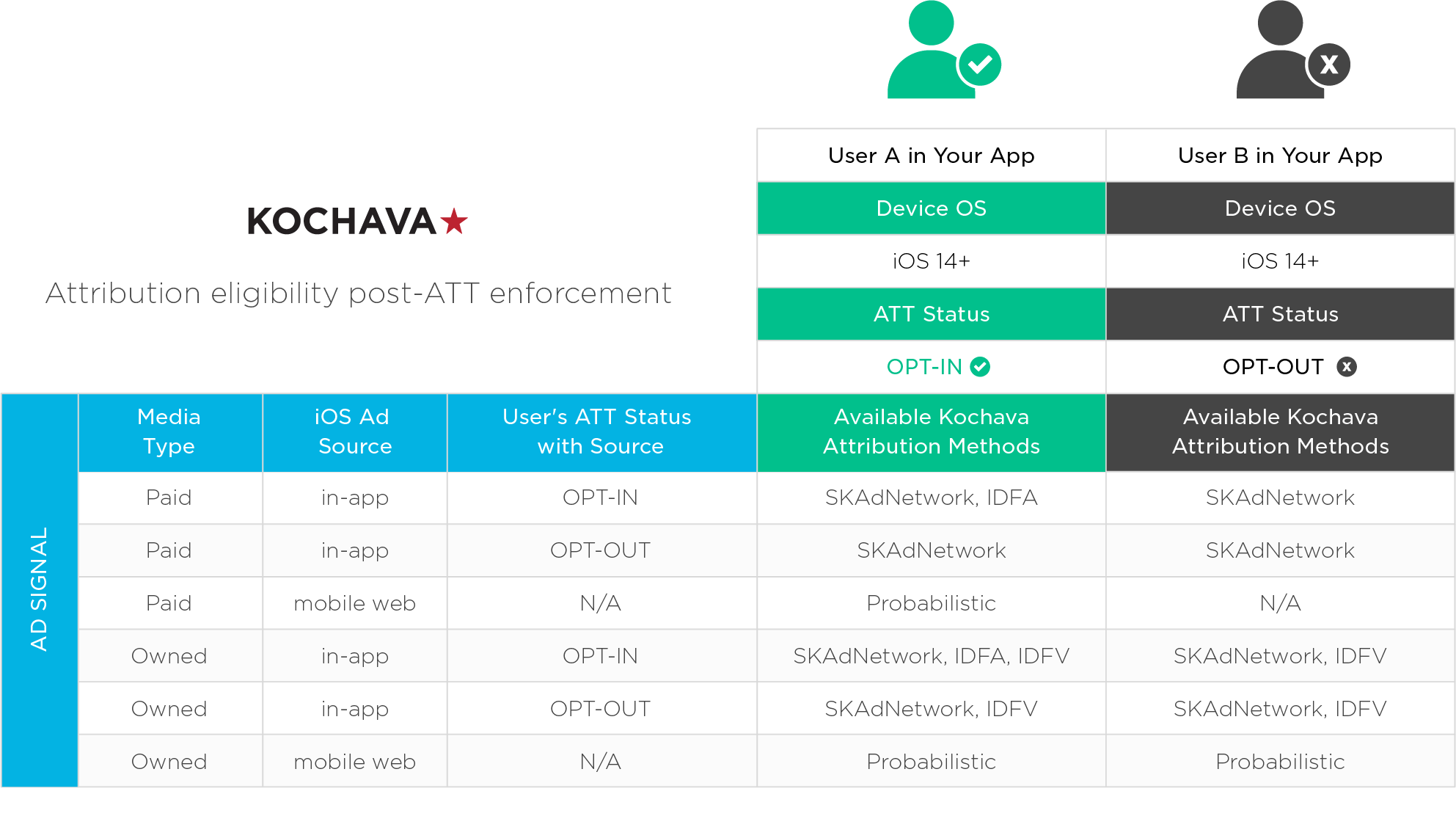 Adopting SKAdNetwork
What becomes clear from the table grid above is the important role that the SKAdNetwork will play once ATT enforcement commences. The SKAdNetwork is Apple's storekit capability that helps advertisers determine the efficacy of their ad campaigns while maximizing the privacy of iOS users. It offers marketers deterministic, yet anonymous, attribution that will give them campaign performance insights in the absence of ATT opt-in.
As illustrated in the graphic, SKAdNetwork is attainable in most scenarios and is particularly important when the user has opted out of tracking in your app or the app where you served your campaign ads. SKAdNetwork is highly beneficial when considering attribution post-ATT enforcement. Only with paid and owned mobile web channels is this form of attribution unavailable, since SKAdNetwork is limited to in-app.  
If you choose to adopt the SKAdNetwork, consider working with an MMP (mobile measurement partner), like Kochava, to collect the most holistic attribution insights all on one dashboard. In addition, gain SKAdNetwork support to assist with the heavy lifting of adoption.
For more information on Kochava SKAdNetwork Solutions, click here. To learn about the role of the conversion value in the SKAdNetwork on how Kochava conversion models help you maximize performance insights, download our free guide here.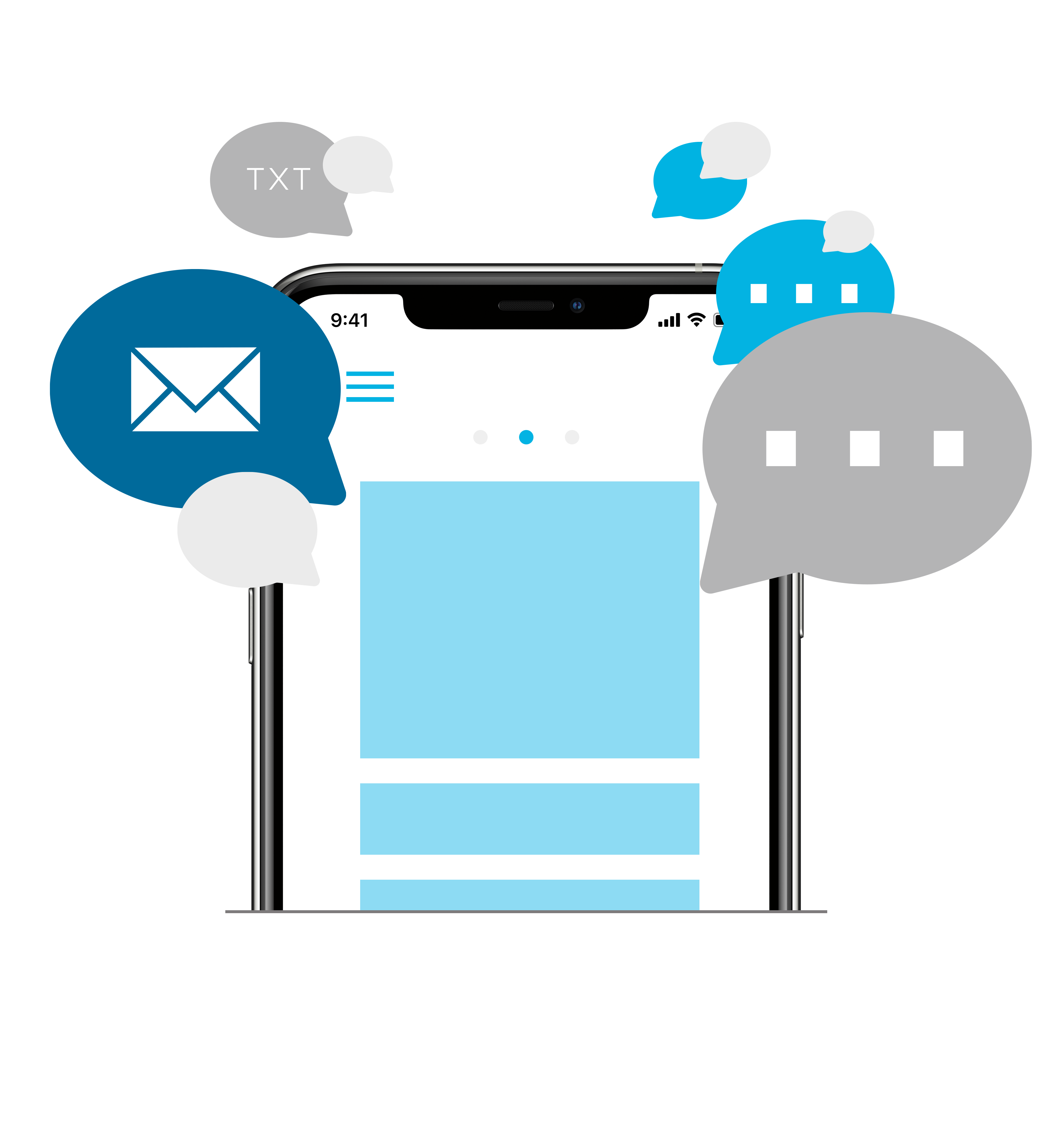 Bolster owned media channels and cross-promo efforts
Owned media refers to any marketing channel owned and controlled solely by an individual or company. Owned media channels include your brand's websites, social media profiles, email, push notifications, SMS text messaging, and more. Attribution to such efforts is still allowed since it would be linking your own first-party data together, rather than linking to another company's data since Apple has prohibited it. 
Further, if you have a portfolio of apps within a single publisher account, you can deterministically target and measure acquisition campaigns using the Identifier for Vendors (IDFV). This means that even if a user opts out, you can still gain real-time, row-level Kochava attribution for any cross-promo efforts.
Effective targeting post-IDFA
Targeting occurs when marketers focus on a specific group of users and concentrate their marketing efforts to fulfill that group's needs, interests, or desires. Targeting is important because it makes the promotion and sale of your product more effective.
The following targeting methods are tried and true. While they do not replace the IDFA, they do make targeting more effective for both your existing customers and new customers. 
Onboard hashed emails for mobile web retargeting
Gather privacy-first hashed emails now against your IDFA footprint before ATT enforcement. Hashed emails can help you reengage with your users across mobile web channels.
Consider direct deals through private marketplaces (PMPs)
Direct deals involve selling publisher ad inventory straight to advertisers at a fixed price. This is beneficial because it allows for direct communication between publishers and advertisers and makes it possible for publishers to gather quality installs. Before the IDFA goes away, learn as much as you can about the app affinities of your highest value users and pursue direct deal opportunities on cost per mille (CPM) models directly with those publishers.
Explore OTT and CTV opportunities
Over-the-top (OTT) and CTV (connected TV) are quickly increasing in popularity. OTT/CTV offers a valuable medium to reach mobile users with precise targeting by households and provides holistic visibility into the user journey. If a user opts out, SKAdNetwork will not provide attribution of mobile conversions to OTT/CTV campaigns. However, Kochava is able to provide cohort-based incremental lift measurement that's privacy-first and accurate with MediaLift™.

Summary
The preparation period for ATT enforcement is quickly closing. Come spring, the IDFA will be much harder to obtain, but there are solutions that can be utilized to make the transition smoother. The IDFA is a uniquely beneficial user identifier that cannot be fully replaced by any single alternative; however, there are ways to make up for the loss of the IDFA post-ATT enforcement and if implemented, strengthen your overall marketing strategy. 
Adopt the SKAdNetwork for deterministic, anonymous attribution and consider working with an MMP to gain the most insights from your attribution data.

Bolster owned media efforts and utilize the IDFV for attribution to cross-promo campaigns in your app portfolio.

Onboard hashed emails to help you bridge your reach and retargeting into mobile web. 

Explore direct deals with the publisher(s) that have been the source for your best users historically. Onboard app affinity data on your first-party audience to maximize your direct deal strategy. 

Explore OTT/CTV opportunities to reach users across different devices.

Lastly, get to know your users.
Have questions or want to know more about Kochava offerings and solutions? Contact us or email support@kochava.com today!