Kochava Publisher's Suite news, WWDC 2023 takeaways, view-through re-engagement, and more
Q2 2023 is a wrap. A lot happened across April-June, and here's a look back at some of the most important developments, news, and product updates to be aware of. 
First, here's a short list of quick recaps: 
Next, let's unpack a bit more on: 
The Kochava Publisher's Suite for premium ad inventory

Release of GBRAID support 

Kochava dashboard updates

Kochava cost aggregation updates

Integrated partner updates
Kochava Publisher's Suite for premium ad inventory
If you didn't already read it in the news, Kochava Publisher's Suite is now in use across many of the major OTT and CTV platforms, and retail media networks, including LG Ad Solutions, MNTN, NBCUniversal, Roku, Samsung Ads, and Spotify, to help them deliver outcomes-based measurement for their premium inventory. Check out this post to learn more about what this means for publishers and ad platforms, as well as advertisers. 
If you're an advertiser and are interested in campaign activation with premium inventory partners, please contact your Client Success Manager or email support@kochava.com.
Cohort ID-based attribution for self-attributing networks (SANs) is on the rise. In June, Kochava released support for the Google gBraid. This update applies to Google Ads App Campaigns for Engagement (ACe) where the cohort IDs can be picked up from the URI metadata on deep link events. 
If you're interested in leveraging the gBraid, please contact your Client Success Manager or email Support@Kochava.com to ensure your deep link setup supports gBraid capture.
Kochava dashboard updates
Improvements and new features are constantly coming to the Kochava dashboard.
Within the All Apps page, a new 'Analytics' quick access icon has now been added, allowing users to quickly jump into Analytics without having to expand and select from the complete menu of options. 
Additionally, you will notice a new 'Performance' view within the analytics dashboard, which offers instant access to a variety of quick performance views by Network, Campaign, Creative, and Country.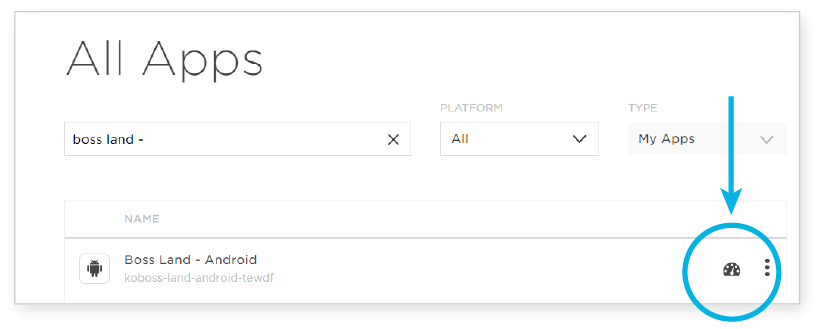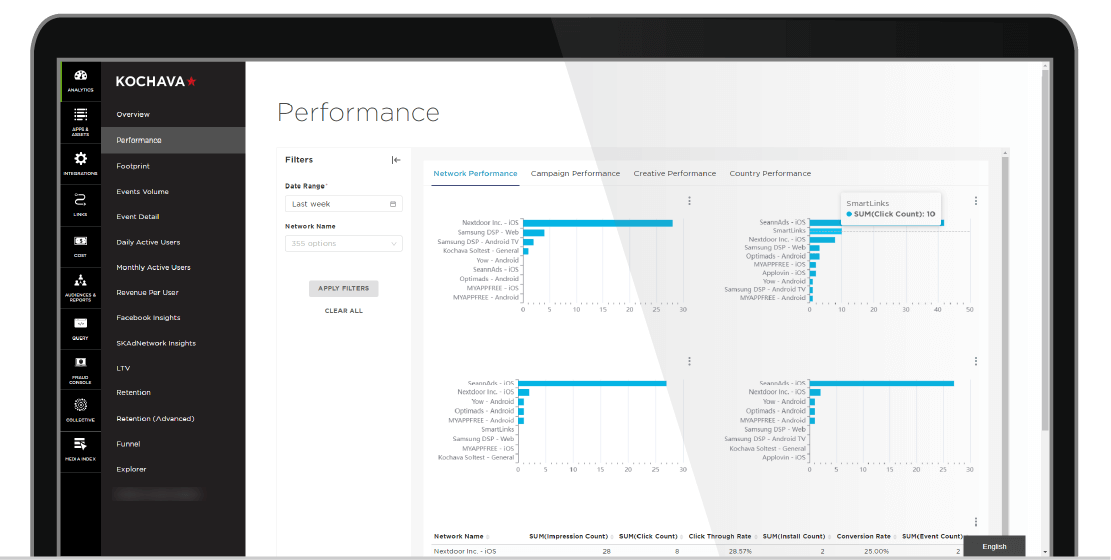 Kochava Cost aggregation updates
Not already measuring your spend through Kochava Cost? Plug in your cost data to Kochava now to simplify return on ad spend measurement and avoid dashboard hopping to pull your cost data across different partners. Kochava Cost now features support for all major integrated partners and just recently added Remerge and Qverse as new integrations. 
As marketing mix modeling (MMM) becomes more important and Kochava invests further in its next-generation MMM platform, Always-On Incremental Measurement (AIM), unifying your cost data now will simplify adoption of MMM capabilities.  
Consult this support documentation to create new configurations to import cost data for your partners. If you have questions or need assistance, please contact your Client Success Manager or email Support@Kochava.com.
New partners and updated integrations
Below is a list of new partners that completed a first-time integration with Kochava in May and June, as well as current partners that deployed updates to their existing integrations. 
New integrated partners:
Accesstrade Global

ad2win

AdBison

Admind Technologies

Ads commission Media

ADSDOOM LTD

Adwynk Media

alphabyte

AnyMind

appmediaexperts

Armada App

BABSAFFILIATE NETWORK

BidVertiser

BigriverAds

Blendai Digital

Bncmobile

Christo Digital

CommissionAd Media LLP

CoretechIT

cpaoffer.online

creative tycoon

Dotdash Meredith

Ducsonads

Earnwala Affiliate

emailer

EPCKINGZ

FirstFocus Media

Frankel Media
GoogleIndCampaign

Harvest Media LLC

hash-ads

Hetcash

HoneycombMobi co.

HunarTechnologies

Hypeads Digital Media

Inference Media

Kashkick

LeapLogic

limited

Ltd.

Maddict

MadOps Media

MBB

MediaBoomBox

MediaLinks

Metcan Digital

Metmob Co.

Mmleavicpe

MOBIPIUM

MOBSAI

Mobupps DSP

Napptix

Newton's affiliate

Notik Offerwall

O2Global Media

Onaffi Media
Palmtree advertising OÜ

Platformance

RevenueClick Media 

Right Swipe

Rohit Dighal_iA

Shishimedia

SijakMedia

SKMADS

Sojoy

SUNADNETWORK

svmobi

TAURUSX

Technonize Media

TheAdsQueen

Thinkmobile_int

TopClientOffer

traffic star

TranceX media

Unittyads media

UPSMOBI

Vikingmedia

Webitad

whistleloop_int

Xmob

YBB INTERACTIVE 

Zinble Medi
Integrated partner updates:
Aanicca Ventures Inc

Adbink

Adsizzler

adZsense digital

Axponent

BEdigitech

BerryGood Media LLC

Fizzylabs Corporation

GluAds Network

Indian Campaign
InMobi

InMobi DSP

IPONWEB

Mobiaviator Media

Mobile Evolution Marketing

Motive Interactive

Nextdoor Inc.

Optimise Media

Performaxy

Playdigo
Pretio

S2SPixel

TBM Groups

TikTok for Business

TSM Club

tvScientific

Vungle

Wurl

Zoomd DSP
If you're an ad network, DSP, or other partner looking to integrate with Kochava, please contact Integrations@Kochava.com. 
For a list of all integrated networks and publishers, click here.