Last week I had the opportunity to share some perspective about how Cheap Attribution Tools Jeopardize Media Efficiency. The post proved timely as just last Friday AdExchanger published an article on how marketers are frustrated with our competitors lackluster offerings. While it was certainly provocative to those who are new to buying media at scale, it's not new to marketers who really appreciate that a dollar spent in the right tool-set equates to thousands of dollars delivered in efficacy.
Each year, Kochava hosts the Kochava Mobile Summit. An intimate event that takes place at our HQ location of Sandpoint, Idaho, The Summit is filled with topics that are both strategic in nature and granular in tactical assessment. The top marketers in mobile are in attendance and because of our self-imposed attendee limits, it is incredibly potent. In addition to topics led by various customers, we have the opportunity to share our own observations about the industry, illustrating what we're doing as a company for the coming year. It's a bit of an "up-front" for measurement.
Kochava as the Bloomberg Terminal of Advertising
Since we started Kochava, the driving visual that I've used internally with our team, to illustrate what we want to become, is that of a next-generation "Bloomberg Terminal" for digital advertisers. The premise stems from the early days of Bloomberg where the company highlighted that this terminal was the difference maker for traders who were successful vs. those who were not. It was about speed, efficiency, and leveraging the right tools to make the right decisions on each buy and sell. Real-time data, visualization and integration with all trading desks were critical to success.
While the early versions of the Bloomberg Box lacked user experience, the notion was 100% correct, and it was the basis of Bloomberg's success.
I regularly hear from our customers (marketers) that they have better insights on the audiences of their media sources than the publishers know themselves. These are the publishers own audiences—and the buyers know more than the sellers. This is where we came up with the mantra that Kochava delivers an unfair advantage.
While the Bloomberg vision has always been grand, our execution has been made up of incremental tactical steps leading to that objective. We started with core attribution. We progressed by providing the most configurable attribution in the market. We next provided enterprise analytics, then fraud monitoring and abatement. At the end of 2016, it was clear that calling our platform an "attribution product" was both inaccurate and disingenuous to the holistic offering we provide vs. other commodity single-use attribution tools. It is also the reason why new marketers will see such disparity between our platform (which is ROI based) and that of other attribution tools (which seem to be misaligned to the success of the customer).
Beyond providing additional tools to the marketer—we also added support for web measurement with unique capabilities enabling cross-media (web and mobile) and cross-device attribution and analytics. Marketers tell us they prefer our visualization, our attribution waterfall logic, and our configurability. They prefer our signaling capabilities, reporting capabilities, and APIs. For those reasons, they want to use Kochava as the system of record to unify it all on one platform.
The Unified Audience Platform
At the Summit, we announced the Unified Audience Platform which is a more accurate representation of what we're doing in delivering the "Stack" for the marketer. Our platform incorporates all of the market-leading features of the Kochava attribution engine and gives credit to the platform for our support in the workflow of engaging with the stack. When we say workflow, we're talking about what we call "The 5 Points of the Star" which are: Plan, Target, Activate, Measure, Optimize.
At the same time as we're highlighting the Unified Audience Platform, Eric Seufert (Mobile Dev Memo) put together a great summary to help marketers appreciate that there are multiple ingredients for a user acquisition stack.
In his summary, he highlights that marketers need to understand the pieces and parts and discover the proper build/buy matrix for the components involved. The following is a graphic he put together, and it's a great demonstration that we're not alone in thinking of "full stack" solution capabilities vs. commodity attribution delivery.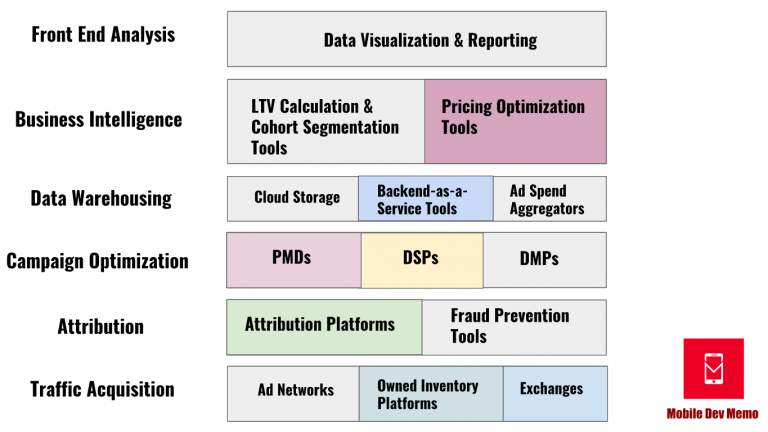 For each part of the stack, I've linked how the Unified Audience Platform is a full implementation of it with flexible integration approaches enabling your own in-house toolset as needed (if you have them already). Further, I've outlined a technical Lego-block format of how our architecture uniquely positions Kochava as the standard for measurement.
Front End Analysis: Kochava delivers flexible UI to render the Kochava Object Model (a real-time object model representing all Kochava data) in a meaningful way across our UI (e.g., App Overview, various analytics UI components). For custom visualizations, Kochava enables a no-limit, real-time API which is integrated with tools mentioned in the article.
Business Intelligence and Data Warehousing: Kochava Analytics provides LTV, Cohorting and Media Cost aggregation embedded within the platform. In addition, Kochava Query provides SQL access to the Kochava Object Model. This approach provides row-level impression, click, install, and event data—for as long as you want.
Campaign Optimization: The Kochava Optimization Beacon uses machine learning technology to auto-optimize media campaigns using the measurement signals managed by Kochava. The goal, assigned by the marketer, ranges from clicks, installs, engagement, or specific post-install events.
Attribution/Fraud: We're best known for our Configurable Attribution, and the Kochava Fraud abatement tools are second to none.
Traffic Acquisition: With more than 3800+ ad network and media partner integrations—the Kochava Adapter framework integrates with any media source you want.
The following is a depiction of the Kochava Unified Audience Platform. It illustrates the transformation capabilities that we support (in real time) from data ingestion through configurable attribution to normalization and object model flexibility for visualization.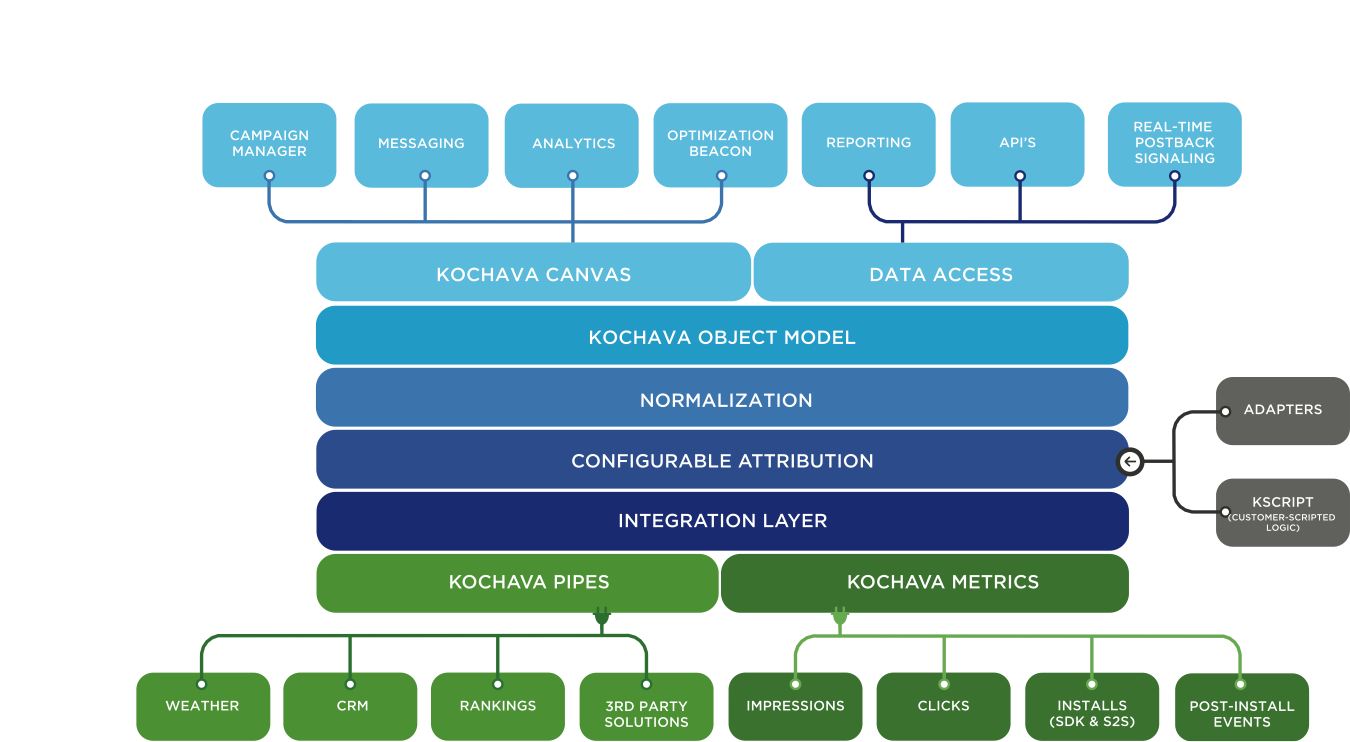 The beauty of Kochava and our enterprise-grade platform is that you don't have to start with a cheap vendor first. You can start with Free App Analytics®. When you're ready to upgrade, you don't have to change your SDK. If you're ready to leverage an enterprise platform today, jump right into the Unified Audience Platform, the measurement standard for marketers.
About the Author
Charles Manning is the founder and CEO of Kochava, the leading mobile attribution analytics platform serving tier-one advertisers worldwide. For nearly 20 years, he has been creating technologies that use data for system optimization, ranging from business service management (BSM) to information technology (IT) to attribution analytics. Charles began his career at Oracle and later held executive and C-Level positions at M-Code, Managed Objects, and PLAYXPERT.